Welcome to Classlist: the place for safe, secure parent-to-parent communication. Classlist offers a number of features that will make your life easier, from arranging lifts to simply letting you share contact details with other parents at your children's schools. 
This overview will give you a rough idea of what classlist is, and how to use it. If you would like more detailed information on each of the features, just click here.  
What is Classlist?
A platform to communicate with other parents at your school
A simple way to invite other parents to events
A virtual Marketplace where you can buy and sell goods with other parents
A way to easily receive notifications from your school and/or PTA
Easily accessible contact details for other parents at your school, if they have shared them
A safe and secure online space for your school
During sign-up to your school's site you will have been asked to add the pupils you have at the school. This step is important for two reasons; firstly it helps the other Parent Administrators at the school approve you quickly and effectively, secondly it sets you up in the Classlist Grouping system. 
How do I use it?
When you log into Classlist you will see the Parent Board. This is the most active area of Classlist and displays posts from other parents. You will be able to post to, and see posts from, other parents in the same groups as you (ie whole school, class etc). Announcements from your PTA and posts to the Marketplace will also appear here.
We have a created a set of Community Guidelines which exist to make sure that everyone has an enjoyable experience; aside from this, you are free to use Classlist however it suits you and your school.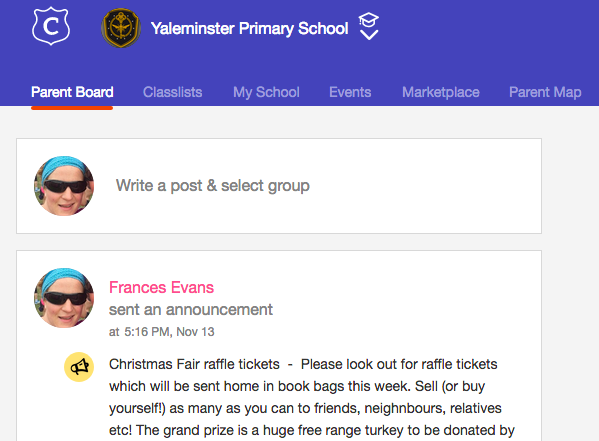 Classlist offers multiple options for communicating with parents so you can always aim your message at the right audience. Here are a few of the most common:
Important: by default posts to the marketplace and the whole school only get emailed once a week in the Classlist weekly digest, so if you need a babysitter the same day try posting to your class or year group instead!
Setting up an event. You can organise events ranging from your child's birthday party to a parents' night out. You can even arrange payment for tickets or restaurant deposits - all you need is a paypal account.
Get the App!


Get access to all of the great Classlist features wherever you go, perfect for creating posts on the train or finding the location of a parent's house when dropping the kids off to a party! To download the app, simply click on the link above that corresponds to your device. You can sign in straight away with your usual Classlist login details!