Teachers are as much a part of the school community as everybody else and can find a number of benefits through Classlist, from being able send announcements to parents, to communicating together on a uniform platform.
There are two ways to add a member of school staff to Classlist. One method gives a member of staff full access to the Admin side of Classlist, but no access to the parent side. The other gives the access to the parent side. 
Method 1 - Admin Only (Ideal for secretarial staff)
The School staff admin role is designed for a member of staff to do approvals and set up the school structure. They can also send announcements and community events, but they can't access the parent side of Classlist. They get an email for every joiner to Classlist at the school, so it isn't suitable for teachers.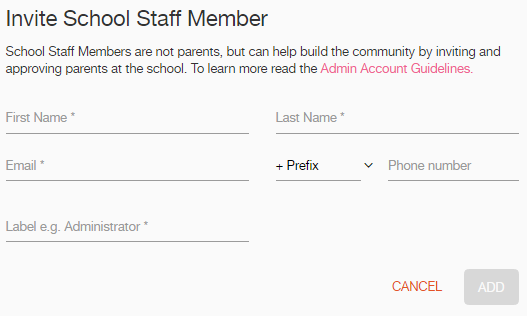 Method 2 - Parent side (Ideal for teachers)
The alternative method of introducing teachers to Classlist is for a year group representing the staff to be set up (it will not need a class). School staff can then join this group adding a 'dummy pupil' to fill the year, allowing them to communicate easily with each other. Staff would also be able to see and post to the 'whole school'.
Keeping the staff separate from their own class groups is recommended as it will keep them from the general hubbub of daily communications, allowing them to use Classlist unpressured from feeling like they can be contacted about school matters at any time. If necessary, staff can be set to act as PTA's or Class Rep's for their individual classes however, this would allow them to approve new members to the class, as well as send Announcements.
Using this method does mean that staff could be potentially contacted outside of school hours. The best solution for this is to simply ask people not to contact staff via Classlist without using the channels that they would normally go through.