School staff are part of the school community and you may want to add them to your Classlist site. Some schools are also using Classlist for school-parent as well as parent-parent and PTA-parent communication.

There are two ways to add a member of school staff to Classlist. The first method creates the staff member as an Admin member of your Classlist community: they will have access to the admin side of Classlist, but not to the parent side. The second method creates the staff member as a parent: this gives full access to the parent side, and other parents will be able to contact the member of staff via Classlist. 
Staff can self-register for either method from the Classlist Create Account site, but will still need to be subsequently invited by an Ambassador if they select the 'School Leader' (ie staff admin method) option. 
You must be an Ambassador or Staff Admin to invite a member of staff to join using the Staff Admin membership method. Any parent with admin status can invite a member of staff to join using the Parent membership method.
Method 1 - Staff Admin access only
The School Staff Admin role is designed for a member of staff to help do approvals and set up the school structure. Staff Admins can also send announcements and create community events, but they can't access the parent side of Classlist. 
Some schools appoint class teachers as Staff Admins to allow them to send announcements and events to their class. Staff Admins can see and reply to public comments on their announcements and events, but because they cannot access the parent part of Classlist, parent members cannot initiate contact with them individually, and vice versa.  
To invite a member of school staff to become a Classlist Staff Admin
Go to the 'School Profile' page in the green Admin side, find the Staff Admin section and tap the 'invite' button.

Enter the staff member's name, email address and a label (eg Head Teacher/School Secretary) in the dialogue box.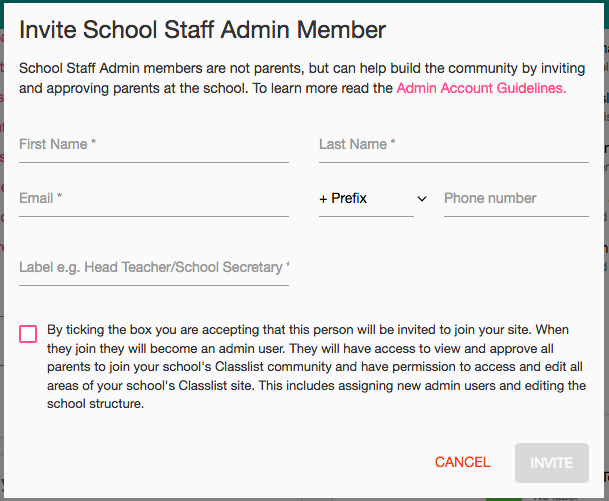 The staff member will immediately appear as 'invited' on the School Profile page in the green admin side.

The member of staff will receive an email inviting them to join (see below).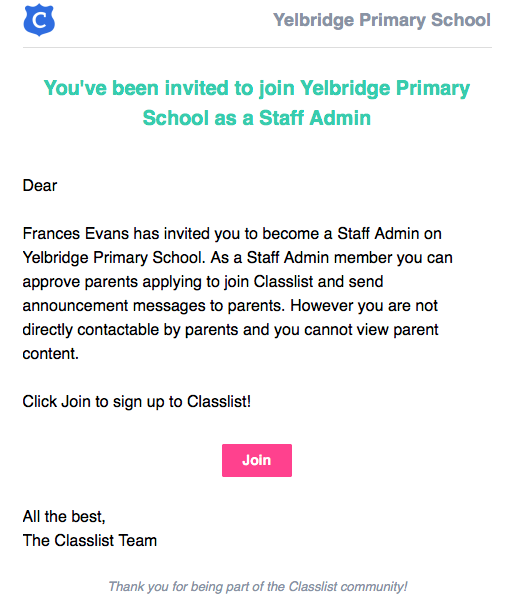 Please note that approval email notifications cannot be turned off; if members of staff who are on your site as Staff Admins do not wish to deal with approvals you will need ask them simply to ignore approvals emails. After the initial mass join-up phase there shouldn't be too much extra email traffic from approvals, but it is possible that for instance a headteacher may not want to have a Staff Admin status as a result.
Method 2 - 'Parent' membership for teachers who want to communicate directly with parents or with each other, or take part in groups
This method allows teachers to join Classlist using a parent account.
To invite a member of staff to join Classlist as a Parent member:
An Ambassador should create a 'School Staff' year group on the 'School Structure' page in the green Admin side

Staff members can then be invited by any admin using the staff member's email address from the admin side Invite page.
The invited member of staff will receive an invitation email with a link to the registration site in the same way that any parent would.

The member of staff should select 'Parent' not 'School Leader' on the first page of the registration form.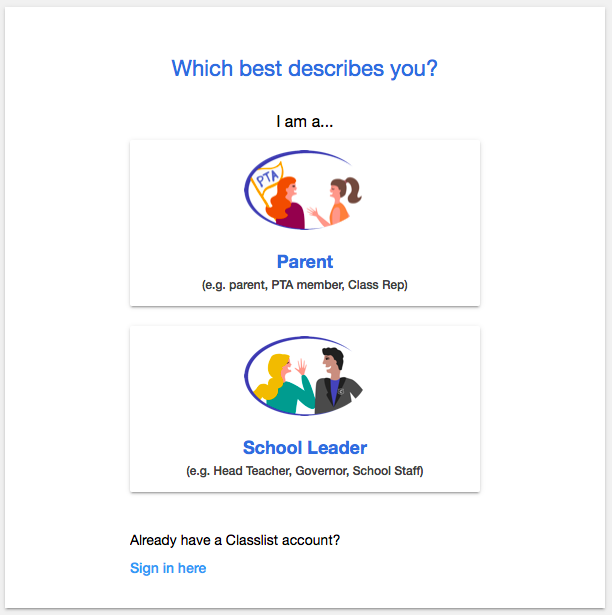 When the staff member completes the registration form they will need to pretend to have a pupil at the school. They should assign the fake pupil to the School Staff year group. If the fake pupil is given a name like 'Staff Pupil' or 'Miss Brodie's pupil' it will help to make it extra clear to all parents that this is not a real child.

Members of staff who join from an admin email invitation in this way will be pre-approved, just like any other parent would be, so they will have immediate access to the Classlist community without waiting for admin approval. 

The members of staff who join the School Staff 'year group' can then communicate easily with each other via this group, as well as having access to whole school content on the Parent Board.
We don't recommend teachers join their own teaching class group on the parent side of Classlist, as they will receive all communications between parents, including those end of year 'collection for the teacher' and 'what are this week's spellings?' posts. Classlist is designed for parents to reply and help each other. If the teacher is part of the class group the parents may expect them to reply, even outside school hours, which may not be ideal! 
If you want staff members with 'parent' accounts to be able to send announcements to their class without being part of the class group, you can assign them Community Rep admin status.
Important: enabling staff to join Classlist using a parent account means that staff can be contacted by parents by private message out of school hours or in the holidays. You can request parents not to do this, but staff and parent Admins should be aware that Classlist cannot prevent this happening.