School staff are part of the school community alongside the parents, and you may want to add staff to your Classlist site. Some schools are using Classlist for school-parent as well as parent-parent and PTA-parent communication.

There are two ways to add a member of school staff to Classlist. One method gives a member of staff access to the admin side of Classlist, but not to the parent side. The other gives access to the parent side, but please note that means parents will be able to contact them via Classlist.  
Method 1 - Staff Admin only (ideal for secretarial staff)
The School Staff admin role is designed for a member of staff to help do approvals and set up the school structure. They can also send announcements and create community events, but they can't access the parent side of Classlist. 
Some schools make teachers Staff Admins to allow them to send announcements and events to their class.  As Staff Admin they can see and reply to comments on their announcements and events, but because they are not accessing the parent part of Classlist parents cannot initiate contact with them.
To invite a member of school staff, you will need an email address for him/her. Go to the School and Admin Profile page, find the Staff Admin section on the right hand side and click on the pink 'add' button.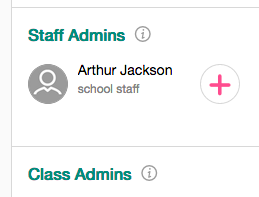 This will bring up a dialogue box where you can enter the staff member's name and a label (eg Head Teacher) and their email address. The staff member will immediately appear on the School and Admin Profile page, but will be labelled pending until he/she accepts your invitation to join the site. The email they will receive looks like this: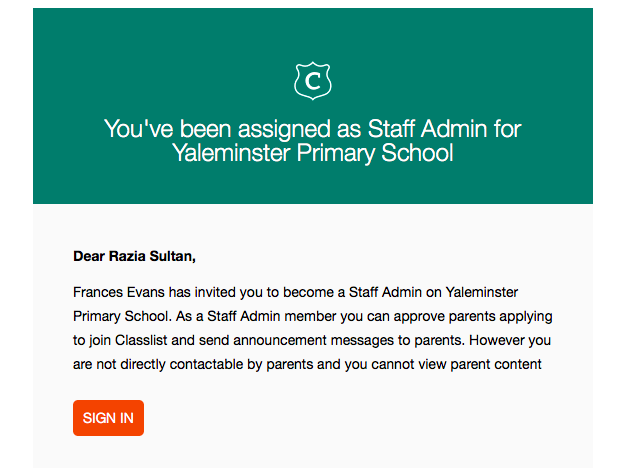 Method 2 - Parent side (for teachers who want to communicate directly with parents or with each other)
The alternative method enables teachers to join Classlist using a parent account. An Admin member needs to set up a School Staff 'year group' in the school structure, then invite teachers to join it via the 'Add and Invite' page on the Admin portal. Each teacher will need to invent a 'dummy pupil' to allow them to join the School Staff year group. They can use this group to communicate easily with other staff in the 'year group', and see and post whole school content on the Parent Board.
We don't recommend teachers join their own class group on their parent side of Classlist as they will receive all communications, and if a parent asks at 7pm 'what are today's spellings?' Classlist is designed for other parents to reply and help.  If the teacher is part of the class group the parents may expect them to reply, meaning other parents don't reply, which is obviously ideal for no-one!

Important: enabling staff to join Classlist using a parent account means that staff can be contacted by parents by private message out of school hours or in the holidays. You can request parents not to do this, but Staff and parent Admins should be aware that Classlist cannot prevent this happening.