You can track the progress of your invitations and edit parent details on the Add & Invite page in the green Admin Mode. Invited parents are listed in the order they were invited, with the most recent at the bottom. If you are an Ambassador you should be able to see all invited parents, regardless of which admin member issued the invitation. Other admin levels can only view and manage the invited parents whom they invited themselves. Tap the pencil icon next to each invited parent to view the date they were invited, the progress of the invitation and other details. You can add or edit the name, class and email address fields here, then tap 'save', when you will be asked if you want to send an invitation again. When an invited parent joins the site as a member they will disappear from the Add & Invite page, and move to the 'All Parents' page.
In the image below, Felonius Gru was invited by email to join Ms Standish's class, and the Ambassador later edited his record to show his full name, rather than simply 'parent' as is shown in the record above.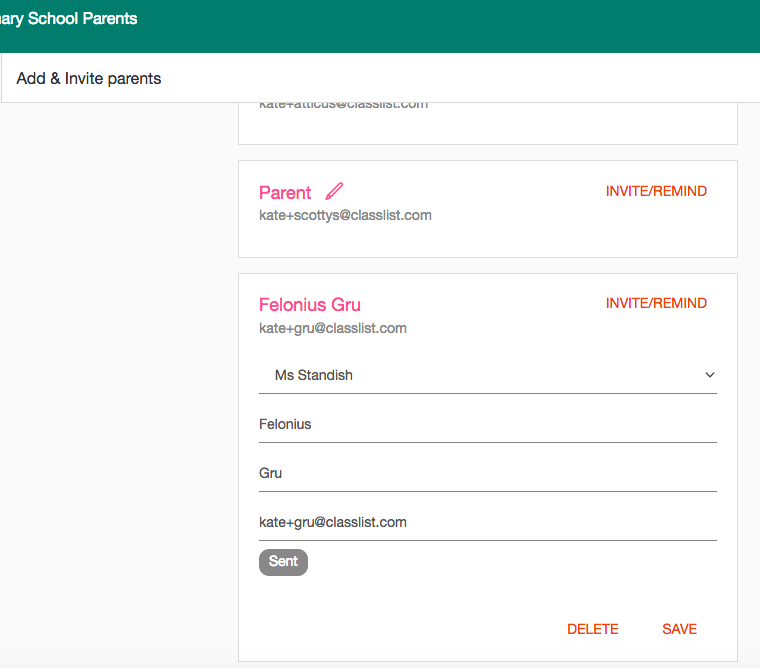 You can re-send an invitation/reminder to all your invited parents or just to a selected individual.
If a parent unsubscribes after you invite them you should see 'unsubscribed' in the grey progress button, rather than 'sent' or 'opened'. You will not be able to resend invitations to people who unsubscribe, even if the 'Invite/remind' button appears to work (we are working on fixing this so that you receive a warning if you try to invite an unsubscribed parent!). 
Tap here for an overview article explaining the invited parents feature.