Only Classlist Admins can send an Announcement and attach a document to it. All recipients of an announcement should be able to open its attachment, whether it is the minutes of a recent PTA meeting or the menu for school meals. 
When an announcement is sent to you, you will receive a bell notification in Classlist and on the app, as well as an email if you have opted to receive emails in your settings.
Announcement as viewed in an email: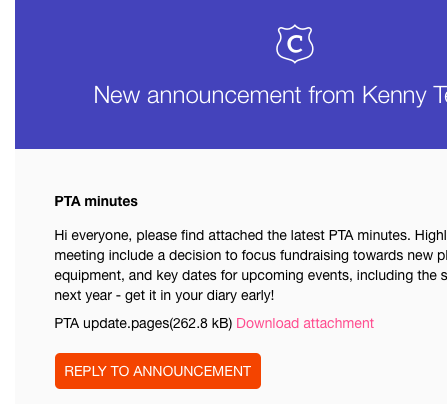 You can download the attachment directly from the email, or click on the 'Reply to Announcement' button. This will take you to the announcement on Classlist where you can download the attachment and leave a comment if you wish.
Announcement as viewed in Classlist:
Alternatively you might prefer to view the announcement first on Classlist. Go to the Announcements page to open the announcement in full so you can check out its contents before you click 'Download'. You can add a comment either from the summary or after clicking 'read more'.