Classlist gives you a number of useful options for managing an event once it has been created. You can send out event reminders, contact a particular group of users and even view and manage a list of the currently purchased tickets. 
Even after an event has been created you can still tweak it if you need to make changes at a later date. You can quickly and easily add new tickets or send more invitations, you can contact your invitees to update them about the event and you can send out reminders. Simply click on the 'Manage' button on the bottom left to access options for managing attendees.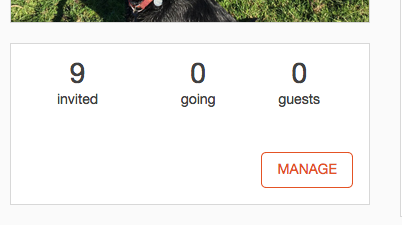 Sending out reminders
To send a reminder click the 'Re-invite' button.
Tip: Please be aware, this will notify ALL invitees.

Contacting a particular group of users
To send a message to a group (or the entire list) of invitees simply select the group you wish to contact from the dropdown menu under the search box at top left, and click the 'Send email message' button. You will then be prompted to enter a message, this message will be sent to anyone you have chosen to receive the message. 
Managing the tickets
You can view a list of the current attendees as well as how many tickets they have each purchased. If your list is very long, you may need to scroll down to see the full list.
You can also download the list into a CSV format by clicking 'Download the invited list'.
Creating new tickets
If at any point you need to add new tickets you can do so by clicking the 'edit ticket' button from the event's front page. You will be able to add new tickets or edit the numbers and prices of old ones. 
Warning: Please be aware that if you reduce the number of tickets to a number below those which have been purchased you will have oversold the event. If you need to refund tickets please see FAQs below. 
Inviting more members
If at any point you need to invite more members you can do so by clicking the 'Invite More' button on the manage guests page. Enter the names/group names you wish to invite and click 'Invite'. 
FAQs 
Can I adjust the price of a ticket once some have been purchased?

Yes, you are free to edit the price of a ticket at any point, however please note that any purchased tickets will not be refunded/updated to match the new price
A parent has contacted me saying they can no longer attend the event, how would they go about getting a refund?

All Classlist payments run through PayPal, if a user needs to request a refund they can do so through their PayPal Account. For more information on this please click here.