Classlist allows you to manage your guests and invitees so that you can keep track of who's coming, send out reminders, add more/stop selling tickets and let your guests know of any changes or additional information. You can also download and manage a list of attendees or people who have purchased tickets. 
The example below shows a community event about to be edited in the green Admin Mode by the admin user who created it. To access options for managing your attendees, simply go to your event page and click on the 'Manage' button on the bottom left (on the app just scroll down to the bottom to find 'Manage'). 
The summary box: checking who's invited and who has replied
In the summary box under the event photo on the main event page you can see at a glance which group/s have been invited, how many parents that represents, and how many have replied. Tap on one of the categories (invited, going etc) to see a list of the parents currently in that category. When you tap the 'Manage' button, you will be taken to a detailed invitees page showing all the invitees and their status in a table format, as well as options for inviting more and sending messages to parents in different categories. 
Sometimes you might notice a discrepancy in the number of invited parents in the summary and the number of members you thought you had invited: supposing you invite two year groups to an event, eg Year 1 (30 members) and Year 2 (32 members). You therefore expect there to be 62 invited members to the event, but the Manage Event summary is only showing 60 invited. This is because there is a set of twins in Year 1, and another parent has a child in Year 1 and in Year 2. The invitation is only sent once to each parent member, even if they have more than one child invited to the event. The number in the summary may also be inaccurate if there is a new member pending approval to join Classlist who has registered with a child in one of your invited groups. The school structure will only show the actual number of members who have joined, but the event invitation count includes pending members. 
The Manage page: sending out reminders, inviting more people tracking tickets
The Manage page shows the title of the event at top left, and the creator and type of event at top right.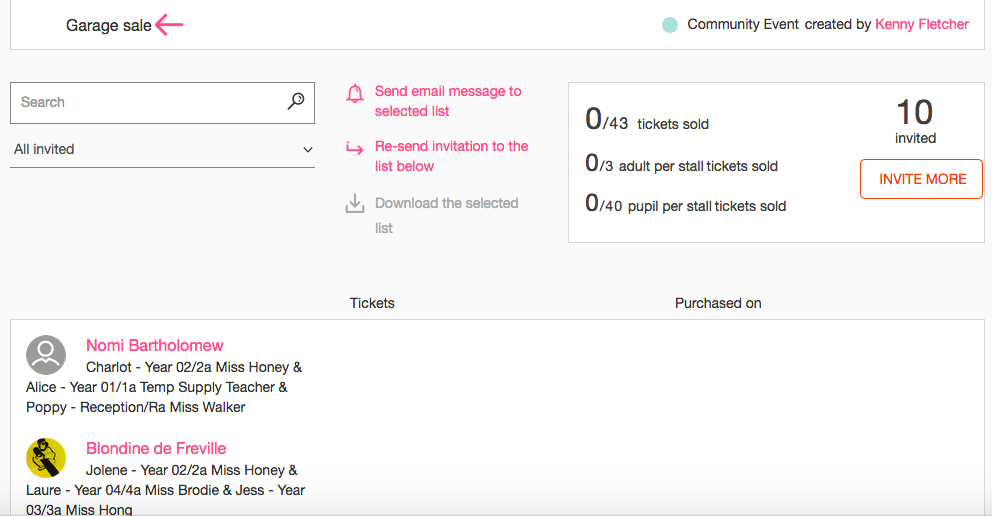 Under that it provides options to message different categories of invitees, according to how you arrange the filtering system. In each case where the option is to send something 'to the selected list' or 'to the list below' it refers to the category displayed under the search box - the default is 'All invited'.
To send a general reminder click on 'Re-send invitation to the list below' without filtering the list of invitees: this will notify ALL invitees.
If you want to search for a specific invitee to find out whether they are going, type their name in the search box. If you want to see all the parents who have not yet replied, tap where 'All invited' is displayed under the search box and filter by 'Haven't replied'.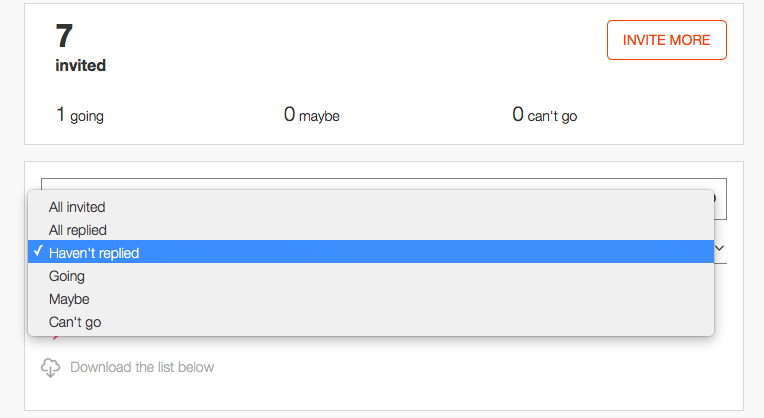 The filtered list of parents is displayed below the message and filter options, along with their child and their child's class/year. You can download a csv file of any category of invitee, except for the default 'All invited'. Just filter to get your selection and tap on 'Download the list below'. The download instruction is greyed-out if there are no names to download. 
NB: At the moment it is not possible to specify which child is invited if a parent has more than one in school, so all the children of an invited parent are displayed, whether they are in a group which has been invited or not. We are working on this! 
Emailing a particular group of users
To send a message to a group (or the entire list) of invitees simply select the group you wish to contact from the dropdown menu under the search box at top left, and click the 'Send email message' button. You will then be prompted to enter a message which will be sent to whoever you have chosen to receive the message. 
Managing the tickets
You can view a list of the current ticket purchasers as well as how many tickets they have each bought. If your list is very long, you may need to scroll down to see the full list.
You can also download the list into a CSV format by clicking 'Download the invited list'.
Creating new tickets
If at any point you need to add new tickets you can do so by clicking the 'edit ticket' button from the event's front page. You will be able to add new tickets or edit the numbers and prices of old ones. 
Warning: Please be aware that if you reduce the number of tickets to a number below those which have been purchased you will have oversold the event. If you need to refund tickets please see FAQs below. 
Inviting more members
If at any point you need to invite more members you can do so by clicking the 'Invite More' button on the manage guests page. Enter the names/group names you wish to invite and click 'Invite'. 
Editing event details
Even after parents have been invited to an event you can tweak it if you need to make changes at a later date, but be aware of the impact this may have on people who have already replied or bought tickets. Follow the link to find out how to make changes to the event details (time, date, location, tickets etc).
FAQs 
Can I adjust the price of a ticket once some have been purchased?

Yes, you are free to edit the price of a ticket at any point, however please note that any purchased tickets will not be refunded/updated to match the new price
A parent has contacted me saying they can no longer attend the event, how would they go about getting a refund?

All Classlist payments run through PayPal, if a user needs to request a refund they can do so through their PayPal Account. For more information on this please click here.