The school set up procedure can be broken down into three distinct stages. Firstly you must edit the year names, secondly, you must create new classes and finally, you must move the pupils into them.
You can take a tour by clicking this link to understand the process better. 
The Years
You need to refresh all your school year names.  
The first thing you need to do is decide whether you want the members of your 'Leaving Year' to leave Classlist, or to become an 'Alumni Year' (most popular option). If they are leaving you can delete pupils and the year and move the pupils to unassigned. Those parents in the latter group can then be disabled. Parents can delete their accounts at any time. 
You can then rename the top year as an 'Alumni Year' and add a new class to represent the whole year. You can now move all the pupils into this 'Alumni Class'. It is possible for you to disable a parent who no longer wishes to connect with their parent cohort by shifting them into unassigned and then clicking disabled.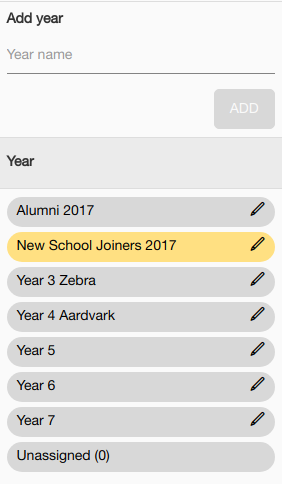 Next, rename each year as the year above. Year 5 2016/17 becomes Year 6 2017/18 and so on.  It can really help to add the academic year at the end of each year so that you can keep track.
NB Don't move the pupils up into the year group previously used by the year above, as they will see the messages sent to the year above.
The next step is to create a new lowest year.
You should now have a 'new' structure from which to organise your classes and pupils!
The Classes
If classes remain static as they move up through the years (i.e there is no pupil migration between classes) then you can simply rename each class with its new name.
If your classes are mixed up each year you will need to find out the destinations of each pupil.
Firstly, create your 'New' classes in the same year as the old ones.  (Again, don't re-use old classes in this case, or the parents will see messages sent to other people previously).
Now select the 'Year' you wish to work on, this will display all the children in that year. From here you can select the pupils you wish to move. This will bring up a dialogue box that lets you select a new class for the selected pupils. Alternatively, you can drag them into the classes if you wish.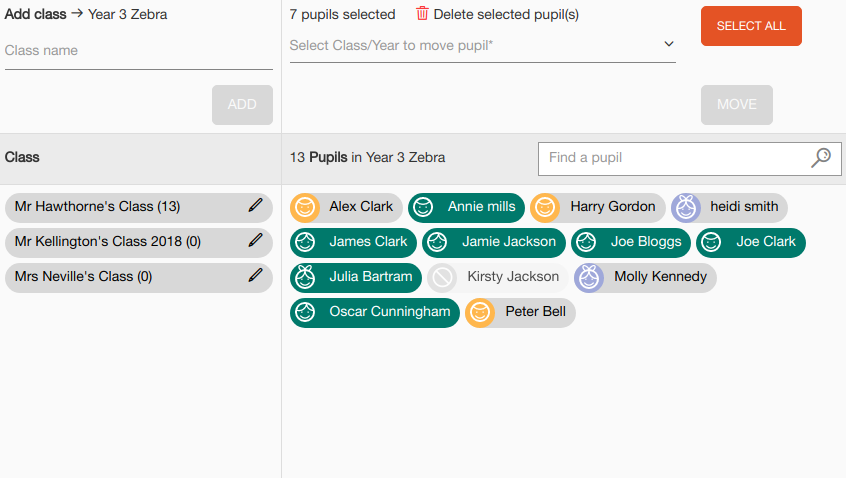 Once this is done you can delete the old, empty classes.
Removing any leavers
Throughout this process, you might run into some students who you cannot find on your list of new classes. For now, it is best to simply add them to the unassigned year group. It may be that these pupils have now left the school, in which case you should remove them and disable the appropriate parent accounts. It is always good to double check however, it could have been a simple error or accident that one child slipped through the net.
Removing 'Invited parents'
To remove 'Invited Parents' (also known as non-members), simply visit the Add & Invite page and scroll below the invite box. 
Here you will see a list of all 'Invited parents'. Mouse over the 'more' button and click delete. This will remove them from the system.