The moving up procedure seems a bit daunting at first, but it can be broken down into distinct stages.
All this is done in the School Structure page in the Set up School Community section in the Admin Mode. It's best to try to get it done before the start of the new academic year, ideally in July, but some schools do not allocate children to classes until September.
The great news is that when new GDPR legislation came into effect in May 2018, schools can lawfully give the PTA (as data controller) a list of pupils who have left, for the purpose of keeping the data on your Classlist site up to date. They can also give you a list of which class pupils have moved into, so that you can put them in the right class in the summer ready for September. You must only use that pupil data to update which class pupils are in, and delete leavers. In addition, any personal data sent from the school to the PTA digitally must be transmitted using a secure, encrypted form of communication.
Our lawyers Veale Wasbrough Vizards have approved these processes ready for GDPR. 
 Add and edit Years 
Adding a Leavers and Joiners Year

The first thing you need to do is create a new year in the school structure for the new intake into the lowest year in your school. When newbie parents are invited to join your Classlist site they need to see their child's class ready and waiting for them!

Tip: remember that to add a new year or class, you need to type the name in where it says 'type year name' in grey text before you can activate the Add button.
Then decide whether you want the members of your school's 'Leavers' year group to leave your Classlist site as well, or to become an 'Alumni Year' (most popular option). If you decide they should leave your site, move the pupils to unassigned and deactivate the parent members. You can then remove the pupils later and the parents can delete their own accounts at any time. 
If you decide the leavers can stay on for a while, add a new year, named something like 'Leavers 2017' or '2016 Alumni', and move all the leaving pupils into this year. You can then delete the old empty top year from the structure.
If you know there are a few parents who definitely don't want to stay connected through Classlist after their children have left the school you can still move their children individually into unassigned/remove them and then deactivate the parent account as above.

Editing the other Years
Now you need to rename all your other school years in the school structure by clicking on the little pencil icon next to each year name. This is because each year group cohort must remain linked all its associated posts and content, rather than inheriting the previous year group's messages, which is what would happen if you simply moved all this year's Year 5 children into the year named 'Year 6' in the structure.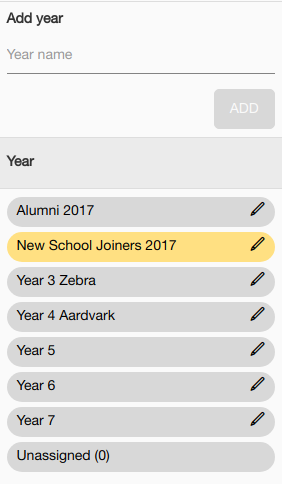 What was Year 5 in 2016/17 therefore becomes Year 6 in 2017/18 and so on down through the school. It can really help to add the academic year to the name while you are doing this so that you can keep track (you can always delete the '2016' bit later if you want).
You should now have a 'new' year group structure in which to organise your classes and pupils!
Create new Classes
If classes remain the same as the children move up through the school (some schools use a 'house' class system where there is no pupil migration between classes from year to year) then you can simply rename or check each class without moving pupils.
However, if your school moves children around into new class groups every year you will need to find out the destinations of each individual pupil. The recent data protection changes mean that it is now legal for schools to provide the PTA with a list of names allocated to classes, but as noted above, you must be careful with the data, and only use it for this purpose. Or even better, if you have a school staff member on Classlist they might do the move-up for you!
Create your new classes alongside the old ones in each year group. (Again, don't just move new children into old classes or the new parents will see messages sent to the previous year's parents).
Move pupils into their new Class
Now select the year group in which you want to start moving children to new classes; this will display all the children in that year. Click and release on each pupil to select them - you can select mulitple names. There is a drop down menu above the selected pupils column: find the class you want to move your selected pupils to then click the red 'Move' button. Alternatively, you can drag them across the column divide and drop them into their new class that way.

In the example above the old year 2 children are being moved into their new year 3 classes - the children currently selected from the whole year group will be moved to a new class ('Mrs Neville's') using the drop down class selector visible near the move button.
Once this is done you can delete the old, empty classes.
Removing any children who have left during the year
During this process, you might run into some students you cannot find on your list of new class allocations. For now, it is best to simply add them to the unassigned year group. It may be that these pupils have now left the school, in which case you should remove them and deactivate the associated parent accounts. It is always good to double check with the school however!
Ambassadors can remove a pupil on the school structure page and can then also deactivate the parent on the All Parents page. These are two separate actions, as the parent may still have another child at the school.
Tip: Invited parents (sometimes known as 'Non-Members') can also be moved up if you want them to stay associated with the correct year cohort, and this could be an opportunity to review and delate any invited parents who have not yet signed up after a reasonable length of time.
To move 'Invited Parents' you just need to re-send them an invitation with their new Class/Year selected instead of the old one.
To remove 'Invited Parents' simply visit the Add & Invite page and scroll below the invite box. 
Here you will see a list of all 'Invited parents'. Click the red 'More' button and choose Delete. This will remove them from the system.