If you are trying to begin the 'Move Up' procedure on Classlist, please follow this link:
https://help.classlist.com/hc/en-us/articles/115004228049
Getting Started
Classlist's School Structure was mentioned in 'Getting Started - The Set Up Wizard, this page will go into more detail and explain how different styles of school structure can be created, perfectly matched for your school. 
The 'School Structure' System reflects how your school is physically organised in real life. It allows parents to join the specific year/class groupings which are relevant for them, according to which years and classes their children are part of. Each Year represents a large group potentially containing a cluster of smaller groups called Classes (though you can swap your classes and years if your school does things a little differently).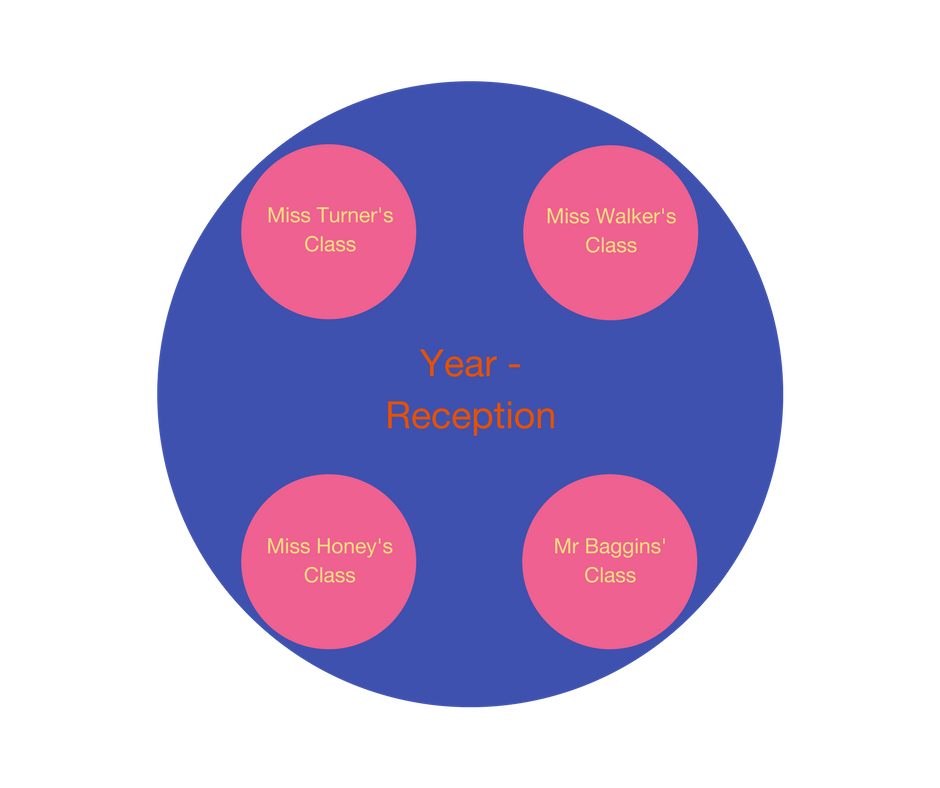 Parents can post and interact with other parents within the individual class their child is in, or message the year group. Each of these Years falls into an even bigger 'Whole School' group, which parents can also communicate through. 
We understand how important it is that this process be completed correctly, so we've made sure that setting it up is as quick and easy as possible. Below is an example image of how a school can be set up, with Years and Classes populated by pupils. 
Building the School Structure.
The Year and Class tiers. In the image below you can see that Year 2 'Lion' is selected (the yellow highlight) in the left hand year level column: all the classes nested within Year 2 are displayed in the middle column. In this example the Year 2b class is selected, so the pupils shown in the right hand column are those in Year 2b. If you clicked on Year 2a in the middle column you would see a different set of pupils.
Please Note: Years are the top level; you can add several Classes or Houses to nest within each Year. Alternatively, if a Year has no Classes nested underneath it, the Year itself can contain pupils as a stand alone tier.
Adding a Year / Class. To add a 'Year / Class' just start typing where it says 'type year/class name' in grey text, then click on the 'Add' button to enter the name into the structure. 
Editing a Year / Class. To edit the name of a 'Year/Class' you have already added, just click the pencil icon next to the name you wish to edit. This will allow you to change the name, or delete it if you wish. Any 'Year/Class' must be empty of pupils before it can be deleted.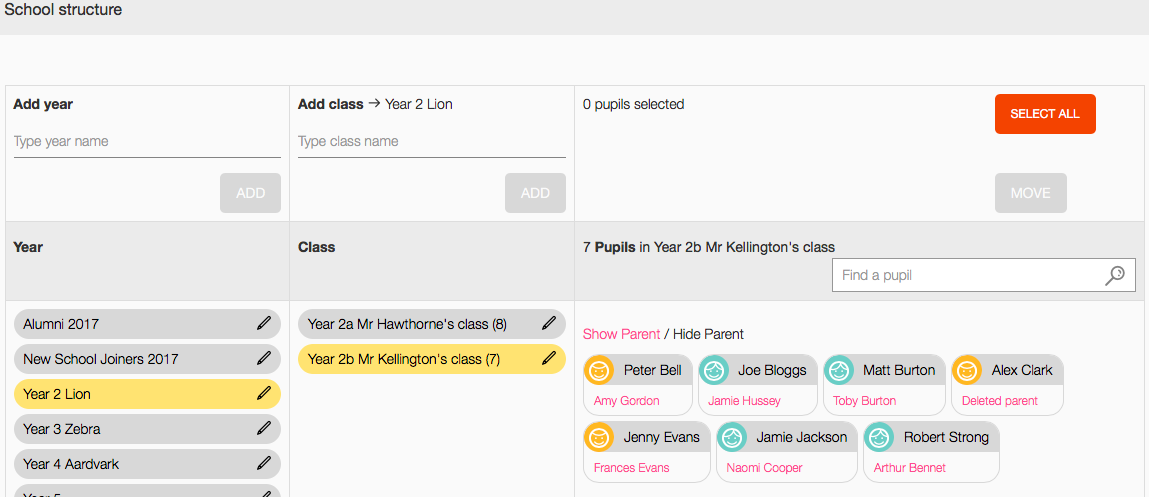 Tip: try to keep the same format for the names throughout, so if you enter Year One for the first year, don't then write Y2 for the second year. This is because Classlist will sort the years and classes alphabetically; keeping the same format means they will be listed in a logical order.
Moving a Pupil(s)
Click to select. To select a pupil (s) you just need to click and release on their name in the right hand column. You can select multiple pupils one after the other, or click the 'Select All' button to select every pupil in your current Year/Class selection. 
Click and Drag. To move a pupil (s) just click and drag once you have selected them. You can drag them directly into a new Class (or Year, if it has no Classes within it). You can drag multiple pupils at once. 
Use the Drop Down Box. You can also send selected pupils to another Class/Year by selecting a new class from the drop-down box.
Removing/deleting pupils. Once you have selected a pupil, you can choose to delete them from Classlist. This will not remove the parent from Classlist, but will remove their pupil.
Tip: Only delete pupils if you are 100% certain you need to. If you remove a pupil by mistake, send the parent a message. They can re-add a pupil by visiting their profile. If you are unsure where to put a pupil you can always put them in an 'unassigned' year/class until you can check with the parent or school staff.
Different School Structures
Standard Year > Class. Most schools will have Years that have multiple Classes within them. Just set up your Years, then add the Classes to the correct year.
Single Class per Year. If you have single Classes per year, or some Years with just one Class, you can simply create Years. Years act as Classes if they have no Classes within them. This will just simplify communication later.
Multiple Years per Class. If you have a structure that has multiple Years within one Class do not worry. You can set up as normal. You can also reverse the structure, having your Years as named classes, and then using Classes to seperate the years.
Example
School 1 has the following 'Classes', with two 'Years' in some classes, but a 'Year' group spread across two 'Classes' too.  This makes it hard to use the two tier structure.
Their classes are:
Nursery
Reception A
Reception B
Year 1
Year 1/2
Year 2
Year 3
Year 3/4
Year 4
Year 5
Year 5/6
Year 6
This was set up on Classlist as 4 'Years', each with 3 'Classes' in, as follows:
Foundation:

F2

Red Robins

Bluebirds

Years 1&2:

1W

1/2ME

2P

Years 3&4:

3W

3/4B

4K

Years 5&6:

5L

5/6S

6O

 

The parents will be in 2 groups for each child.  Their 'Year' e.g. years 5 & 6, and their class e.g. 6O.  That means they can communicate easily with both groups, and can see contact details/classlists for the the people in those groups.