The Groups system allows parents on Classlist to communicate with the right audience for each message or comment they want to share. Every parent on Classlist is capable of posting (and seeing posts made by other people) to the 'Whole School' Group, as well as their automatically assigned 'School Groups', based on which class and year their children are in. In addition parents may be members of parent-created groups covering specific areas of common interest (eg 'dog walkers', or 'hockey team parents').
Take a tour of the groups feature here.
On your Parent Board you will see a list of groups you already belong to on the right hand side. Clicking on a group's name will take you to that particular group's home page.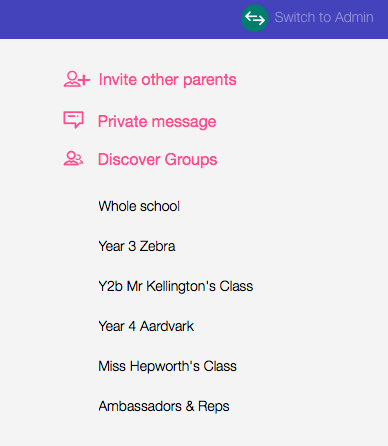 Using this feature means you can post things which are only applicable to that particular group, without bothering the parents in the rest of the school (ie in the example below, Year 3 homework is only relevant to parents with children in Year 3). No more endless notifcations about stuff you are not interested in!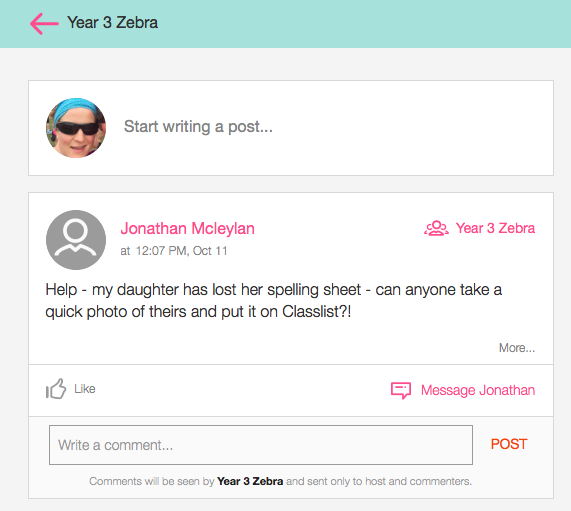 School Groups
School Groups are automatically generated by Classlist and reflect your school's individual structure of Years and Classes. Each parent is automatically placed into their personal Year and Class groups based on which classes their children are in. Parents with multiple children will be in multiple School Groups. If you have an Admin status on Classlist you will also be automatically included in the 'Ambassadors and Reps' group.
Parent Groups
These Groups are created by users rather than automaticaly generated. They can be either 'open', ie anyone can join, or 'closed', ie parents wanting to join have to be approved by the group's owner. Parents can create groups and add individual parents or classes. This allows parents to communicate around a shared interest even if their children are in different School Groups. 
Closed Parent Groups may be created for an entire range of purposes, from a group consisting of PTA volunteers for a regular event, to the group of mums and dads belonging to a book club. If you wish to set up a parent group of your own, you can create one by clicking the 'Create Group' button on the 'Discover Groups' page, accessed from the Parent Board. 
The 'Discover Groups' Page
The 'Discover Groups' page displays all the groups you are a member of at the top. The parent groups which are available to join are shown below in the 'Discover' section.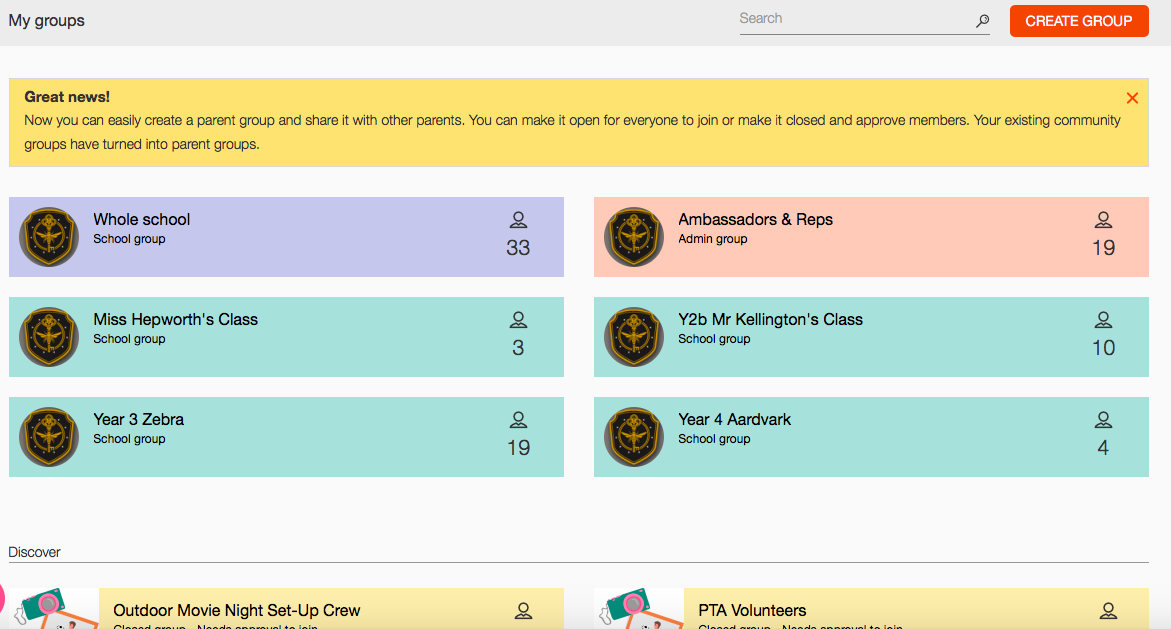 You can visit any open parent group from the 'Groups' page by clicking on the group. As with the Year 3 group example above, the group's home page shows you only the posts made to that group, rather than all posts. If you want to join a closed group, simply click on the group name and a box will pop up asking you to confirm you want to send a request to join. When the group owner has approved your request you will receive a notification letting you know.