If you created an event on Classlist, you can change the details of your event at any time before the event itself.
Go to the 'Events' page via the menu bar.
Select the event you'd like to edit.
Click 'Edit Event'
Make your changes in the same way that you first created the event.
Click 'Continue' to save your changes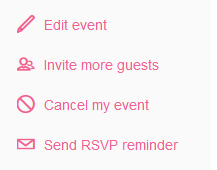 The page for each specific event (step 2) also allows you to invite more guests, send reminders to those who you've invited or cancel your event.