Our Most Recent Update - April 25th Multiple Schools
One of our most requested features has been the ability for a single account to be linked to multiple schools on Classlist. We are happy to announce that this is now possible!
This means that parents with children at different schools can now manage all their Classlist needs from the same email address and login!
Once you log in, you will be now see a new little arrow next to your school's name. Just click and you will be given the option to Apply for a new School.

Once you have completed the registration process and your application has been approved, you will be able to swap between the two schools with a single click!
If you would like more help on the process, please click here.
If you are already signed up under two separate emails, please click here to find out what to do next. 
Please note, if you wish to apply to join a second school that does not yet exist, contact Support@classlist.com with the email you used to log into Classlist with and we will be able to assist you further. 
March 29th - The School Page and Inviting Via Facebook (and other Apps)
The School Page
The first iteration of our brand new School page has been released! 
This simple yet incredibly useful page will act as a HUB for all your School-Parent needs. It provides key information on the school, such as contact details; while also providing a visual representation of the PTA structure. 
The page can be customised and tailored for each individual school and PTA system by each school's team of Administrators, giving parents a the perfect source for school information.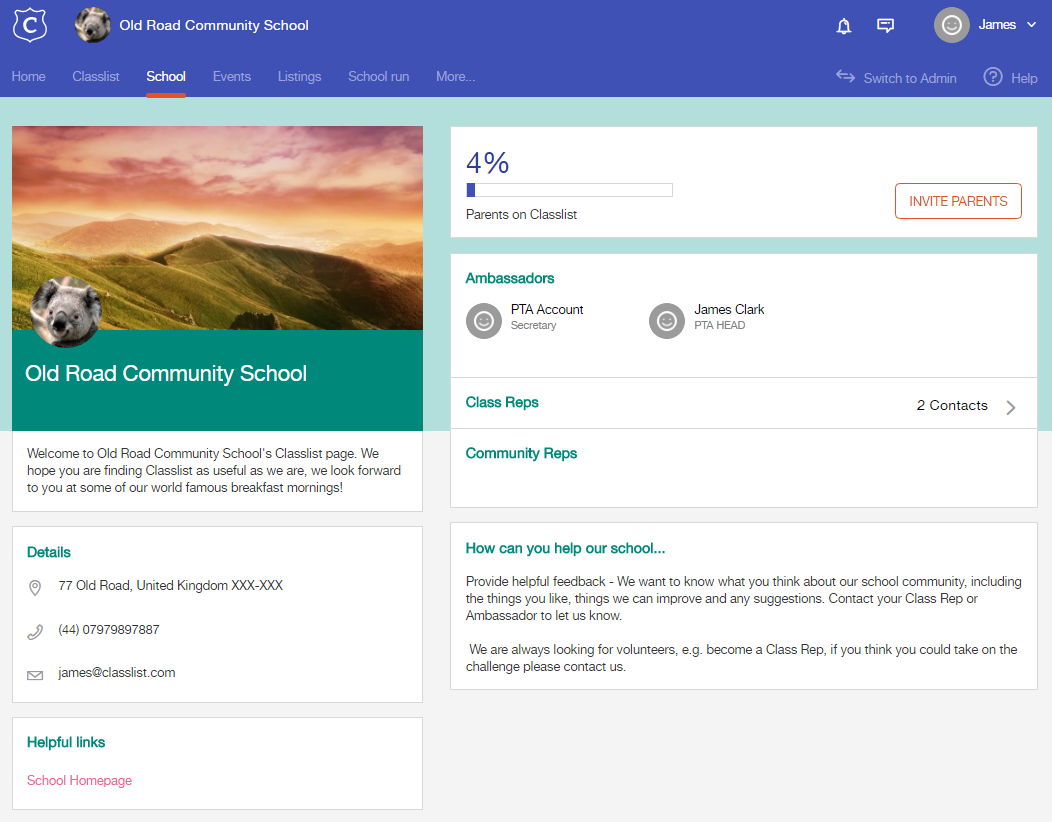 Invite via Facebook & WhatsApp

This week also see's the launch of another highly anticipated feature, the ability to invite other parents to sign-up to Classlist via Facebook, WhatsApp and a number of other apps too!
The process is very simple and anyone can do it, just click head over to the Invite page and you will see a brand new little icon. If you are on a computer, it will look like this: 

This will allow you to invite people via a Facebook post. 
If you are on a mobile device, you will instead see:

This will allow you to invite people via a number of sources, including WhatsApp, Facebook messenger and Google+. For more information on this exciting feature, click here. 
February 21st - The Dashboard and our new App!
Administrator Dashboard
With our Administrator Dashboard, managing your school's Classlist activity has never been easier; you can see key metrics such as how many parents you have approved (and how many you have left), as well as manage announcements and their open rates. Other features include a task-based system designed to get you up and running in a flash, as well as a parent activity monitor, so you can see how many parents are using your school's Classlist site. 
For more information on the Dashboard, please click here. 
Android App
Our Android app has is now available on Google Play. Much like the iOS app, the Android version allows you to take Classlist with you on the go. Send messages, review events or even post a listing on the go with Classlist for Android. 
To download our app, click the link below:

Groups - Announcements and Events
It is now possible to create announcements and events from specific groups
About Classlist Updates
Classlist is constantly evolving to suit your needs and our updates reflect this. We listen to your queries, suggestions and struggles as a parent in the hope we can provide a tool that truly does make parent life easier. We try to update our system roughly every seven to ten days; and our updates range from small, quality of life changes to large-scale releases such as our iOS and Android apps. 
Below is a list of our recent updates, as well as a brief glimpse at what may be coming soon! 
Our recent updates include:
The iOS app
Easier to invite members - just paste in a bunch of emails
Enhanced event page, with payments
Announcements appearing as posts, with comments
Adding attachments to announcements
Community groups - eg Christmas Fair Committee, Class Reps group, dog walkers!
Whole school wall posts - post regularly to engage your parents!
Replies to posts: these are just emailed to the person who posted, to minimise emails
Year group announcements
Email notification settings on profile
Mobile version of Manage Parents page
Class Reps can be assigned to more than one class
Improved site speed
Staying logged in
School wide activity stream for moderation (Amb)
We're currently working on:
Parents accessing two schools on one login

Newsletter tool with drag and drop functionality (NB Many PTAS already use our 'announcements' to send newsletters, as you can write and format announcements, which are up to 10,000 characters, and add attachments too).  We will be adding more functionality to announcements, eg so you can add pictures, to make them even better.

Improvements to events
These will be added over the next few weeks.  We'll let you know!
In the future pipeline:
Pay button
Volunteer sign up tool
More great features on the way!