Ambassadors and Staff Admins can add images (in JPEG or PNG format) to your school's Classlist site on the 'School and Admin Profile' page in Admin Mode. Class Admins and Community Reps do not have the ability to edit school information on this page. The maximum file size for images is 8MB. You can change these images whenever you like, but you cannot revert to the default image once you have uploaded a picture. 
School logo
To upload a logo, navigate to the school and admin profile page and hover the cursor over the circular logo image icon which looks like a blue shield. 
School logo default image:

Notice the little red camera icon, which appears on Classlist wherever you have the ability to upload a photo. Only Admins with permission to edit this page will see the camera icon. Click on this camera icon to bring up the photo uploader dialogue box, allowing you to browse your files and select your school's logo to upload. 
Tip: If your school's logo is a badge, shield or other non-standard shape, you may find there is a little grey or black background showing around the edge of the circular area (see the left hand image below). If you don't like this you could crop the image so that only a detail is shown (see the image below right). If you are still unhappy with your logo you could try downloading one of the Classlist logos in the Resources section and using that instead, but they are not designed to fit this space so they are not ideal.


School premises photo
You can also add a cover photo for your school; this image space is larger and looks like the picture below until you add your own photo. It's ideal for a photo of the school buildings or even just the welcome sign outside the front door! Remember do not include any people (especially children) in your photo unless you have their permission. To upload, just click the camera icon which appears when you hover over the image. 
School photo default image: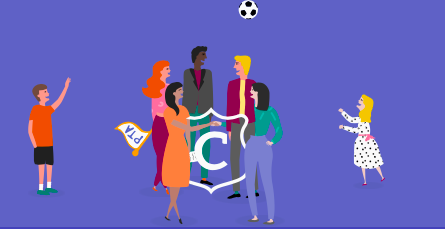 You might want to change your school photo if you've been busy raising funds for new playground equipment or if there is a special feature of the school you want to highlight? 
Completed school photo and logo showing camera icons available for editing: