Who sees my post?
When you write something on Classlist's Parent Board, you can always check who will be able to see it before you hit the 'Post' button. When you write a post, you will be prompted to choose which group you want to send it to: eg in the image below where it says 'Posting to...Year 2b'.
You can only post to a group you are a member of (unless you are an admin). Admins can send announcements and events to groups that they are not members of.
If you send a private message it will only go to the individual addressee/s and no one else.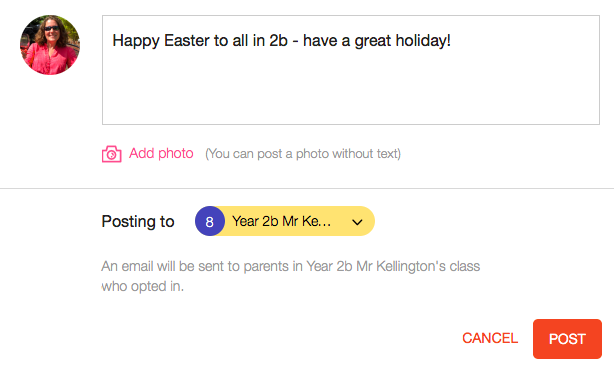 Marketplace posts
These can be seen by any parent at your school in their 'All Activity' feed and the Marketplace section.
Badge notifications and email alerts
In addition to email alerts, mobile devices display badge or dot notifications which appear on the corresponding app icon to let the user know that there is new unread information waiting for their attention. Classlist also displays these badges on the website platform.
Badge notification on the app: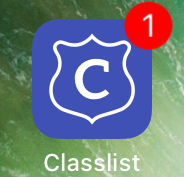 In the top image of the 'Happy Easter' post, you can see that the pale grey advice text confirms that parents in Year 2b will receive an email to let them know that a message has been posted the message, if they have opted to receive email alerts in their notification settings. The Year 2b parents will also see a badge notification displayed on the website and the app, again if they have opted to receive notification alerts. Parents with children in other classes will not see this post to Year 2b, unless they have a child in Year 2b as well.
Marketplace posts now have push notifications - but parents must opt in to them via their Profile if they wish to receive them. They do not generate emails but appear in the Weekly Digest.
Comments
Any comments on a post (which can only be made by a parent in the posted-to group) can be viewed by the parents in the group which received the post (ie Year 2b in this example).
The app alert to say 'someone has commented' will be sent to the poster and to others who have commented already. It will also go to anyone who has opted in to receive 'auto notifications on group posts' i.e. to receive all comments on all posts in their groups. You can change this setting via your Profile > Notifications Settings page.
Email notifications of comments will only be sent to the original author of the post. Others can check if there were comments in the daily digest email or on Classlist itself.
Which type of alert is sent and when?
The table below shows how parents are alerted for each type of interaction on Classlist, and whether the interaction will appear on the Parent Board wall. Remember that each parent's Parent Board will look different, because each user is a member of different groups.
You can change which Classlist alerts you receive by updating your profile settings. You can also edit your phone's own notification settings on your phone by visiting its settings.
NB: If you are receiving duplicate email notifications, it may be because you were invited to join using one email address but when you joined you used a different email address. The system will sends the notification of announcements to the email you were invited to. Click here to see how to fix this issue.
Unless they have opted out, all users will receive the 'Weekly Digest' on Thursday. This contains listings from the Marketplace (which are not emailed out on their own) as well as a summary of the week's activity - personalised for each user. This means different users will receive different information in the digest as they belong to different groups and classes.
We have introduced a Daily Digest and reduced the number of other emails we send, to make it easier for email users to see quickly what has happened on Classlist today.
Emailed to parents
Badge notification on website and app
Posted to wall
Posts to a group

√

(only to the parents in the group)

√

(only parents in the group)

√

(only parents in the group)

Post to Whole School*
(see box below)

x

(unless parents have opted in)

√

√

Comments on posts

√

(only on posts that you created)

√

(posts you have commented on, and all comments on posts if you have 'auto-notify' on)

√

(only parents in the group)

Announcements
√
√
√
Comments on announcements

√

(only on announcements that you created)

√

(announcements you commented on, & all comments on announcements if you've 'auto-notify' on)

√

Marketplace Posts**
x
x****
√
Private messages
√
√
x
Replies to private messages
√
√
x
Event Invitation
√
√
x
Weekly/Daily digest***
√
x
x

* Whole school posts is an optional feature. Read more here.

**Marketplace posts are emailed out once a week, in the weekly digest.

***The weekly digest is emailed out once a week, on Thursday evening.

****Parents can opt in to app notifications for Marketplace posts