The Announcements page displays a list of all received announcements in chronological order, starting from the most recent. 
Announcements are sent out by Ambassadors, Class Reps and Community Reps. They are a great way to communicate about important events, each announcement can also contain an attached file, perfect for any additional material. They will be sent as an email as well as appearing on Classlist. If you receive an announcement, it will appear in your newsfeed. 
You will be able to comment on an announcement while it is in the newsfeed too, these comments can then be seen by the announcement sender, as well as other recipients of the announcement.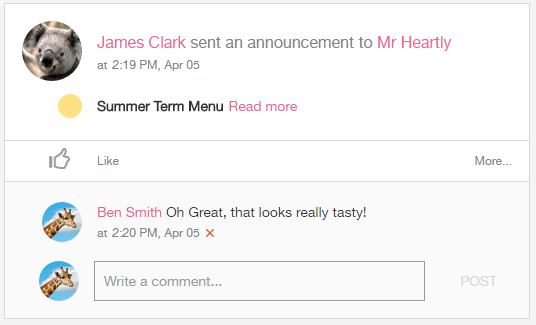 A list of all Announcements sent to each parent will be viewable on the Announcements page.  Note that this includes only the announcements relevant to that parent, not all Announcements sent out. 
Attachments will be able to be downloaded by clicking to view the Announcement and then clicking on the attachment. For more information on downloading attachments, please click here. 
If you are on an administrator account and would like more information on Announcements, please click here.