Administrator users form the backbone of any successful Classlist site; from your 'on the ground troops', the Class Reps, to the PTA events manager fully responsible for the upcoming Easter Egg hunt. Because of this, it is important that you can manage everyone quickly and effectively; this can all be done from the 'School' page found on your administrative area on Classlist. 
When it comes to managing your team, you will need to focus on the highlighted section below, from here you will be able to add Ambassadors, Class Reps, Community Reps and School Staff*. For more information on all the roles, please click here. 
We understand that the roles we have given may differ to those used within your organisation. This is where the handy 'labels' feature comes in. When you promote a parent to an Administrative role, you are given the option of assigning them a label, you can use this to denote their position within your individual hierarchy.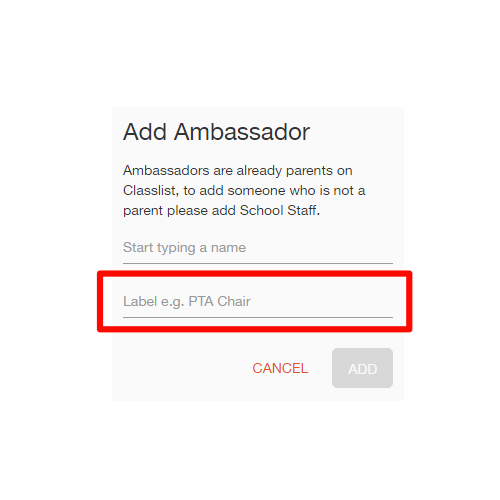 As such, the managing process also differs slightly. 
Ambassadors and Community Reps
To add a new ambassador or community rep, simply click the + symbol under the corresponding role. A small pop up window will appear, enter the name of the the parent you wish to assign the role, and add a label if you wish (For example, Events Manager, or PTA Chair).
For Class reps, this works a little differently. Click the Class Rep section to be taken to the Class Rep management page.
This page gives you a visual representation of your Class Reps and the Classes that they represent. It follows the same principle as the page before, just click the + symbol under the Class that you want to assign a Class Rep and enter the name of the Parent you wish to give the role. Again, you can add a label if you wish.
A parent can be a Class Rep of multiple classes, this can be especially useful in secondary schools where one Representative might cover the entire year. 
*School Staff have the same administrative permissions as an Ambassador, however as they are not parents they do not have access to the parental side of Classlist.
Inviting School Staff is slightly different, as you are not assigning a parent to a role, but rather inviting a new member of school staff to join Classlist. Once you click the + button, you will need to fill out the required details and click Add. The member of staff will receive an email inviting them to join.