Click here to take a quick tour on assigning admin roles.
Administrator members form the backbone of any successful Classlist site, from your faithful Class Admins to the Community Rep organising a one-off Easter Egg hunt. There are two ways for Ambassadors to assign other members an admin status. 
From the 'Manage School' page on the Admin portal. Just click on the pink + symbol next to the Admin role you wish, then enter the name of the parent to promote. From here you will be able to add Ambassadors, Class Admins, Community Reps and School Staff*.
From a parent profile. Find the parent you need from the 'All Parents' page, then click 'Change Admin status' (next to the pink cog-wheel icon) to assign a parent an admin status.
Tip: You can have more than one Administrator role assigned, but you need to assign the roles separately, you can't do both roles in one action.  
For more information on all the roles, please click here. The process is slightly different for parent roles and staff. 

Ambassadors, Class Admins and Community Reps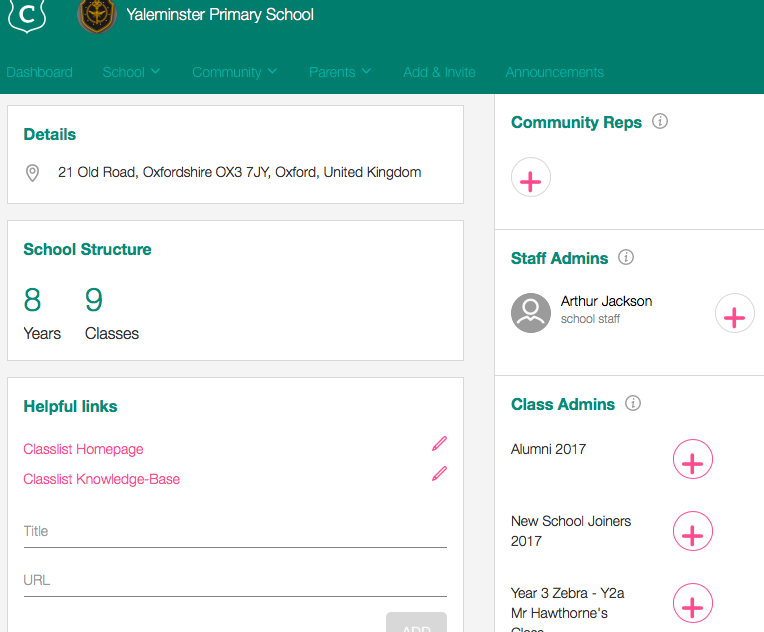 Ambassadors, Class Admins and Reps
To add a new Ambassador, Class Admin or Rep, simply click the pink + icon next to each role on the school page. A small pop up window will appear; enter the name of the the parent you wish to assign the role, and add a label if you wish (eg Events Manager, or PTA Chair). Class Admins have the + icon ready next to each class so make sure you put the right name in for the right class! A parent can be a Class Admin of multiple classes; this can be especially useful in secondary schools where one Rep might cover several classes all within the same year group. 
NB: A parent can be a Class Admin for multiple classes. This can be especially useful in secondary schools where one person might cover all classes within the same year. 
To change someone's Admin status after they have been appointed, stay on the School page and simply click on the parent you want to change. This brings up their details and you can click the cogwheel icon to change their Admin Status.
We understand that the roles we have given may differ to those used at your school and PTA. This is where the handy 'labels' feature comes in. When you assign a parent an Administrative role, you are given the option of adding a label, you can use this to describe their role eg a Community Rep may be labelled as Eco Officer. At the moment you can only assign one role per person, so use the label feature if you have parents with more than one role, eg an Ambassador who is also a Class Admin. We will be changing this functionality in a future update, to allow people to have two admin roles at once.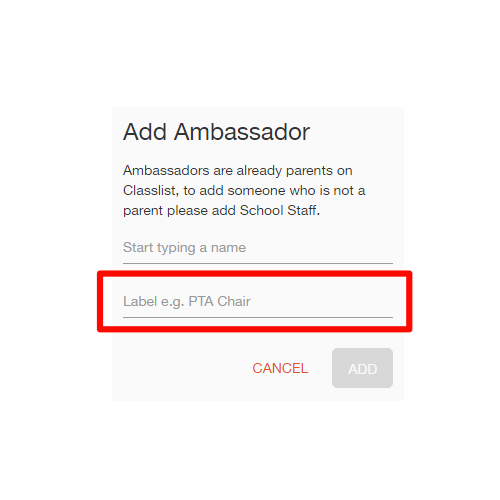 *School Staff have the same administrative permissions as an Ambassador, but they do not have access to the parental side of Classlist.
Inviting School Staff is slightly different, as you are not assigning a parent to a role, but rather inviting a new member of school staff to join Classlist. Once you click the + button, you will need to fill out the required details and click Add. The member of staff will receive an email inviting them to join.