Inviting groups to a private event
Let's look at a scenario for a private event: Dan Dare is organising a picnic in the park for his children and their friends. His children are in Year 4 and Year 2. He is using the blue Parent Mode, because his event is not open to everyone and he does not have an admin account. He is able to add both Year 4 and Year 2 as whole groups to his invitation list, but they have to be added one year at a time. He can't add other year groups, because he doesn't have a child in those groups.
Inviting certain people from within a group
If Dan only wants to invite his children's best friends rather than the whole year group, he can do this either by searching for their names and adding them individually, or by entering the year group and then de-selecting the individuals he does not want to invite. In the image below he selected Year 4 initially, and is now able to de-select names from the list of members in Year 4. For instance if he taps the cross next to 'Parents Association Committee' it will remove only that name from the invitation list. The cross becomes highlighted red when you hover over it.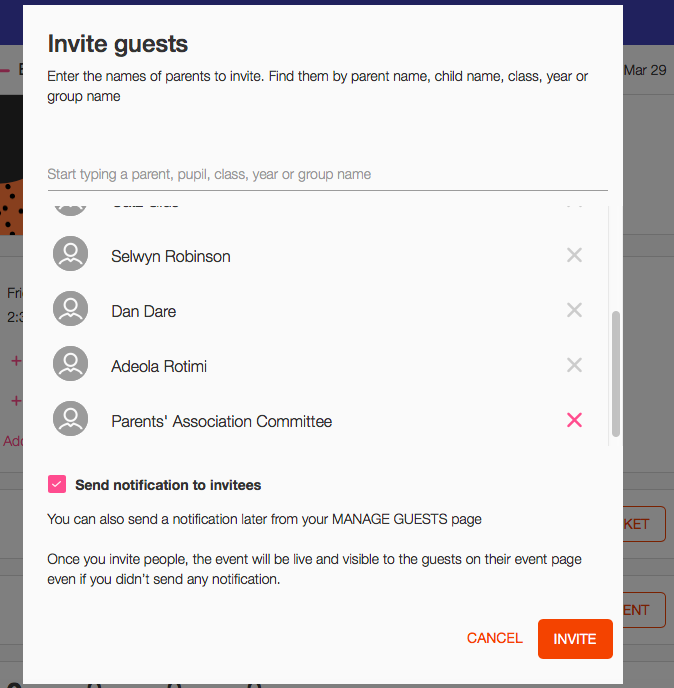 NB: If you don't want to send an email notification to the members invited, you can uncheck the 'send notification to invitees' box. The members will be able to see the event in their Classlist pages, but they won't receive a specific email invitation. It's best not to uncheck this box unless you are certain the invited members check their Classlist site regularly, otherwise they might miss the event!
Ticketed events
Parents and Admin users can use Classlist to collect payments via Pay Pal for ticketed events: whether it's Christmas party tickets, restaurant deposits, or even the traditional teachers' presents. Parents can purchase multiple tickets too!
As the event organiser you can keep track of who's coming, who has paid and how many tickets have been purchased via the 'Manage' button on the event's front page.
Simply click the 'Add Ticket' button when you create your event.