We are excited to add a new feature - an automated personal welcome message from Ambassadors
An Ambassador can create a welcome message that will automatically send as a private message to any newly approved member who joins your school. It will be sent the day after they join Classlist.
Sending a welcome message gives new members a warm welcome to the platform and helps introduce them to a Classlist Ambassador one-on-one. We have automated this personal message to reduce the work for Ambassadors who have been sending personal welcomes to each parent.
We have trialled this system elsewhere and found that new members really appreciate having a personal welcome and will often reply, which is a great way of starting a conversation with them. New members are sometimes more comfortable replying to a private message as their first interaction on Classlist.
You can add and edit the personal welcome message anytime on the Admin view of the School Profile page. There is one Welcome Message per school, so choose which Ambassador you want it to come from if you have more than one.
NB For schools with more than one Ambassador, the welcome message is sent from the Ambassador who last saved changes to the message. Any Ambassador can edit and save a new version. This does mean that you shouldn't edit the message unless you want it to be sent from you!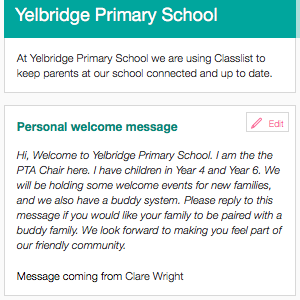 To create a welcome message go to School Profile page.