On the admin side Invite Parents when you've chosen to invite parents by email you can now click on the Upload tab to upload a list or csv file of parent details, as well as 'manually' pasting in a list of up to 1500 emails via the Manual process.
The CSV upload enables you to specify year and class for everyone in your whole upload.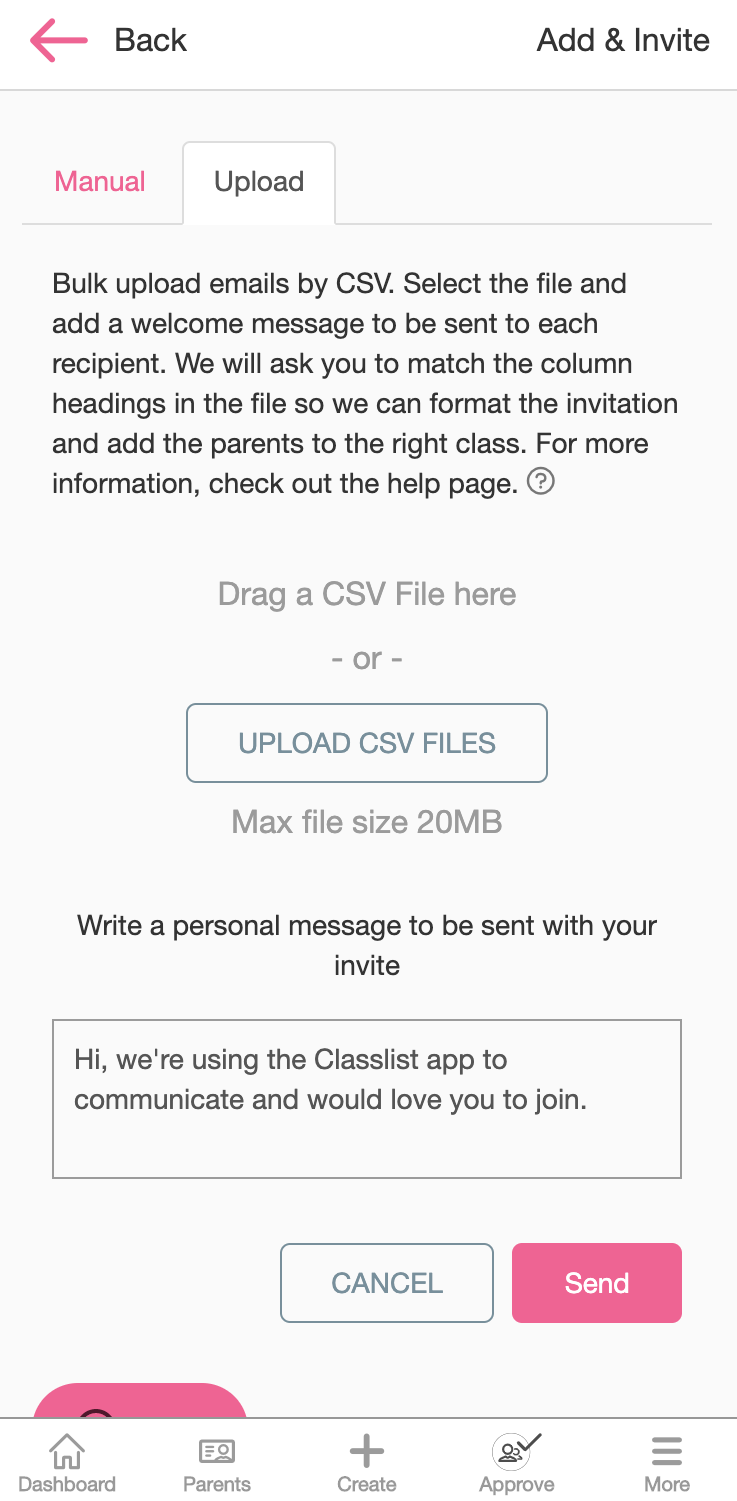 If you select this option you can upload a CSV spreadsheet with five columns for the name, email and class or year group for each parent you want to invite. This is an easy way to send out a bulk invitation to all parents in your school using a contact list from an external platform. All you need to do is enter the year or class name from your school structure for each parent.
If you need a sample CSV spreadsheet you can download our handy template. (see below for attachment)
To upload a a CSV file
Create your spreadsheet with 5 columns
Column A: First Name (of parent)
Column B: Last Name (of parent)
Column C: Year (of pupil)
Column D: Class (of pupil)
Column E: Email (of parent)
NB the year and class must be written in the exact format it is written in your School Structure, with the same spaces between words.
NB Use a file name with underscores instead of spaces. Eg example_upload_template_Yalebury_School.csv
Export your spreadsheet as a CSV
Select your file or drag it on to the upload icon. Customise the personal welcome message that will be sent to each parent and click submit. We will validate the file and store it. The next screen will ask you to match each column to our input fields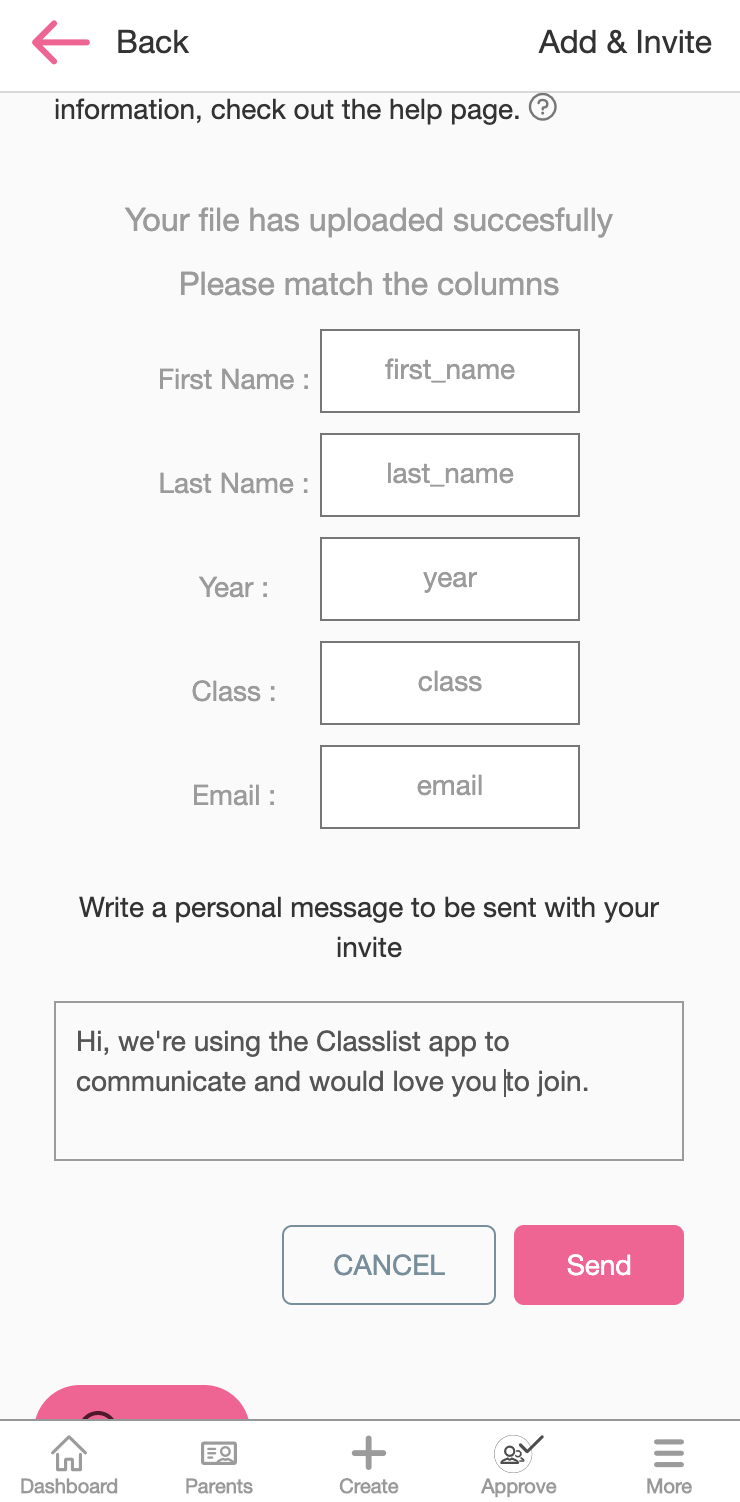 Once you've matched the columns in your file, write a message to parents or retain our standard one.
Then click 'Send' and we will start processing the file. This may take some time if the file is large so it happens in the background. You can check the status of uploaded files on the main invite page.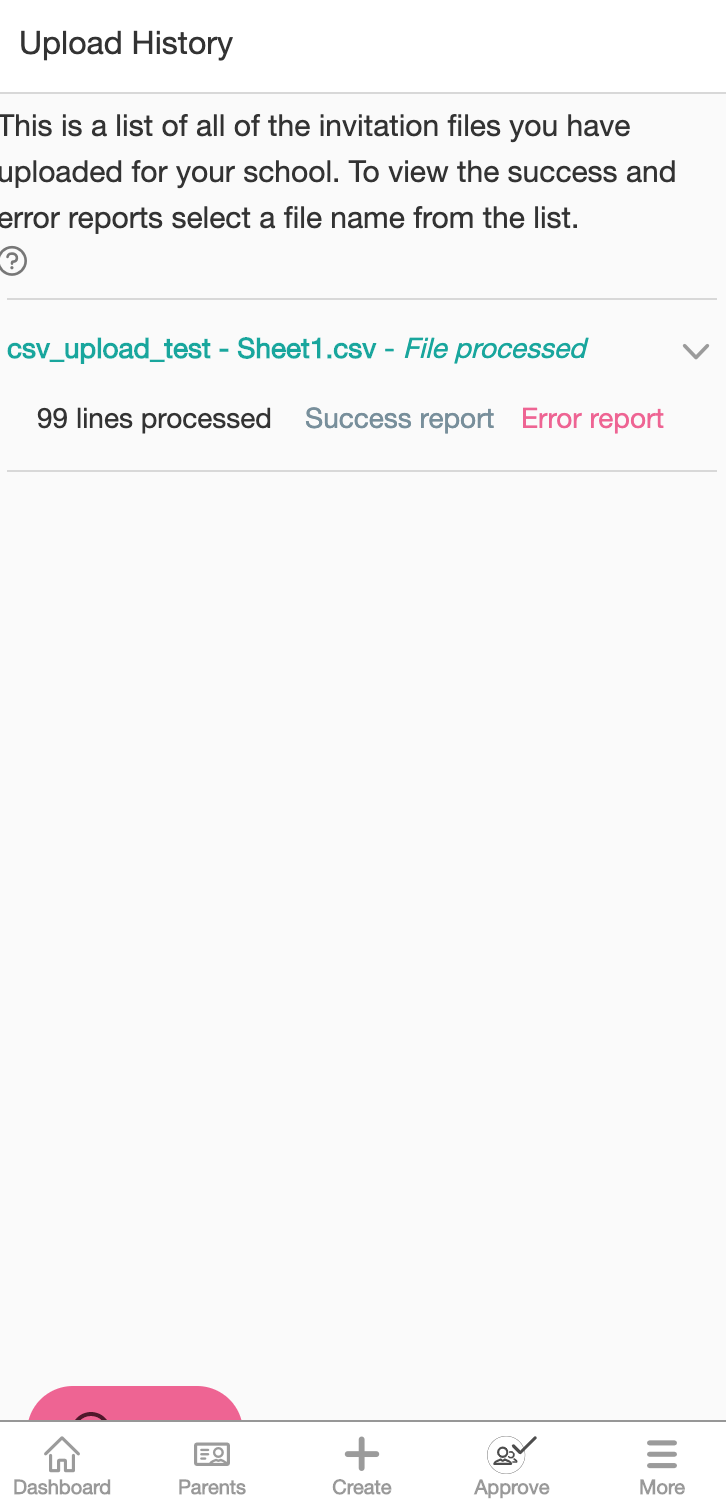 The invitations will be sent during the processing.
When we have processed all of the emails you'll be able to download two files. One file will contain all the emails we have successfully processed and sent invitations, and the second one contains all the rows where there was a problem. Problems might be invalid email addresses or missing information, or inaccurate year or class names in one of the columns. You'll be able to correct the problem and easily upload the file again to send those invites.
Error messages
If the Error report says 'TIER_NOT_FOUND' - it means the class or year given did not exactly match those in your School Structure. An exact match is case sensitive and must have the same number of spaces between words.
Error MEMBER_AT_SCHOOL means the parent is already a member and you don't need to invite them again.
Please note the file should only have the above 5 columns. Extra data will cause an error.
The file needs to be a csv format and therefore can only have one sheet in it.