When creating your event click on the chevron on the right of Advanced Settings to show the Guest Checkout option.

Set your event as 'public'. Don't worry, people can't find the event page unless you give them the url.
On the next page of creating your event you will be able to copy the url

Confirm you want to 'make it public'.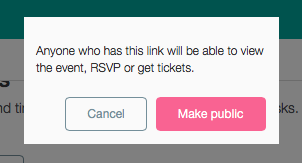 You also need to invite some guests that are members of Classlist before you can set your event live and 'publish it'.

You can add any class, year, group or the whole school.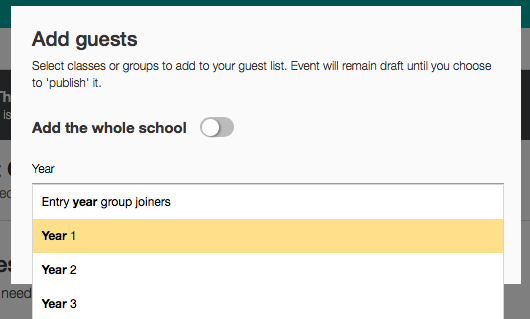 You can choose just to publish your event, which will list it in your events list without sending invitations. You may do this if you are adding events far in advance and don't want to send invitations yet.
Or you can choose 'publish and send invites now'.
Obviously only parents at the school will get these invites.
For your other guests who will use Guest Checkout you can now share the event url.
Please note, if parents use the Guest Checkout they can buy tickets but they won't appear within their Classlist account as e-tickets. So it may be better not to share the Guest Checkout url with members!
Parents who aren't yet members
Some schools use an event to launch Classlist and get parents registered on Classlist.
In that case, don't give parents the link to the guest checkout or they may not join Classlist but just buy their tickets (it is a different url). Though if they do go through guest checkout you will have their email and could then invite them to join from the Invite Parents page.
However It is worth asking parents to join and pay as a member.
Send parents the url of the parent view of the event page, and then when they try to access the event they will be asked to register for Classlist first and can then buy their tickets.
If the people you are inviting to get tickets aren't yet members of Classlist, but are parents at your school, then after they buy their ticket you can copy their email and paste it here to invite them to join Classlist. That way they will get your future announcements and events even if they don't join up yet.
Eg You can download the list of guest checkout tickets and then copy and paste the list of emails to invite them to join (NB only do this if they are a parent at the school as it will send them a pre-approved invitation!).
A few things about guest checkout:
You need to have invited a group of parent members to the event too - it can't be guest checkout only. It won't go live as a public event until it is live as a parent event.
Currently you can't set it to 'online event' option and public event (that is because the online event is mainly for adding zoom links etc to make it easy for parents to join the zoom call). That is being updated soon so that you could do a ticketed evening talk and invite the local community, for instance.
However if your guest checkout event isn't an online video call then you can make it public with tickets already.
You can't use Paypal for public events, it needs to be Stripe. This is because Paypal has various pending payment statuses that we don't feel are compatible with public events as someone could pay the day before your event and you wouldn't have got the money by the time the event starts.