We often get asked what is the easiest way to let parents know about Classlist. Lots of parents are having to wait outside the school gates for pick up during Covid-19, so we have designed a fence banner that you can put up to let parents know about joining Classlist. You can use them inside the school at school events in the future too!
We have negotiated a deal for a company to supply 4ft by 2 ft banners direct to you for an special introductory price of just £13.99 (including delivery) for the first banner, and £8.00 each for extra ones. This is much cheaper than you could get direct. (NB Classlist isn't gaining from this deal!).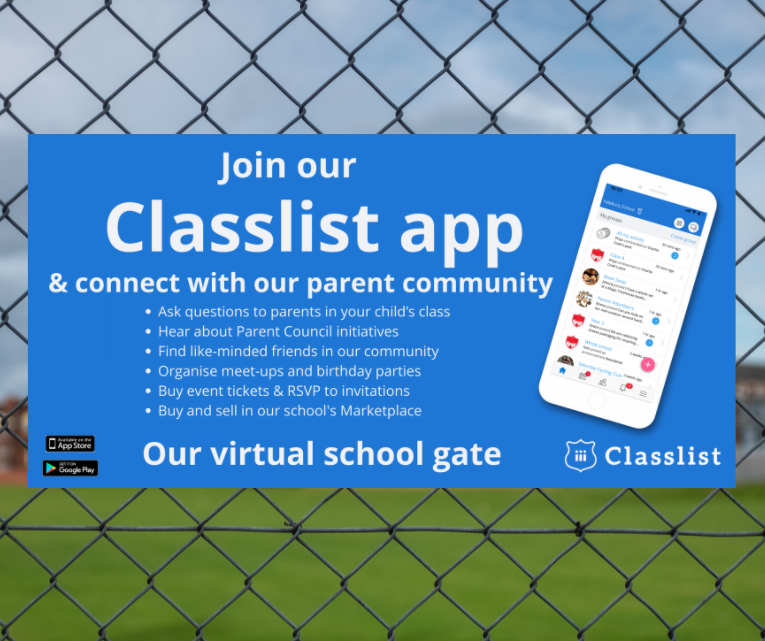 Please email chris@vinylbannersprinting.co.uk directly to take advantage of this offer.
Please send the info below:
Classlist offer
4 ft by 2 ft banner
Hemmed to make edges stronger
Eyelets 60cm apart
£13.99 each, shipping included
Additional banners are just £8.00 each (i.e. £21.99 for 2, £29.99 for 3 etc)
Your name
Your school
Your delivery address
Permission for your school name to be given to Classlist in list of schools which got banners.
Attach one of the file options below (

PTA, Parent Council, Parent Association, Friends or PTFA).

You will be sent a payment link by Chris - and your banners will be shipped when paid.
The designs below have been made in Canva. If you wish to add your school logo, you could import the file to Canva, add your school logo at the top left and re-export the design. Please do not however change our main banner design or produce your own banner using Classlist branding.
The files for downloading are attached at the bottom of this page.