Using an online sign-up system for volunteer rotas at events
We all know getting volunteers to sign up to help at PTA or Friends community events can be a really big headache, and Classlist wants to help make it easier.
We are excited to announce that we have now integrated our own online sign-up function within the events area of your Classlist.
From Santa's grotto slots, to food donations, to who's going to man the bar — use *NEW
SignUp Lists
* to easily sign up helpers in the app and allocate time slots at your events. We'll send parents a helpful reminder too.
So what are SignUp Lists?
SignUp Lists are online task lists you create and share on Classlist to let parents know how they can help your PTA!
With SignUp Lists, you can add a list of one-off tasks OR build a rota with different timeslots and select the number of helpers you need for each stall or activity.
This software is very easy to use, and you can always have a trial using a fake event for your reps if you want to see how the SignUp Lists tool works.
When Classlist members go to the event page and open the SignUp, they can sign themselves up for whichever time slot and task they prefer, adding a comment as well.
The event organisers can then view or download the completed SignUp List from Classlist.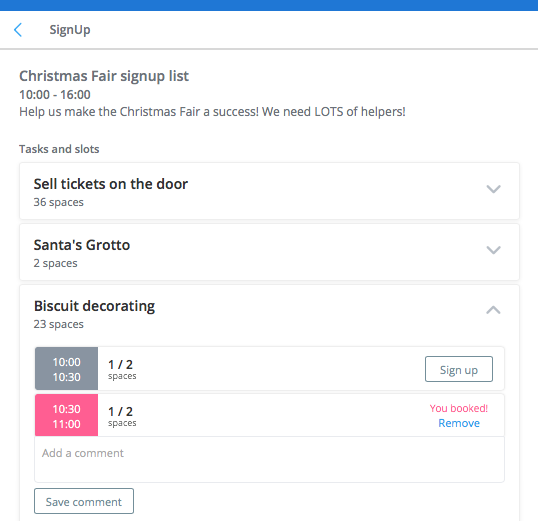 And for events where you are selling tickets AND need helpers parents can buy their tickets and sign up to help during the event all in one place on the Classlist app.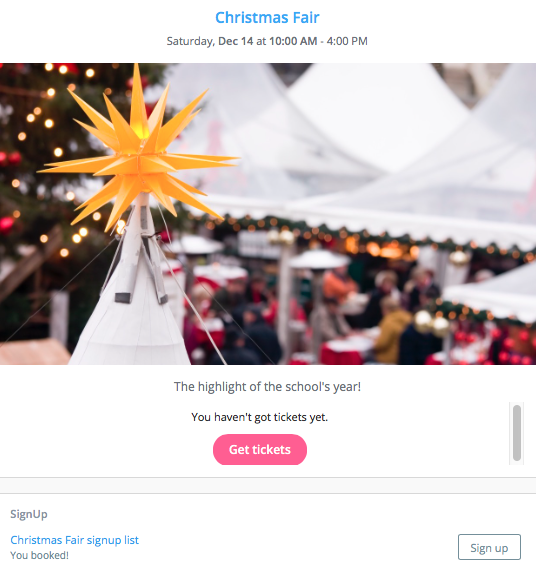 PTAs are already using the new tool!
"This is amazing! Fab for our Christmas party coming up. So easy. Brilliant addition"
It's easy to set up a SignUp List
Go to Community Events (on the green admin side)
Create an event or select an existing one
Click the 'Add new SignUp' button
"We used your YouTube video at our [PTA] meeting this morning and added all the volunteer slots we need onto the event listing for our Christmas fair - we feel very efficient"
You can also use SignUps for scheduling school drop offs and pick ups during Covid-19. See how here.