Unsubscribing from all Classlist messages from your school
When you are invited to Classlist by a member of your school's Classlist community you will receive an invitation to join by email. If you do not want to join the community, or receive any notices from your school's Classist site, you can unsubscribe. This will opt you out of all Classlist's emails. If you have already registered and want to delete your account please click here to find out how. Unsubscribing does not delete your account.
NB: If you have been invited via two different email addresses (eg a work and a home address) you will continue to receive invitations and notices to the second address even after you sign up using the other address. This is because the system does not know you are the same person with two different addresses. To avoid this you will need to unsubscribe from receiving emails to the second address - see below for how to do this.
Look for the footer at the bottom of the email
At the footer of your invitation email find and click on the 'opt out...' link (see image below). This will take you to a separate page, confirming that you are now unsubscribed.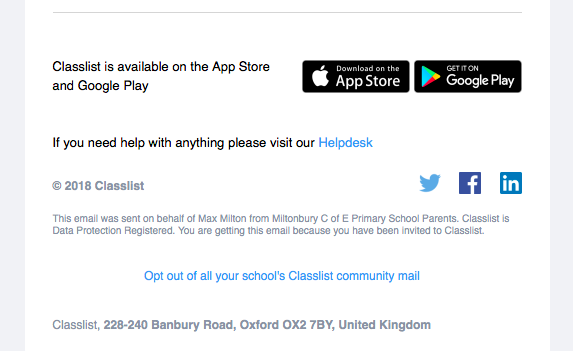 An unsubscribed invitee will not receive any further emails from the Classlist community at this school, or any invitations to join from any other school, to this email address. If you were invited twice at two different email addresses you will need to unsubscribe from both email addresses if you do not want to receive any messages.
If an Admin member subsequently tries to invite an unsubscribed parent to a class or school, the Admin will be notified that the email address is unsubscribed. No invitation will be sent, even if the invitation is re-issued.
Tip: If you ever unsubscribe by mistake, or wish to re-subscribe, simply ask an administrator at your school to delete the 'unsubscribed' email account, or sign up to Classlist yourself at https://login.classlist.com/#/.
Unsubscribing from corporate emails
If you are a member of your Classlist community, occasionally Classlist Central will send out emails, perhaps alerting you to a new feature or encouraging you to explore a particular aspect of the site. If you do not want to receive these emails you can unsubscribe from them, without unsubscribing from your school's Classlist communications. Simply click the unsubscribe link in the footer of one of the corporate messages.
Unsubscribing from corporate emails: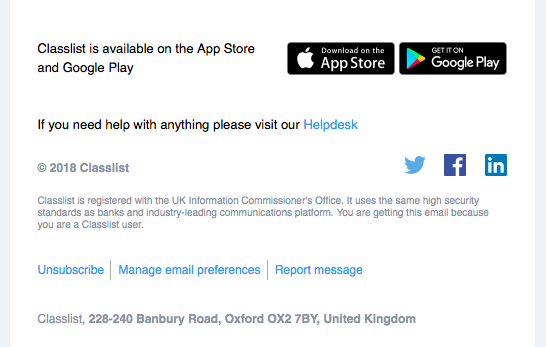 NB: make sure you only hit unsubscribe on a corporate email otherwise you may find you have opted out of all your school's messages by accident!
When you tap the unsubscribe link it makes it clear that you are opting out of emails from Classlist the organisation, rather than from your school community.
Message confirming you are opting out of corporate emails: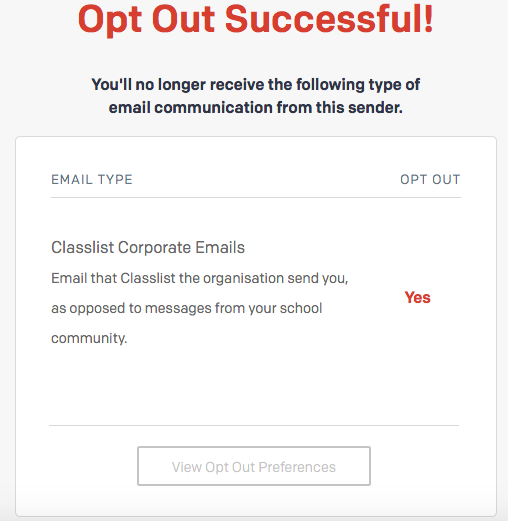 Tapping on 'View Opt Out Preferences' brings up the box shown below:
'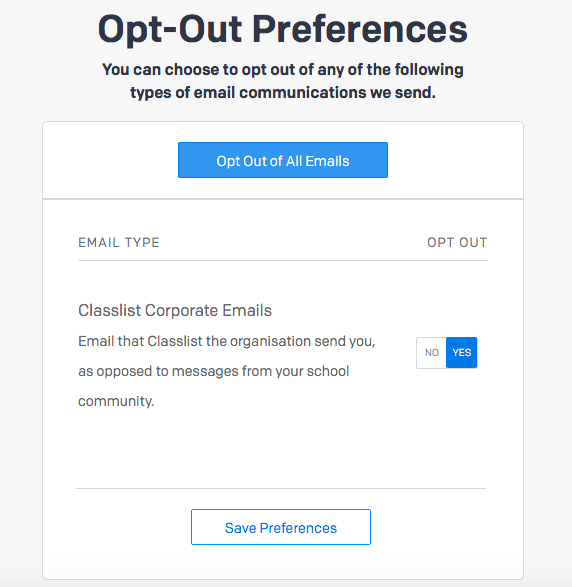 Opting out of email notifications from your school
You can also opt out of email notifications by tapping on the 'unsubscribe' or 'manage email preferences' in any Classlist email footer. This will take you to the Notifications page in your profile, where you can change your preferences for how you receive notifications.