Ambassadors are able to view all posts in all groups if needed, including the years and classes and the Marketplace, using the 'Monitor Community' page in Admin Mode. It is found right at the bottom of the admin side menu.
This is so Ambassadors can moderate if needed - they are able to delete any posts and comments that are inappropriate.
For instance occasionally a parent may report a post to you for breaching Classlist's member guidelines; the Monitor Community page is where you can follow up on the report and take action if necessary. If a post is reported Ambassadors will receive an email and notification about the post and can follow up as appropriate.
Parents can also report another parent from their profile page - but as that report does not relate to a specific piece of content you will not get any information about why the parent was reported. You will need to follow up with the person who reported them before deciding what action to take, such as sending them a private message asking for details if they have not contacted you.
A parent being reported in this way occurs very rarely and it may relate to them persistently posting in a way that breaches our guidelines, such as posting about their business.
It is important that you do not identify who reported someone else to others, including to the person reported.
Parents that breach the Member Guidelines can have the post or comment removed in Monitor Community, or you could deactivate their account which blocks them from Classlist completely.
While group communications on Classlist can be seen by Ambassadors to ensure that the community does follow our code of conduct, Ambassadors cannot view parent private messages or private events - those can only be viewed by senders and recipients.
Deleting a post
Deleting a post is simple, just click on 'delete post' which appears in pink under each post. You will be asked to confirm you want to delete, or you can cancel at this stage. Please note that deleting a post will also remove all associated comments and likes. You can also delete an individual comment on its own by clicking the small pink X next to the comment.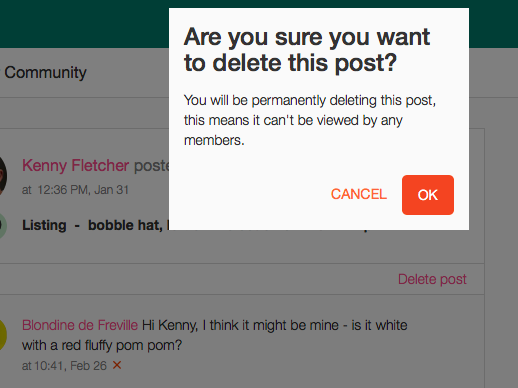 The deleted post will remain visible on the Monitor Community page, so that you can refer back to it if necessary, but it will disappear from the parent side of your Classlist site. If another parent clicks on an old link to that post it will trigger the 'Whoops, this page is no longer available' message. Once deleted the post will have a greyed out 'post deleted' note in the Monitor community feed; you cannot un-delete it. Comments do not remain visible after deletion if they are deleted on their own.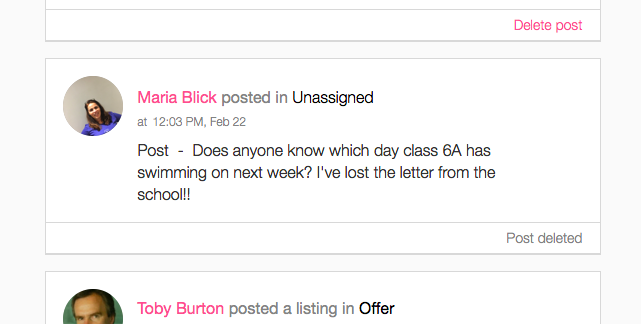 NB: You can also delete an announcement, though doing so will only remove it from the feed, it will not remove it from the 'Announcements' page.
Things to consider when deleting someone else's post
When deleting another user's post for breaking Classlist Community Guidelines, it is best if you let the parent know, because they won't get an automated notification saying you deleted it. If a post is removed without informing the creator, it can cause tension. If possible, send them a message letting them know that you are removing their content as it violates Classlist rules, but be understanding as the parent in question may not have realised.
Our research with parents tells us they do not want Classlist's messaging tools to be used by other parents to send out marketing.
You may want to highlight to parents that they should not write messages or create events on or using the site from which they, their associates or any other organisation may make any commercial gain. They should not use contact details taken from the site to use for off-site marketing purposes either.
If a parent wishes to promote their business or that of their friends, they can advertise on Classlist, either via a banner advert or in the feed. These are clearly labelled as sponsored ads and in schools using the free version of Classlist these ads cover the costs of providing the Classlist service to your parents. The PTA gains revenue from this if the business is introduced to Classlist by the PTA. Adverts can of course be ignored by other parents if they choose and they are not invasive.
Examples of 'banned' posts:
Posting info about events such as a party at a pub owned by a parent, at which guests would pay for anything e.g. drinks.
Emailing your whole class or year group about a jewellery sale at a friend's house. Of course you can invite a few friends, but you shouldn't be contacting people you don't know personally in this way.
Charity postings
There is a fine line between what is acceptable and what isn't, but just because something is for charity doesn't mean there isn't a commercial angle too.
The rule is, only the charity should gain from the coverage. Otherwise it is commercial and our advertising platform should be used. For example, a parent might post asking to be sponsored for a marathon, and that would be OK as only the charity gains. However, the parent should restrict their posting to people they know e.g. their class or their friends. It probably is not a suitable post for the whole school on the Parent Board.
On the other hand, an event such as an art exhibition at someone's house, where a donation is being made to charity but the artist would make money from selling paintings would be classed as a 'commercial event'.
Recommendations for Cleaners/nannies/builders etc.
However well meaning; posts recommending your cleaner/builder/nanny etc can be interpreted as marketing, and other parents may not be happy to receive the recommendation.
Whole school posting rules
Only post to the whole school if the post is relevant to a significant proportion of the school, and if it is school-related. You should post in a class or group if you are in any doubt.
We recommend that as an Ambassador you are firm about breaches of the guidelines from the start, so that bad habits don't develop in your school community! Some PTAs tell us their Facebook page started getting used by parents to post about their business and want to avoid that happening on Classlist.