As an admin member you will sometimes receive system messages to let you know when there is something you need to do. This could be when a new member has applied to join your site and is waiting for approval, or when someone has reported a post and you need to take action to resolve the problem. The subject of the notifications you receive will depend on whether you are an Ambassador or a different sort of admin member.

As well as receiving an email you will also receive a notification on Classlist, just like you do on the parent side if someone posts to a group you are in or sends you a private message. In order to alert you that there is an action waiting for your response if you are browsing the parent side of Classlist, the admin notification alert will appear on the green 'switch to admin' button (see image above).
When you click on the button to switch sides, the alert will appear against the notification section in the navigation bar. You can then go to the notifications page to view the actions waiting for your response (see below - items with a yellow background are new and waiting for attention). This also allows you to check back to see all parents who have joined the site, or have been recently approved by other members of your admin team.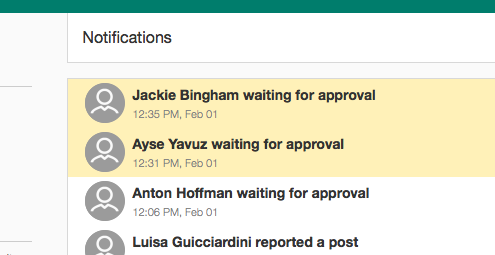 Even if your Staff Admin is managing the approval process, you can use the 'waiting for approval' email and notification as a trigger to alert your Class Admins that there are new joiners who need to be welcomed. All Ambassadors and relevant Class Admins will receive an emailed approval request, as well as the Staff Admin getting it.