We all know getting volunteers to sign up to help at PTA or Friends community events can be a really big headache, and Classlist wants to help make it easier.
From Santa's grotto slots, to food donations, to who's going to man the bar — use SignUp Lists to easily sign up helpers in the app and allocate time slots at your events. We'll send parents a helpful in app reminder too.
In this article:
So what are SignUp Lists?
SignUp Lists are online task lists you create and share, as part of an event on Classlist, to let parents know how they can help your PTA!
With SignUp Lists, you can add a list of one-off tasks OR build a rota with different timeslots and select the number of helpers you need for each stall or activity.
When Classlist members go to the event page and open the SignUp, they can sign themselves up for whichever time slot and task they prefer, adding a comment as well.
The event organisers can then view or download the completed SignUp List from Classlist.
This software is very easy to use, and you can always have a trial using a test event for your reps if you want to see how the SignUp Lists tool works.
And for events where you are selling tickets AND need helpers, parents can buy their tickets and sign up to help all in one place on the Classlist app.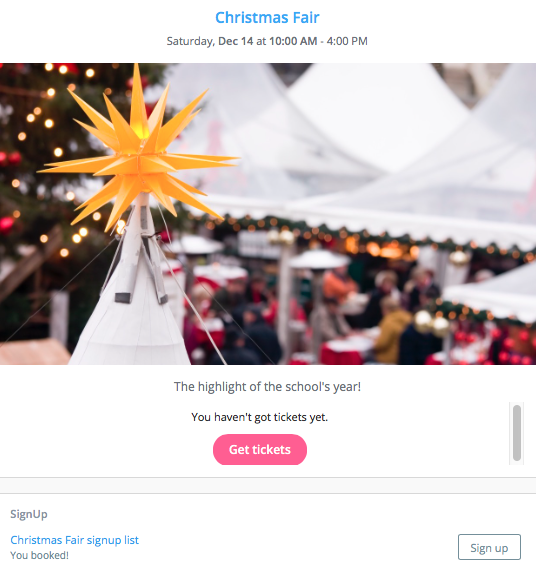 PTAs are already using the new tool!
"This is amazing! Fab for our Christmas party coming up. So easy. Brilliant addition"
"We used your YouTube video at our [PTA] meeting this morning and added all the volunteer slots we need onto the event listing for our Christmas fair - we feel very efficient"
It's easy to set up a SignUp List
Go to Community Events (on the green admin side)
Create an event or select an existing one
In the Sign Up Lists section click the 'Add new sign up' button
Edit the title, description or time if different from the event.
Select if the list should be for multiple timeslots or single tasks.
For Single Tasks
Switch off the switch and click 'next'
Click 'Add new task'
Add the title, description and number of people required and click 'save'
Add as many tasks as you need
Once you have finished adding tasks click 'Publish' (top right)
For Tasks with Timeslots
Ensure the switch is set to 'on'
Add the time you want the first volunteer to start and the last volunteer to finish - This might be different to your event times. You may also want to use separate SignUp lists for set up, during the event & breakdown.
Add how long you would like each volunteer to work for. (This can be overwritten by task later)
Click 'Next'
Click 'Add new task'
Add the title, description and number of people required
Update the task length if different from the standard set in step 3.
Click 'save'
Add as many tasks as you need
Once you have finished adding tasks click 'Publish' (top right)
NB: you can't mix tasks with and without timeslots on the same list. However, you can have as many separate lists as you like for each event.
Publish your event after publishing your SignUp list
Add 'whole school' as guests, or whichever group you are inviting.
Then publish your event - if you want to check how it looks in the blue parent side then choose 'publish and send invites later' and it will appear there without triggering an invitation.

Tip: You need to publish the SignUp List as well as the event for parents to be able to see it and sign up.
Edit a SignUp List
Once you have published a SignUp list you can choose to edit the title and details of the main list but, if anyone has signed up, you can't change the date, time or any of the task details that they have signed up for. If you cancel a task, an automated notification will be sent to the people who have signed up, letting them know that they are no longer required for that task and that they may still be needed for another task.
You can choose publish or unpublish at any time to make the SignUp list visible or hidden on the parent side event page.
Video Guide
Check out our video tutorial for a step by step guide to creating timeslots
How do Parents Sign Up to Volunteer?
Once you have published your SignUp list, parents will be able to see it in the same place as they book tickets or RSVP to an event. They will easily be able to see which tasks are required and can choose to volunteer at a convenient time, they will also be able to add a comment which you will see when you view or download the list.
Parents need to be members of Classlist to see the SignUp list as it is not currently available to the wider community. Once they have signed up they will be sent 2 app notifications as reminders to attend, 1 week before and 1 day before the event.
Tip:
Parents can sign up to multiple timeslots but can only sign up once per timeslot. If you are organising an event like Santa's Grotto let parents know they only need to book one timeslot for their family and the children will go in together. If you want each child to have a separate timeslot for an event, then multiple event tickets with timings as part of the ticket description could be used as an alternative.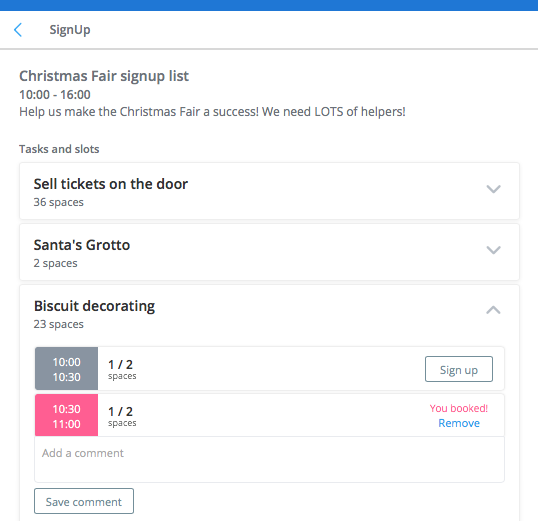 Comments by helpers
Parents can make a comment when they book a slot, or add it later.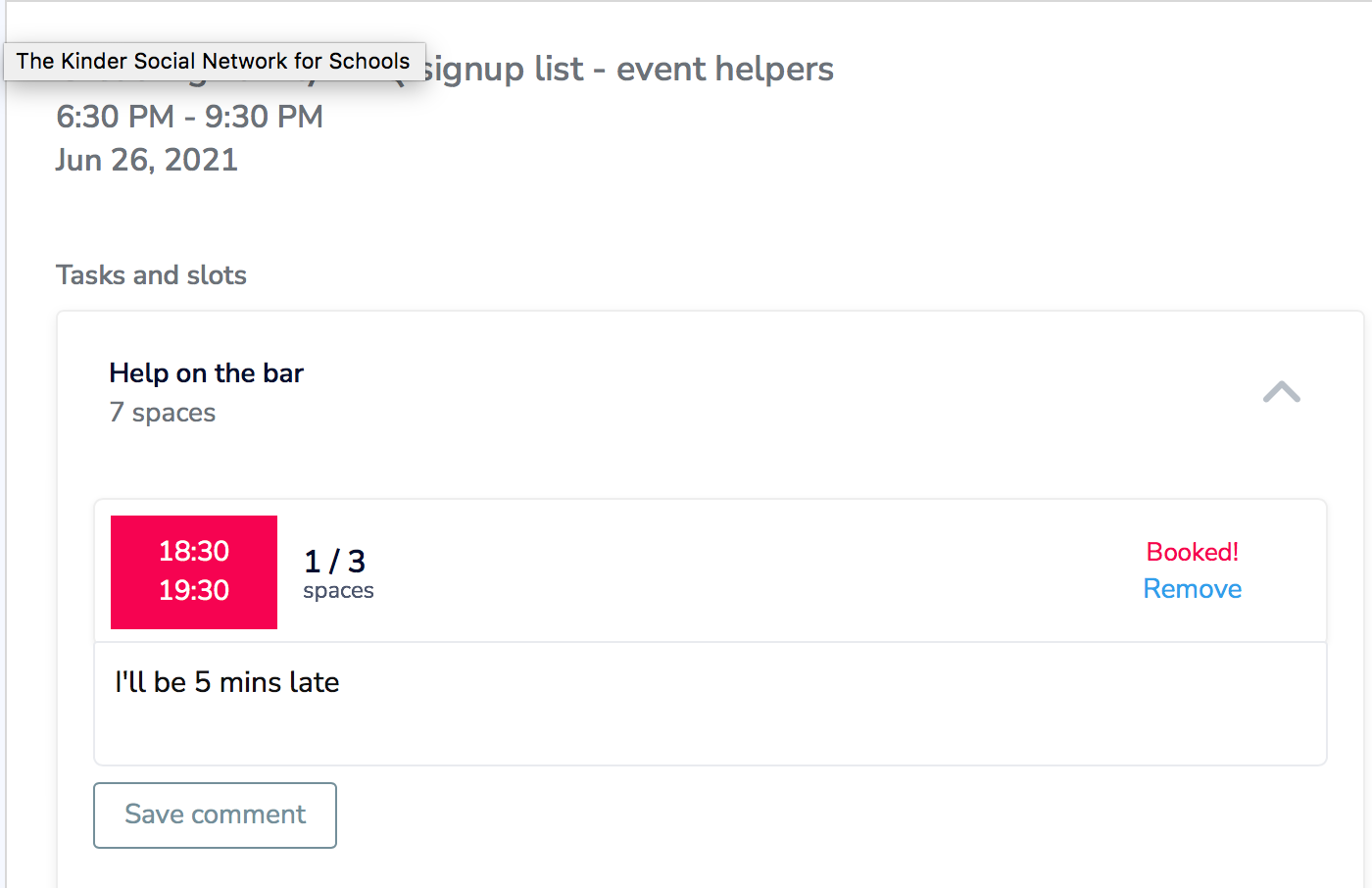 How do I see who has Volunteered?
On the admin side, in the sign up section of the event, there is an option to 'View'. Clicking here will give you a list of who has volunteered for which task and timeslot. You can also see their comments.
You can download this list into a spreadsheet.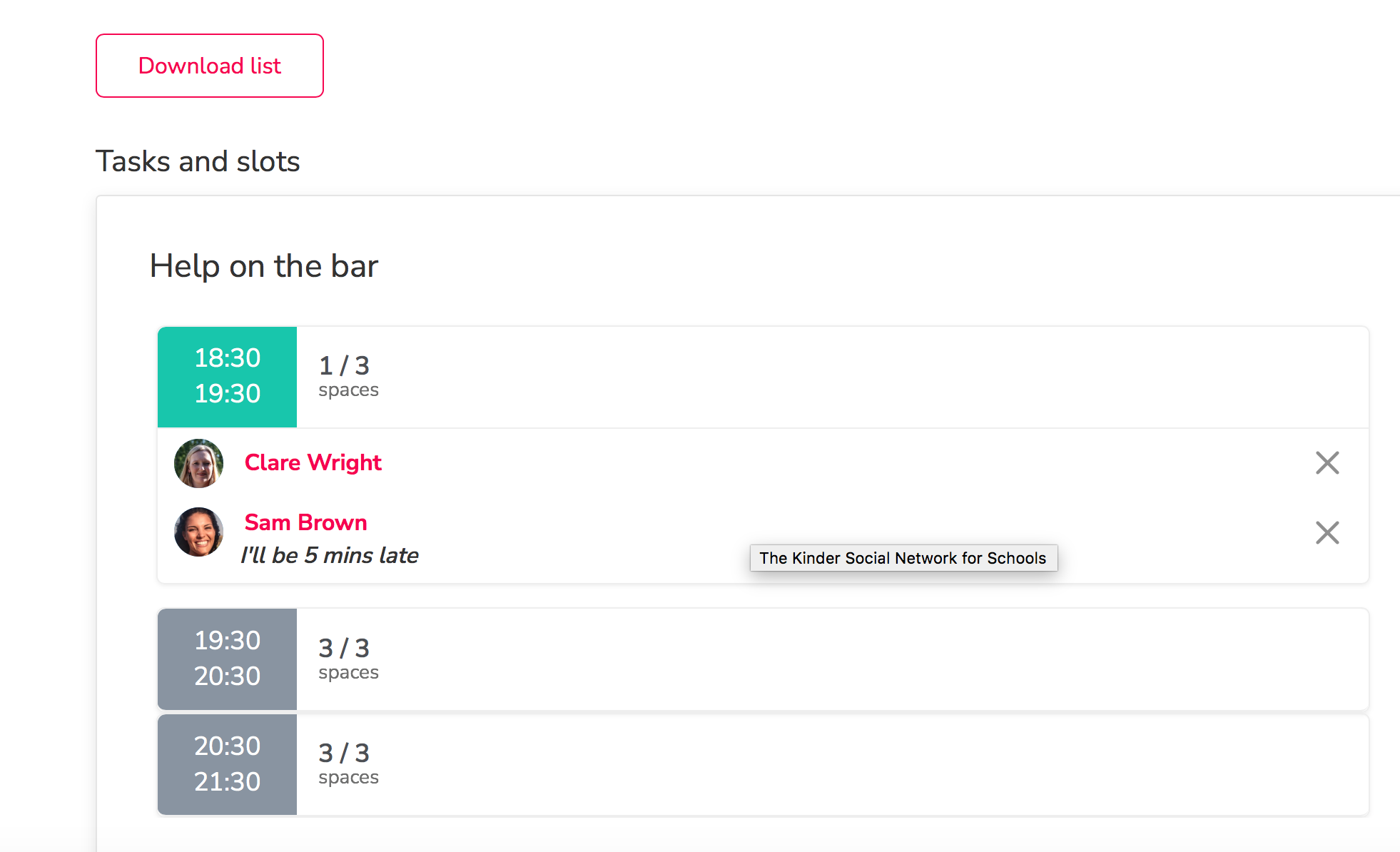 Troubleshooting
If you have duplicated your event and you want to use the same signup list you will need to amend the date on the signup list and click update. If you don't do this step you will find that all the sign up slots say they are fully booked. You will also need to publish your signup list(s) as well as publishing the event.
Other Ways to Use SignUp Lists
You can also use SignUps for
Scheduling school drop offs and pick ups during Covid-19.
Creating SignUp lists to get volunteers on multiple days