So you've been assigned as Class Admin (Class Rep); now what?! Read on to find out about the additional functionality and permissions you now have.
Admin members on Classlist have access to a separate Admin area, which displays with a green header. Your extra admin permissions only come into effect in the green Admin area: when you are in the blue area your account will have the same permissions as any other parent. You can switch between your admin area and your parent area at any time by tapping on the blue/green switch button at the top right of your screen.

Whenever you want to write or create any content on Classlist which is connected with your admin role (eg inviting members, sending an announcement, setting up a community event), you should do it on the green side.
If you want to do something that any parent member would do (eg send a private message, respond to a post, put an item for sale on the Marketplace, set up a private event like a birthday party), you should use the blue side.
Inviting Parents
One of the most important things a Class Admin can do is invite new members to join Classlist from within the Admin area using emails. This has a different effect from inviting someone on the blue parent side. Any parent invited by email by an admin member on the green side is automatically pre-approved and can start using Classlist without waiting for approval by an admin.
To invite members in the green Admin area, go to the Invite page and select 'invite by email'.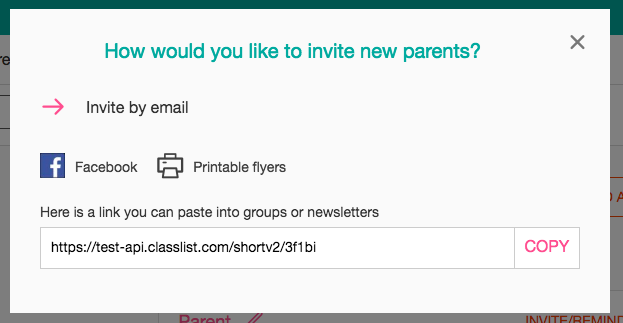 You can enter email addresses in bulk; simply select the class (or year if there are no classes under that year) to which the invitee/s will belong, enter your list of email addresses separated by a comma or a space, and click the send button. Your school can help by sharing email addresses of parents on the roll with the PTA. Read about this on our GDPA page. You can also enter a personal message to accompany the invitations if you wish. If the invitees belong to different classes, you should separate them into groups accordingly to bulk send, so that invitees are invited to the correct class for their child.
Invited Parents who don't join straight away
If the invitee does not join immediately, they are added to the list of 'invited parents' for your community, and they will receive admin-generated content addressed to the whole school, or their school year and class groups. This aspect of the system works like a mailing list, allowing you to keep all parents informed, even if you have only just launched your site. Read more here about 'Invited Parents'.
The invite parents page in the Admin area, showing two invited parents who have not yet registered to join.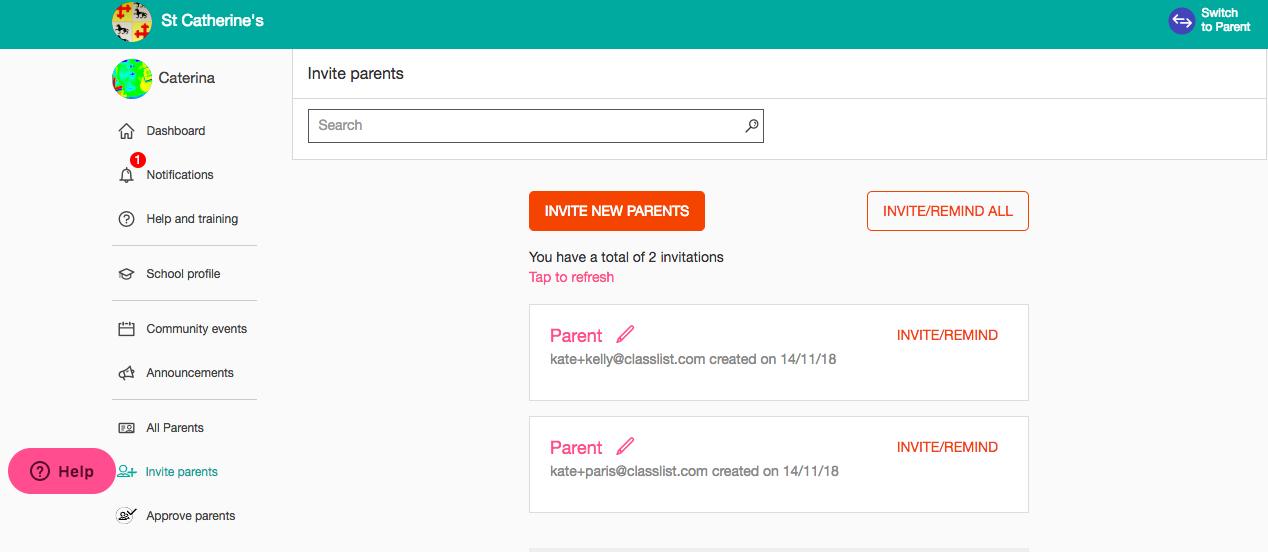 Announcements
Class Admins can send an Announcement to the Whole School, or any Year, Class or parent group. The Announcement is displayed in the Parentboard and Announcement pages, and a notification of the Announcement is emailed to all members of the addressee group (unless the user has unsubscribed). You can attach a document to an Announcement, including flyers, a meeting agenda or even homework that children may have missed.
Announcements will also be sent to the invited parents list.
You can still post to your class or year from the blue parent side, the same as any other parent member without admin rights, but this won't get sent to any invited parents who have not yet joined.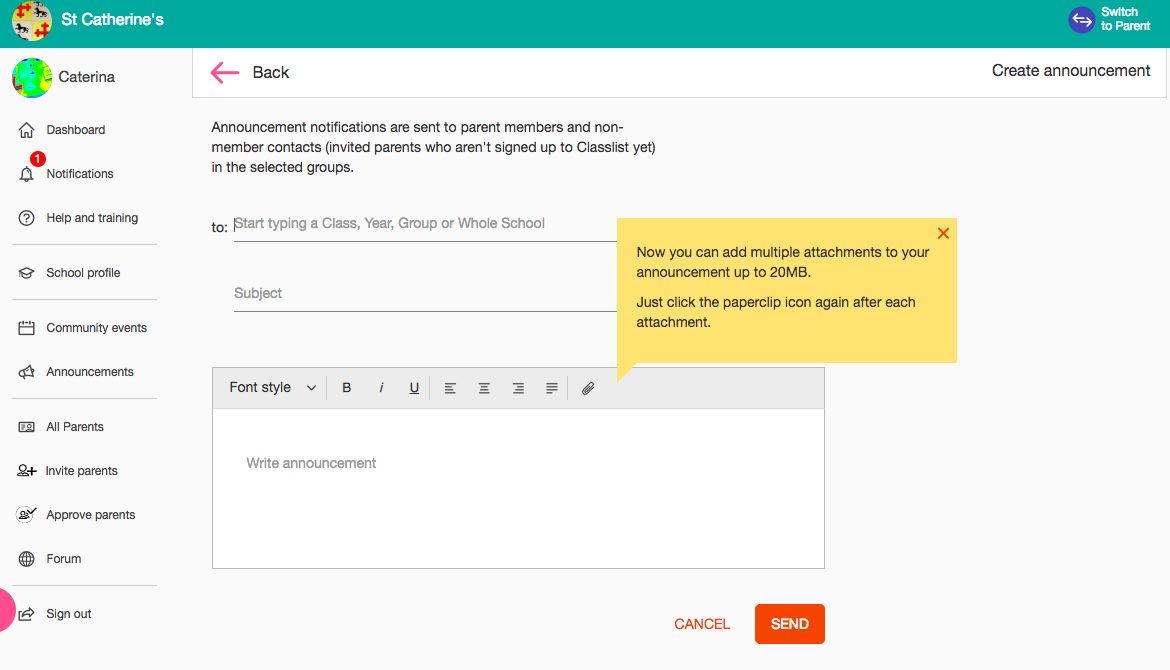 Approving parents
Another duty of a Class Admin is approving parents in your class who have requested to join your school's Classlist. This procedure has been added in the interest of security, allowing you to vet each parent as legitimate before they can access your site. The process of approving parents is simple, you just need to click the 'Approve' button once you have confirmed their identity.
Community Events
Class Admins can also create Community Events which can be sent out to the whole school or individual groups, years or classes. These Community Events will also be sent to Invited Parents who have not yet joined Classlist.
Community events will show in the events list to all members invited, even if they join Classlist after the event is created.
Notifications
As an Admin user you may get notifications of tasks needing your attention, such as approving parents who apply to register to your class. These are shown on the Notifications page on the green Admin area.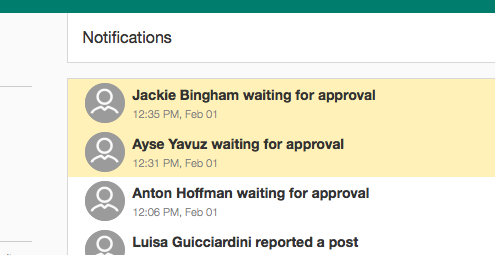 Being a Class Admin for more than one class
It can be very handy to have the same person as Class Admin covering for several classes. This is especially the case at big secondary schools where there may be fewer parents who are actively engaged with school life, so you may only have one volunteer per year group who is willing to act as Class Admin.
A parent can be a Class Admin for several classes, even if they do not have a child in these classes. If a Class Admin doesn't have a child in the class she/he will only be able to send Announcements to that class (rather than posting on the class feed). However, a Class Admin can post to a whole year group (including all the classes within it) if he/she has a child in one of the classes in that year group.
If you are a multi-class Class Admin who wants to post to all your classes individually, but you only have a child in one of your classes, you can do this by creating an extra 'child' eg named 'class admin kid', for each class where you do not have a real child. You will then be treated by the Classlist system as a member of the class group.