The 'My School' page contains key information regarding your school and the parent volunteers who help run your Classlist site (and probably your PTA/Friends group as well). The page is broken down into a few helpful sections, allowing you easy access to the information you need.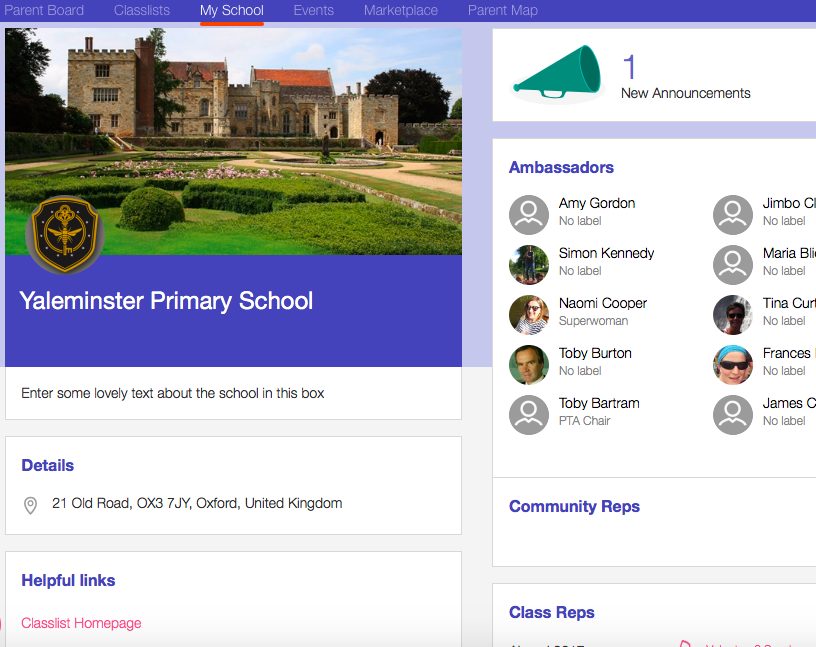 The details on the left relate to the school: the site admins can include a contact address and phone number as well as helpful web links which might include your school's website, homework resources or a local news site - anything that could be of interest to your parent community. If you have a suggestion for a useful link, why not message an Ambassador so they can put it up!
To the right you will see if there are any recent all-school announcements, and a breakdown of all the people with Classlist Administrator and/or PTA positions in your school. You will be able to see Class Admins and any Community Reps as well as the Ambassadors; to contact one of them just click on their name and hit the Message button. And if you feel up to the task of helping out, there's always room for more volunteers!
For an overview of the different Classlist Admin roles click here.