Attachments can be sent with private messages or Announcements from admin members. If you are having trouble opening an attachment read on...
Opening attachments on your phone:
If you are unable to view documents you may need to have 'save to Files' enabled. To do this for iOS, open the attachment from Classlist, then:
hard click on the doc
choose 'share'
then 'save to files'.
Opening attachments on a desktop:
If you receive an Announcement with an attachment you can view the body of the Announcement on Classlist before downloading anything. On the Announcements page or in the main Parentboard feed you can read the text and add a comment either from the summary or after clicking 'read more'. Just tap on the attachment and it should download automatically.
NB: Some attachments can download very quickly without opening or even appearing to download, but if you look in your downloads the attachment should be there. This seems to happen more on on some browsers than others eg Safari.
Opening attachments from an email: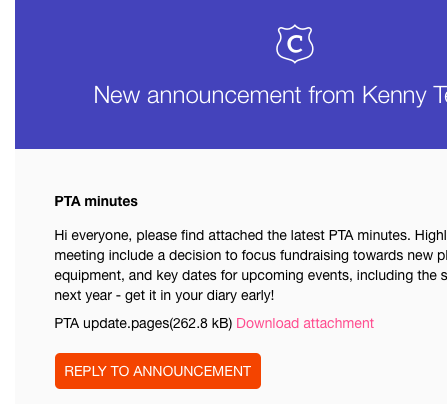 If you have opted to receive email notifications, you can download an attachment directly from the email. Alternatively, tap the 'Reply to Announcement' button. This will take you to the announcement on Classlist where you can download the attachment and leave a comment if you wish.