Usually a school's Classlist site is set up by a member of a school's PTA, who then becomes the site's lead Ambassador. If you are a member of school staff and you want to found your school's Classlist site, Classlist Support will set up a notional parent Ambassador account to register the school with, and then invite you to join the site. You should try to persuade a helpful parent to take on the Ambassador role in real life as soon as possible, so that Classlist Support can change the notional Ambassador account to a real one.
You will receive an email from Classlist inviting you to join the Classlist site you requested to set up. When you click the link in the email you will need to create a password for your account. See section below for your other Profile details. 
Once this is done, you will be taken to the Classlist set-up Wizard, as shown in the image below. As a Staff Admin member you will not be asked to add a child to your account, but you can follow the other instructions on screen to set up the school.  You can find the wizard here.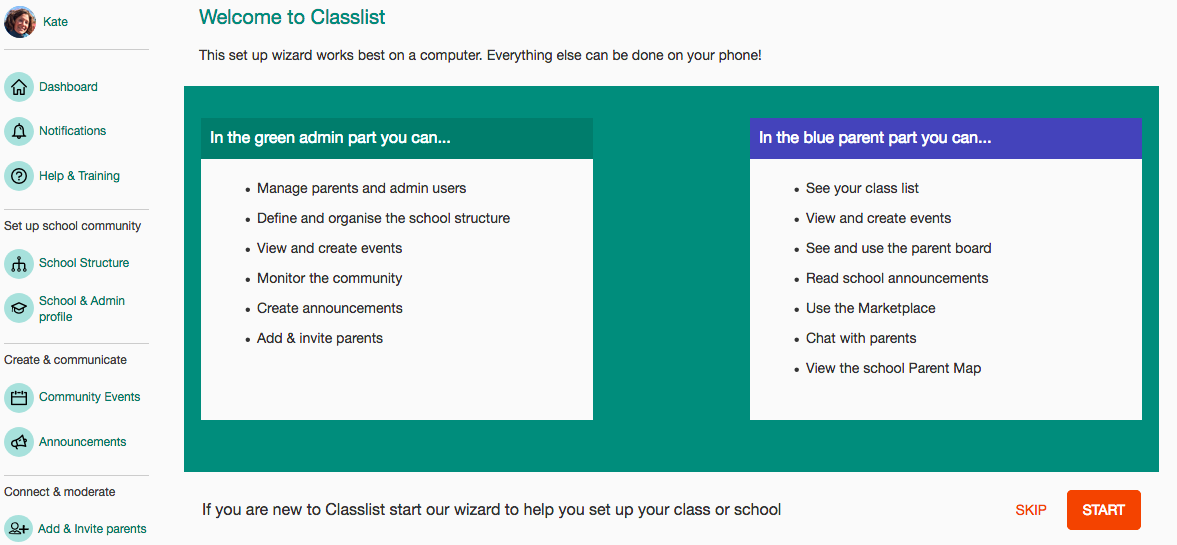 Your Profile
Your Classlist profile is where you save your personal information and password details. To access the page, just click the profile icon (top left in the main menu on the app or, if you are using the desktop, it's the top icon in the side navigation bar). You can upload a photo, change your name and title, change your password and email address, and delete your account from this page.
Your school's Parent Ambassador
One of the most critical things you need to do once you join and set up your school site is appoint a Parent Ambassador. This parent would ideally be a well-known figure in the parent community (perhaps a member of the PTA) who won't mind doing a little bit of work for a very valuable reward. 
Once you have invited and approved a parent member, just visit the School and admin profile page and click on the pink + symbol in the Ambassador area to open a prompt to invite your Ambassador.