There are two main ways to invite parents to join Classlist. As an admin user you can invite parents in Admin Mode using their email address, which has significant benefits (described below).
Admins can now also invite another using apps such as Facebook, WhatsApp, SMS and iMessenger, which you could previously only do in the blue Parent Mode.
Inviting via email in Admin Mode
This is the most effective method of getting parents to join up to your Classlist site, since it allows you to send a personal message to the recipient/s and track the progress of your invitations. Parents invited via email by an admin member in this way do not need separate approval, because they are already known to be genuine parents by the admin member inviting them. This means admins should only invite parents using email addresses which are known to be up to date, so that only genuine parents are invited.  
Everyone invited by an admin member will start receiving main announcements and community event invitations right away, even before they join. 
To invite parents this way go to the 'Invite parents' page in the green Admin Mode.
You can enter single or multiple email addresses. If your PTA or Friends group already maintains a contact list, entering multiple email addresses enables you to invite a whole class at a time: simply copy and paste your list of email addresses in the text box and select a class from the drop down list. Make sure your addresses are separated by a comma or a space. The invitations will be sent out instantly. Single invitations work the same way.
If you don't know the class, don't worry - it is optional.  However those parents invited without a class specified will only receive 'whole school' announcements and events, rather than class or year ones, as we won't know which year they are invited to.  
Or add a temporary class to each year to invite the parents to.  If you don't know who is in which class, but want to invite parents to the correct year so they receive year group announcements, add a temporary class to the year called 'Year 5 unassigned class'.  Invite all the parents in the year to that class.  As they join they will join their correct class and you can eventually delete the temporary class.
Parents invited by email remain visible on your invited 'pre-approved' parents list until they sign up or unsubscribe.  Invited parents receive important messages such as Announcements and Community Event invitations from your site, in the same way as a mailing list sends out information to a list of subscribers. For instance parents invited to Year 6 will receive announcements sent to Year 6 or to 'whole school'. This allows you to keep them in the loop even if they are a little slow off the mark signing up, and you can communicate with everyone you have invited from day one! Invited parents who have not yet signed up are only visible to Admin users; other parents won't be able to find them. For more information on Invited parents, please click here.
Keep an eye out for pre-approved parents joining. All admin members will receive an email notification when a pre-approved parent joins the site, detailing which admin invited them and the parent's child(ren) and class(es). This provides an opportunity to double check all parents joining your site.
Parents invited by members who don't have admin status require separate approval. All parents who join without being invited by email from an admin member will need to be approved by an Ambassador or Class Admins in the 'Approve Parents' section; these admins will also get a notification in Admin Mode when a parent is waiting for approval.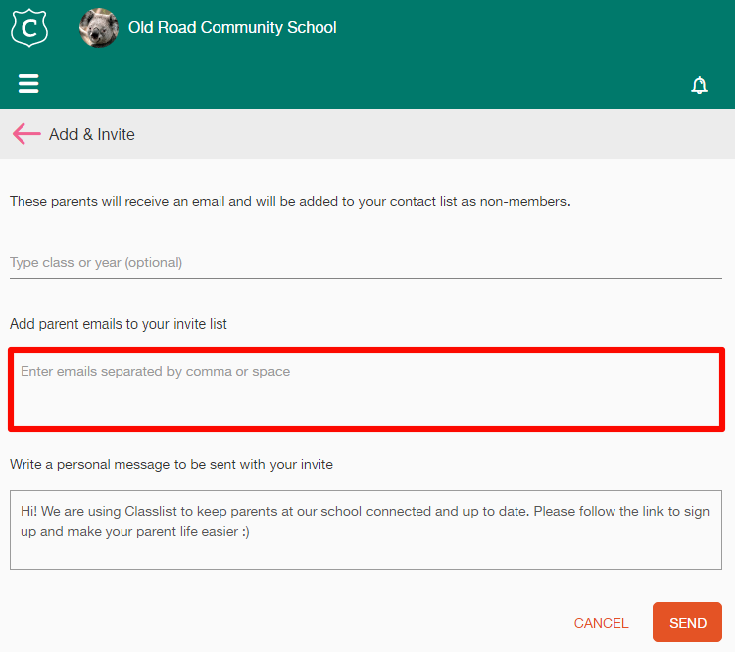 Tracking the Invitations
If you have invited parents via email in the Admin Mode, you will be able to track which of them have not yet signed up, edit their details (eg if you got the name or the email address wrong) and you can choose to re-send the invitation if you feel they would benefit from a reminder nudge.  
Click on the pencil to view an invited parent's details. If the invitation was sent successfully, you will see the the word 'sent' under their email address. If you made a mistake in the address it will show the message 'email not recognised, check and resend'. You can then edit the address, tap 'save' and resend the invitation.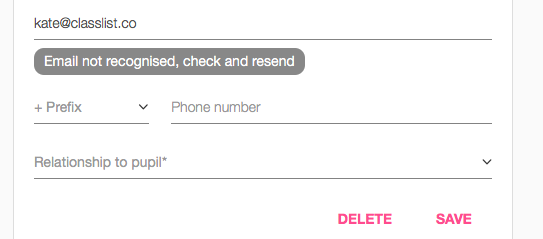 Remember that all parents whom you have invited by email, but who have not yet signed up (non-members), will receive announcements and information about community events.
NB Parents who are invited by email from the blue Parent Mode of Classlist are not recorded as invited parents in the Add and Invite page in the Admin Mode. They won't receive any announcements or other communications unless they sign up.
If you paste in a list to invite parents and they have already joined, don't worry, they won't receive another invitation. This means different class reps can paste in lists of parents and those who joined from an earlier invitation won't get another one.
Inviting using other apps such as WhatsApp, Facebook, SMS, iMessenger
If you are using the Classlist app you can use other apps on your device to send invitations to your contacts or groups in those apps. This is available on the parent and admin parts of Classlist. These invitations can not be tracked by Classlist and so the parents invited in that way will not receive your admin announcements. However it is a great way of getting word out about Classlist quickly!
Flyers
We have various flyers, postcards, posters and letters you can use to invite parents to Classlist.  Find them in the Resources section.
GDPR and using email addresses 
Inviting parents using email addresses you already hold is covered by the new GDPR (data protection) legislation which is effective from May 2018. Basically, it is OK to use existing lists of email addresses to invite parents to join if the PTA (or school if they are setting up the Classlist site) have contacted parents by email within the past year for PTA or school purposes. However, the PTA/school must give parents advance notice that they may be invited, in case any parent objects. A newsletter insert, notice on the PTA or school website or a sign on a school noticeboard is sufficient to cover this requirement, so don't worry. Find the specific wording, and lots of other GDPR relevant resources here. You will need to log in using your Ambassador email to access the resources. If you are asking parents to give you their email address for the first time, so that you can invite them, you need to record their consent for you (ie the PTA) to use the address to contact them. If you need tips on collecting parent email addresses, we have plenty available.
The really amazing thing about the new legislation is that: where the school is the data controller they can lawfully engage Classlist as a new data processor and enter parent emails directly into Classlist's invitation system where this data has been used within the last year to contact parents. Reasonable notice must be given as noted above.
Don't worry if you don't have any contact details for the parents - you can let them know that they can register directly at www.classlist.com.  All parents who register for Classlist need to be approved by one of your Admin users, before they can become a Classlist user.