The 'Classlists' page can be one of the most valuable tools in your 'school-parent' arsenal. From here you will be able to search for all relevant details relating to other parents in your children's classes. You will find the page by clicking either the 'Classlist' tab, or on the shield next to your school logo. 
Finding Contacts
The default view for this page is to present all of the contacts signed up to your Classlist site, that have given permission for you to see their contact details. To view all of the parents signed up to a specific class or year group, click on the dropdown menu on the top-left hand side of the page, underneath the navigation bar.  From here you can narrow down your search by selecting a specific category.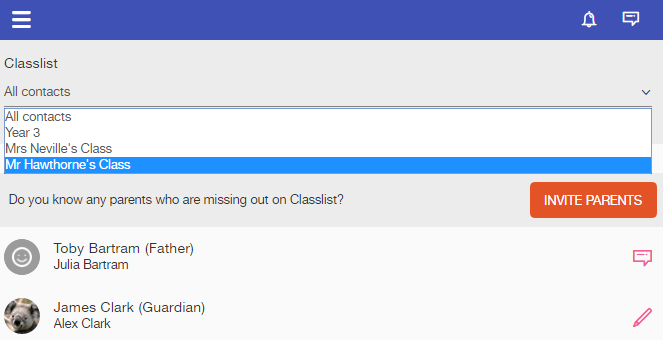 If you're looking for a specific person, you can use the search bar on the top left to quickly find them. Once you've entered a name, or part of a name, the page will automatically bring up the names all contacts within your school containing your search criteria.
The search function can be used to search for a child's name, and will bring up the child's parents in response. Perfect for when you can't quite remember your son/daughter's Mum's name.