Your Classlist personal profile is where you save all your personal information, contact details, notification and privacy preferences and pupil details. You can also delete your account here.
On a computer, just click on your name or your photo (eg 'Max' in the image below right) at the top of the sidebar navigation to access your profile.
On the app just tap the 'More' menu at the bottom right (showing in pink in the image below), and find Profile at the top of the list.
Your profile on the app Your profile on the desktop: tap your name or photo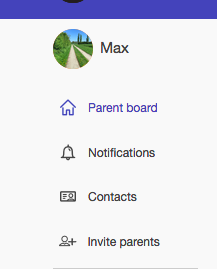 You can update the following features from your profile:
Personal Details, including change password and delete account
One of the first things we recommend you do when you sign up to Classlist is upload a profile picture of yourself, so your fellow school-parents can recognise you easily. Just click the camera icon on the image and upload a suitable photo.
If you upload a photo you don't like you can change it as many times as you like, but at the moment you can't delete the photo and go back to the default image. To delete a profile photo you don't like you need to replace it with another image.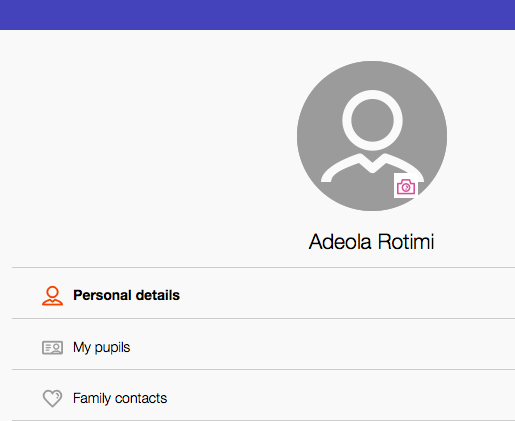 You can quickly edit your contact information or change your password in this section. Contact information you add here can only be seen by other parents whose children are in the same year/class as your child.
Important: Remember to click the 'Save' button before leaving the page if you have made any changes. It's easy to forget!
You can also opt into the Parent Map system from here. The Map operates on an opt-in basis, and only those who have themselves opted in can see the locations of others; to opt in you will need to provide a full address.
If you want to delete your Classlist account, for instance if your children have left the school, scroll down past 'Change Password' and click the 'Remove' button. You will be prompted to enter your password to confirm you want to delete your account. If your children have moved to another school which is also using Classlist, you should apply to join the second school before deleting your account so that your profile settings carry across to the new school. Then you can delete the account at the old school.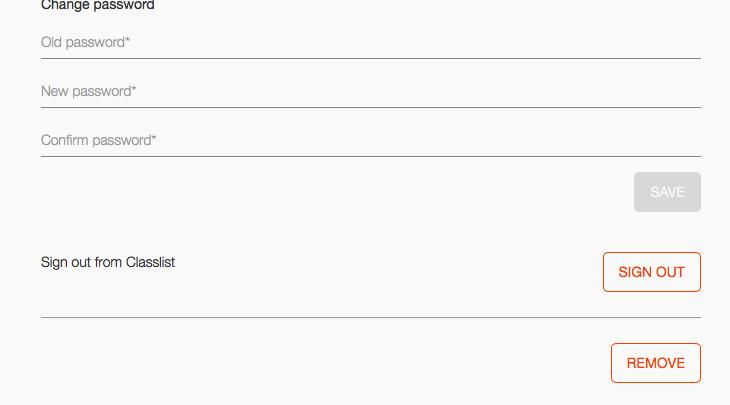 NB: If you edit your profile and find the save button is greyed out, ie it won't save, you have probably missed a required field. Double check your profile and make sure you have filled in the required blanks.
The 'My Children' section allows you to edit the details of any pupils you have at the school, and you can add more when the smaller siblings join the school. You can change class here if you need to move your child into another class.
For more information on managing your children's details, please click here.
This page allows you to add extra family members to your Classlist profile. This is handy if someone needs to get in touch when you're not around. Just enter the appropriate details and click 'Save'. You can also send the family member in question an invitation to join Classlist! For a more detailed breakdown on adding family, please click here.
In 'Privacy Settings' you can decide what information you choose to make visible to other parents while using Classlist. Simply check or uncheck the boxes next to the information you'd like to share.
Tip: You will notice pupil details must be shared with at least the class, this is to demonstrate that you are a legitimate parent with a child at the school. If you would like more information regarding security, please click here or contact us directly at support@classlist.com
School Ambassador/s and Class Admins also need to see contact information in order to verify your account and approve your application to join. This is only visible in Admin Mode.
The 'Notifications' page allows you to customise the app notifications and emails you receive from Classlist. By default you will not receive emails on posts to the whole school, but you will be opted in for other emails when you join.
You can check or uncheck the boxes as you like, depending on the information you wish to be alerted about. For detailed information on the individual notification settings see here.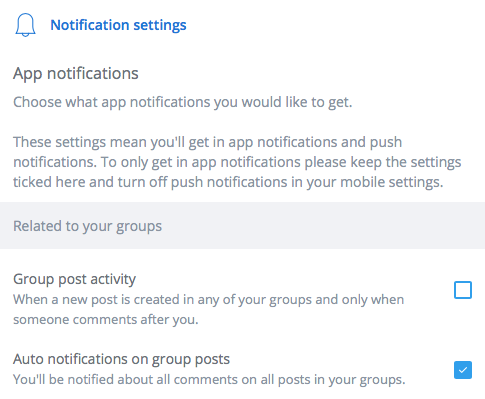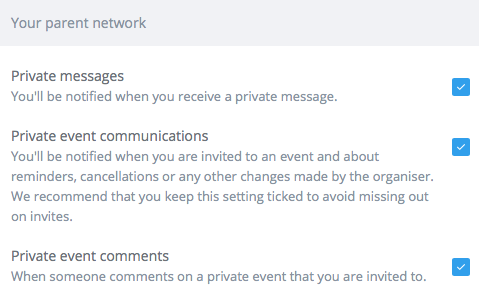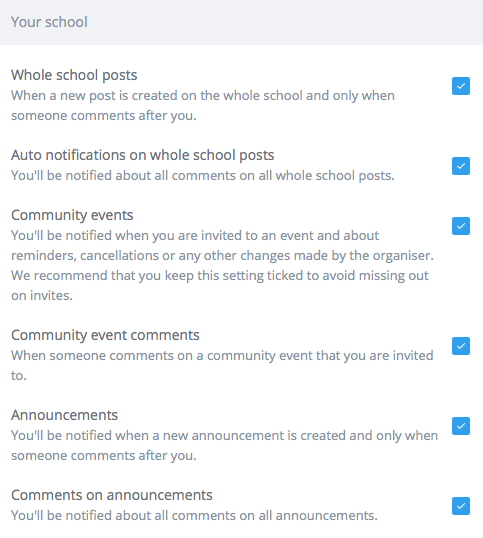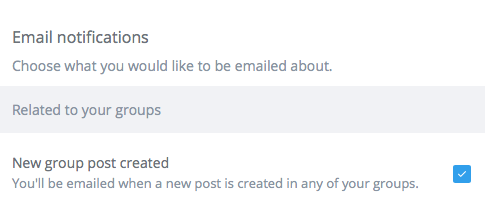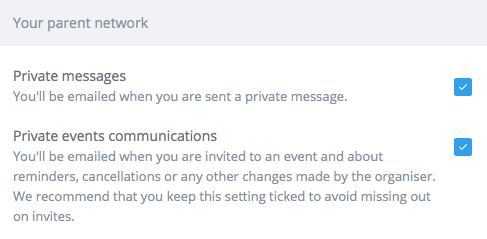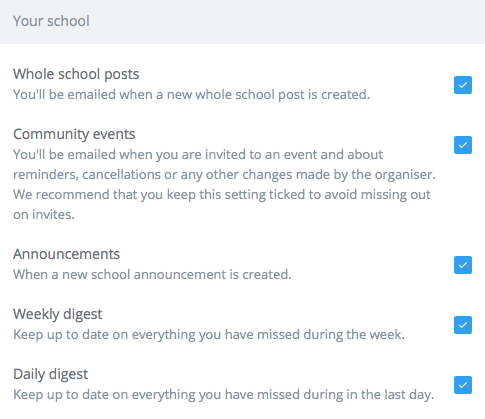 NB: Your phone's notification settings for Classlist will override these if you opt out. i.e. if you are opted in on your Classlist profile but opted out on your phone you won't receive notifications.
NB: if you are receiving duplicate email notifications this probably means you are registered twice. Click here to find out how to fix that.