Your Classlist personal profile is where you save all your personal information, contact details, privacy preferences, app & email notification preferences and pupil details. You can also add siblings as they join the school or delete your account when you leave.
On a computer

, click 'view profile' at the top left of the screen, on the sidebar menu.

On the app

, tap the 'More' menu at the bottom right of your screen. Then select profile.
Links to Profile Menu sections in this article
View & edit your profile
Account
NB: If you edit your profile and find the save button is greyed out, ie it won't save, you have probably missed a required field. Double check your profile and make sure you have filled in the required blanks.
Making the most of your profile helps people know they've found the right person and creates a friendly community. Add a profile pic, cover image and bio. Just click the camera icon on the image and upload a suitable photo.
If you upload a photo you don't like you can change it as many times as you like, but you can't go back to the default image. To delete a photo you don't like simply replace it with another image.
We've made profile pics nice and large so people can actually recognise each other and continue online conversations in real life or vice versa (eg if they meet at the school gates). This also means some people like to use the cover image for a family photo.
Ideas for your cover image:
Family photo
A hobby of yours
A favourite landscape
Ideas for your bio:
A passion project
If you're involved in the school
If you're PTA, what you take care of
Mention a hobby or interest group you lead
About your family
About your work
Where you come from or languages you speak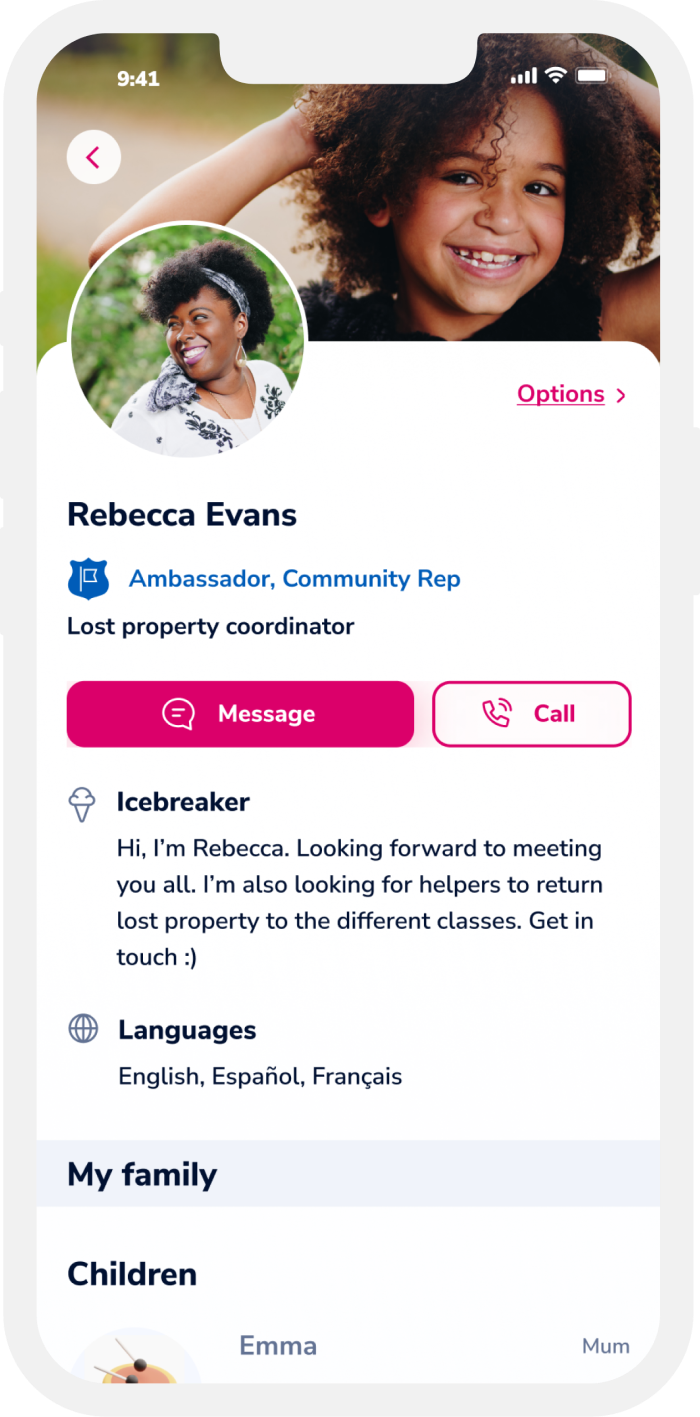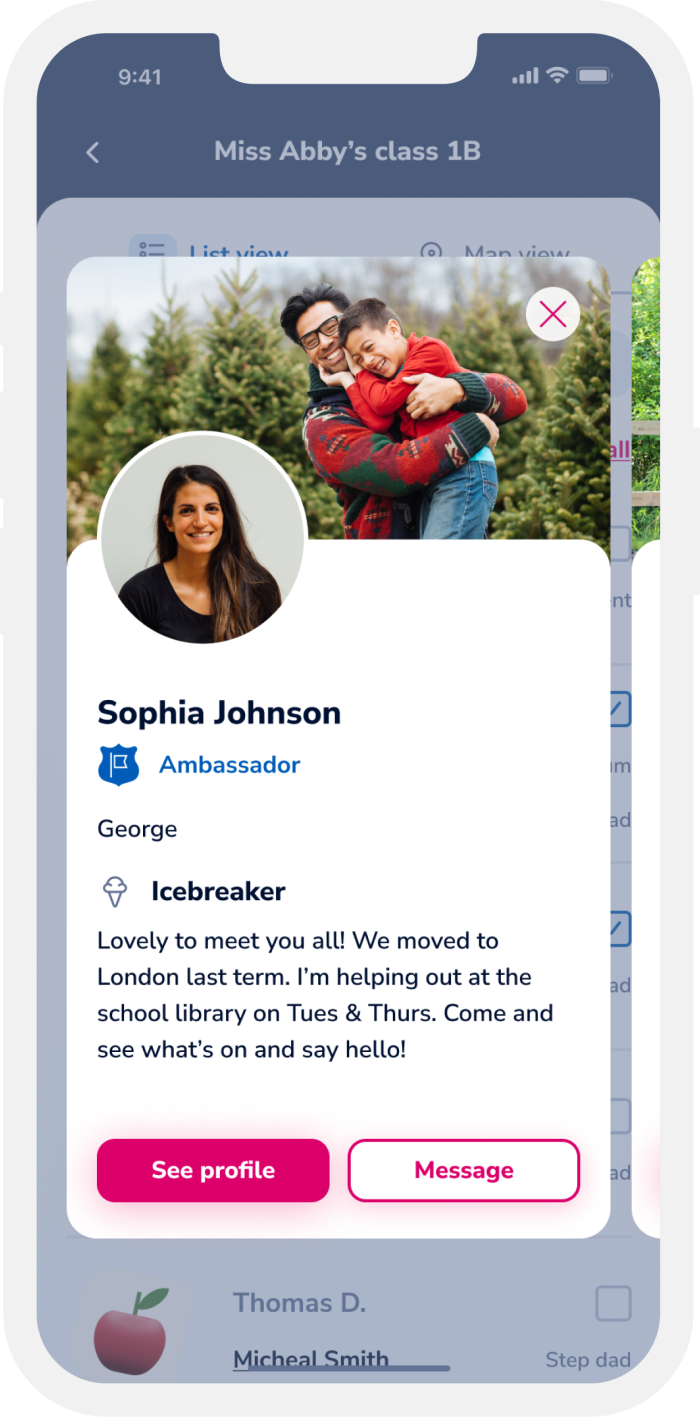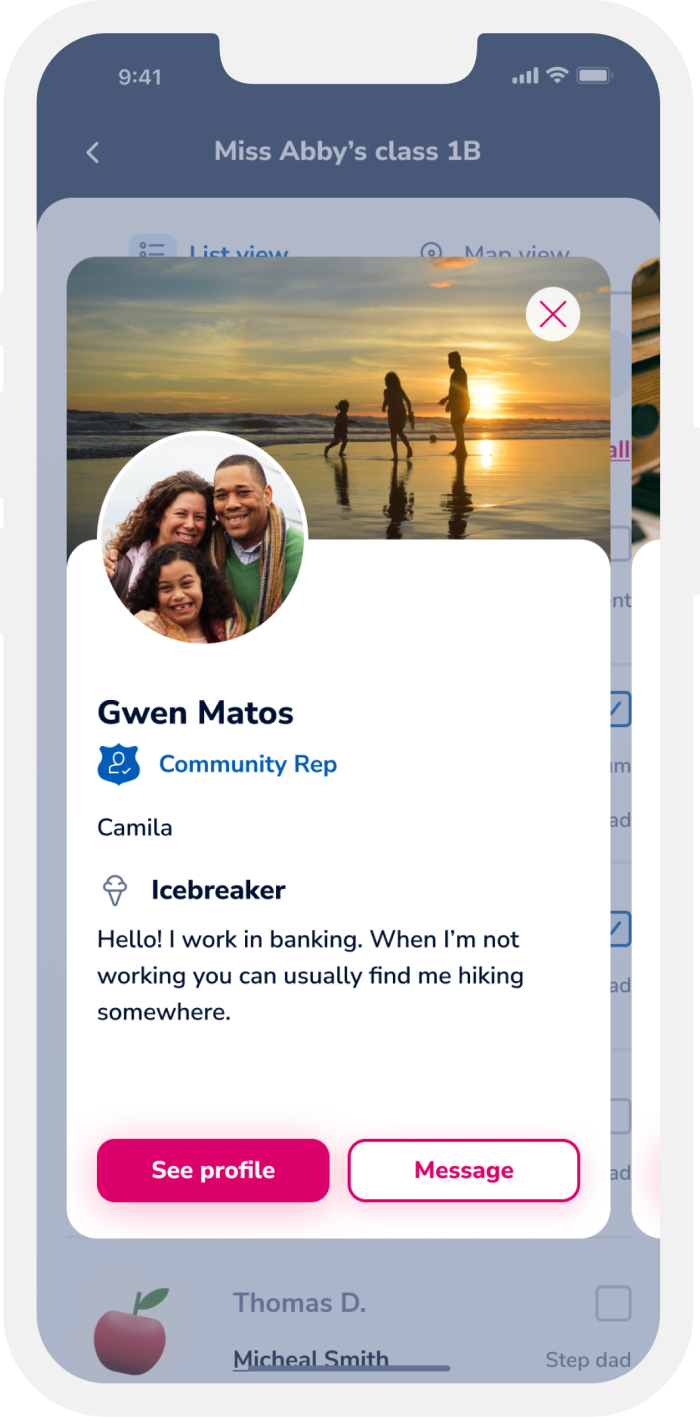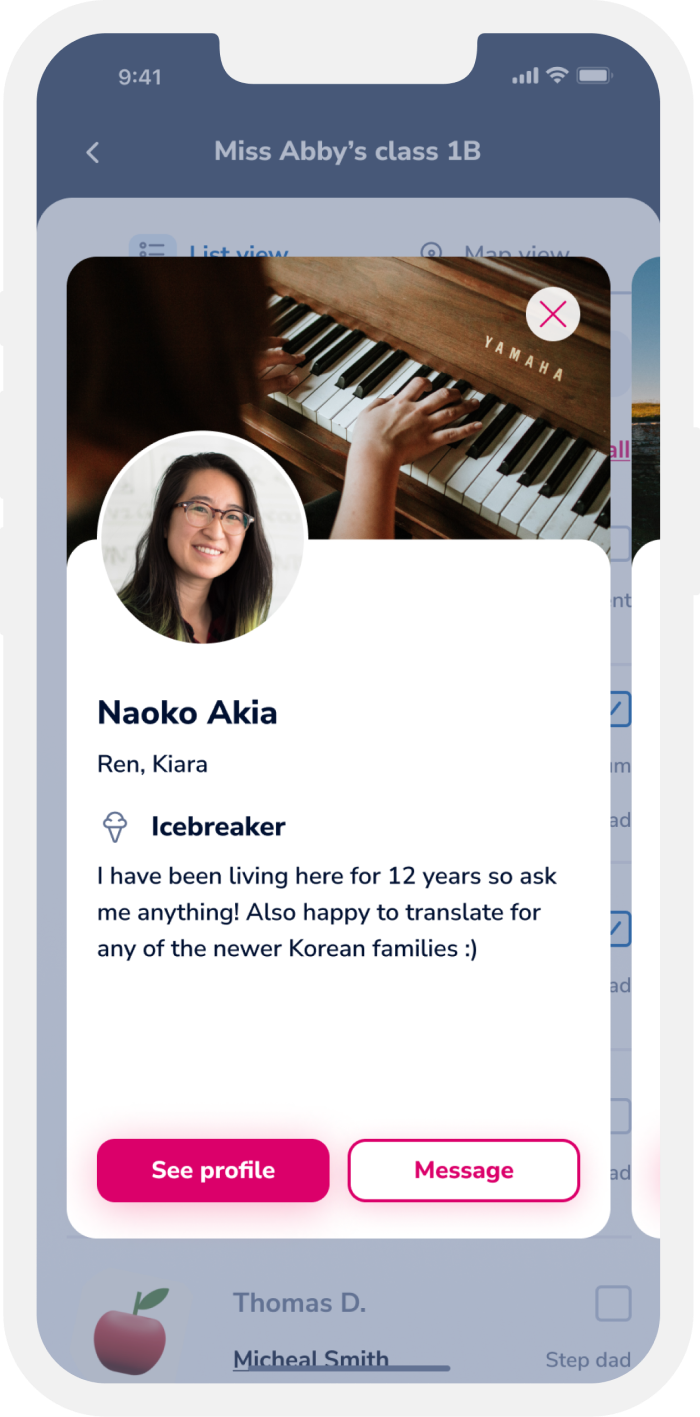 The 'Your Children' section allows you to edit the details of any pupils you have at the school, and you can 'add another child' if siblings join the school at a later date. You can change class here if you need to move your child into another class.
For more information on managing your children's details, please click here.

This page allows you to add extra family members to your Classlist profile. This is handy if someone needs to get in touch when you're not around. Just enter the appropriate details and click 'Save'. You can also send the family member in question an invitation to join Classlist! For a more detailed breakdown on adding family, please click here.
You can also opt into the Parent Map system from here. The Map operates on an opt-in basis, and only those who have themselves opted in can see the approximate locations of others; to opt in you will need to provide a full address. This feature is useful for sharing the school run or seeing who is local.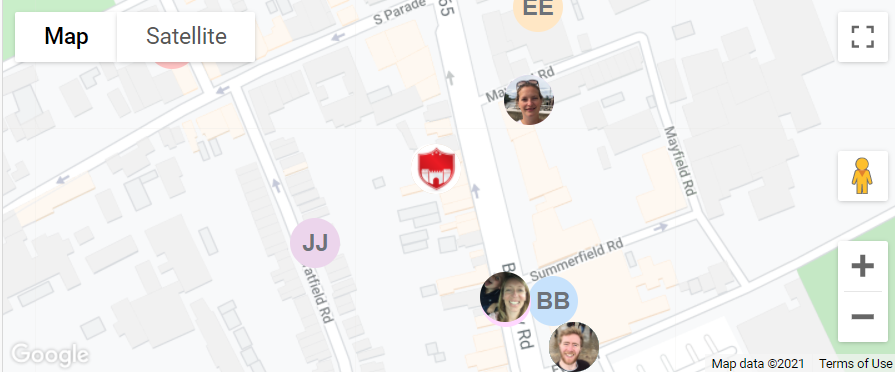 You can add, edit or remove your phone number in this section. Your number can then be used by other parents in your class/year (but not the whole school) to call you via the app. It will only be visible to them if you have set it to share in your privacy settings and they click on the phone icon next to your profile photo.
You can update your email address here too. If you change your email address you will get an email asking you to verify the new one before the change will take effect. Admin users can see your email address but it's not visible to other parents. It's used for sending communications from parents/admins via the platform.
If your children have moved to another school which is also using Classlist, you should apply to join the second school before deleting your account so that your profile settings carry across to the new school.
If you want to delete your Classlist account, click 'view profile' then 'account' then 'delete this school'.
If you have accounts at more than 1 school make sure you are on the correct school, click 'view profile' then 'account' then 'remove this school'. Only the selected school will be removed.
You will be prompted to enter your password to confirm you want to delete your account.
In 'Privacy Settings' you can decide what information you choose to share with other parents. Simply check or uncheck the boxes next to the information you'd like to share. Parents in your class or year can then look up your address ,family contacts or call you direct from the app. These details are not visible to the whole school.
School Ambassador/s and Class Admins also need to see contact information in order to verify your account and approve your application to join. This is only visible in Admin Mode.

Tip: You will notice pupil details must be shared with at least the class, this is to demonstrate that you are a legitimate parent with a child at the school. If you would like more information regarding security, please click here or contact us directly at support@classlist.com
This page allows you to customise the app notifications you receive from Classlist. You can check or uncheck the boxes as you like, depending on the information you wish to be alerted about. For detailed information on the individual notification settings see here.
NB: If you are opted in on your Classlist profile but opted out on your phones notification settings for Classlist you won't receive notifications.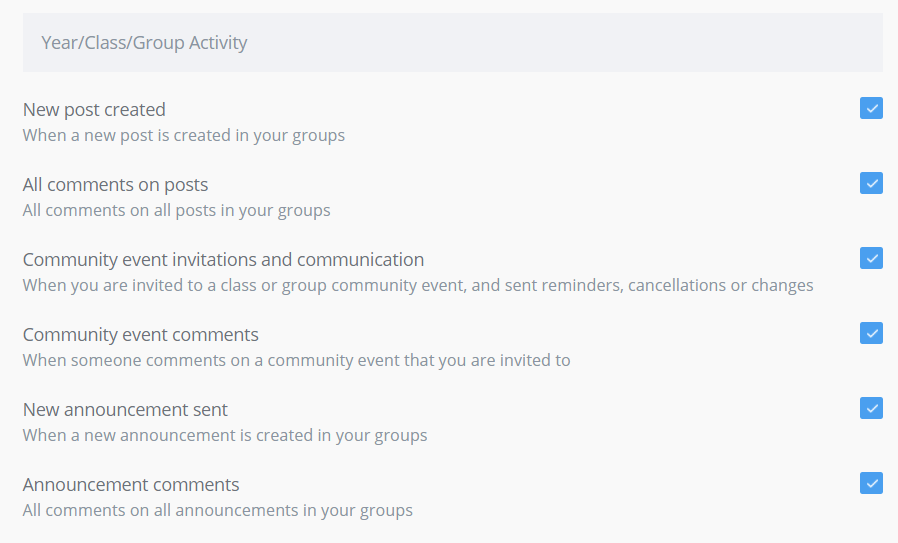 By default you will not receive emails on posts to the whole school when you join, but you will be opted in for other emails.
NB: if you are receiving duplicate email notifications this probably means you are registered twice. Click here to find out how to fix that.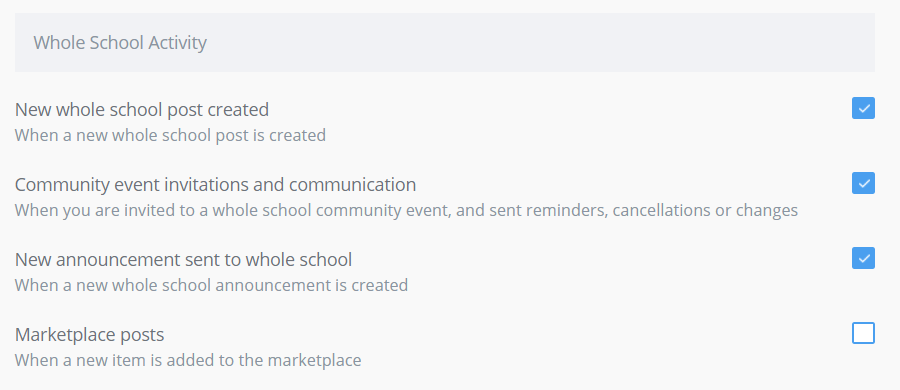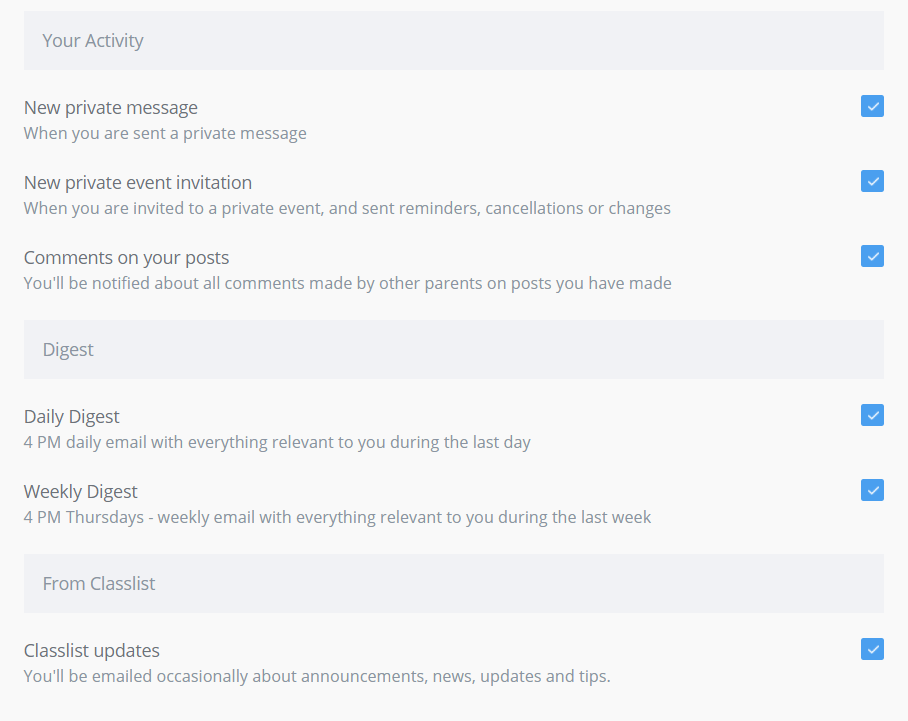 To change your password, simply fill in the old and new passwords making sure they are are 8 characters long and click save.