There are two main ways to invite parents to join Classlist. You can invite parents via their email address, or invite them through apps such as Facebook, WhatsApp and iMessenger. Inviting by email has a couple of advantages, which are below. If you need advice on collecting parent email addresses, we have plenty available.
However, don't worry if you don't have any contact details for the parents - you can let them know that they can register directly at www.classlist.com.  All parents who register for Classlist need to be approved by Admins, before they become a Classlist user.
Inviting Via Email
Inviting parents via email is the most effective method of getting parents to join up for Classlist.
You can enter multiple emails at once. You can invite Class by Class if you wish. Just copy and paste in your list of emails. The invites will be sent out instantly
Parents invited this way will be Non-Members. Parents that do not sign up will be recorded for admins to see as Non-Members. This means they will still get emailed Announcements and Community Event invites; however they will still miss out on all the other benefits of Classlist and other parents won't see them. 
Be ready to approve the parents. Once a parent has been invited and signed up, they will need to be approved. You can do this from the 'Approve Parents' section; you will also get notifications about parent approval on your Admin Dashboard.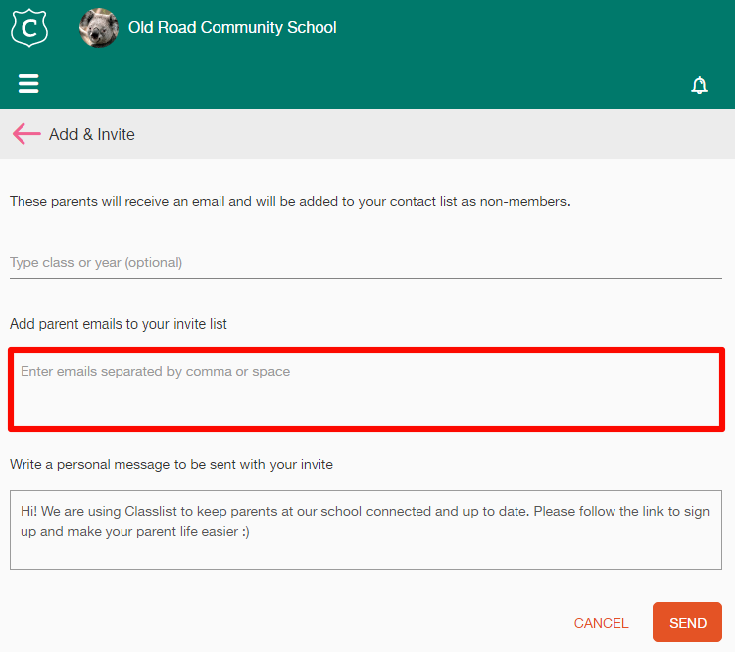 Tip: Parents who wish to remain Non-Members can even be invited to join more than one Class, meaning they will not miss out if they have multiple children!
Inviting via Apps such as Facebook, WhatsApp and iMessenger
You and other parents can also recommend Classlist to friends through the use of Apps such as Facebook and WhatsApp. 
It acts as a recommendation. Sending an invite this way does not invite the member as a Non-Member, they will still need to sign up to Classlist and be approved before they see any message such as Announcements. 
You must be on a mobile device. You must be on a mobile device to be able to invite via Facebook Messenger or WhatsApp. 
NB Parents invited via apps from the parent part of Classlist are not recorded as non-members and won't receive announcements and community events.
Tracking the Invites
Once you have invited parents via email, you will be able to track who has signed up and who still needs nudging to do so from the 'Add and Invite' page.  
A number of different symbols will appear next to the names of those invited, informing you of the status of their invite.




For more information on what these mean, please click here. 
Parents that you have invited by email, but have not yet signed up, will be classified as a non-member. They will still receive announcements and information about community events, so they won't miss out if they are a little slow off the mark! This means you can communicate with your entire class or school community from day one.  For more information on Non-Members, please click here.