Now you are ready to invite parents in your class to join the site!
There are two main ways to invite parents to join Classlist. You can invite parents via email, or invite them through apps such as Facebook, WhatsApp and iMessenger. Both of these methods have their own advantages and disadvantages. If you need advice on getting school-parent emails, we have plenty available. 
Inviting parents via email is the most effective method of getting parents to join up for Classlist, but it does require you to have the emails to hand. Once a parent has been invited to join Classlist via email, they will automatically be signed up as a non-member. This means that they will receive the relevant Announcements and Community events, even before they sign up to Classlist!
For more information on non-members, click here. 
Parents who wish to remain Non-Members can even be invited to join more than one Class, meaning they will not miss out if they have multiple children!
Inviting via Apps such as Facebook, WhatsApp and iMessenger
You can also invite other parents to join your school via a number of Apps, such as Facebook or WhatsApp. Unlike inviting via email, which is limited to just Administrator accounts; inviting via Apps can be accessed via the parent side of Classlist. This invitation method acts like an 'enhanced recommendation' allowing those that receive it to apply to join your school on Classlist. These parents are NOT signed up as non members, and will need to be approved by an Administrator before they can access Classlist. 
Flyers, posters and letters
To really reach out to all the parents, you could also ask people to sign up to your school via flyers or posters at the school. This is a great way to bring something digital into the physical world and gives parents who are less tech-savvy a bit of a confidence boost. You can use print outs to collect emails, or provide a direct link to Classlist's sign up page:
https://parent.classlist.com/#/register/find-school
Just remind them to search for the school to begin the process. 
Inviting via email couldn't be easier, as long as you have the emails that is. If not, do not worry. We have a great list of tips and resources compiled from successful Classlist users that you are more than welcome to use! 
Once you have the emails, simply head on over to the Add and Invite page and click the 'Invite Parents' button (This button can also be found on the 'All Parents' page).

This will take you to the Ambassadors Invite Page.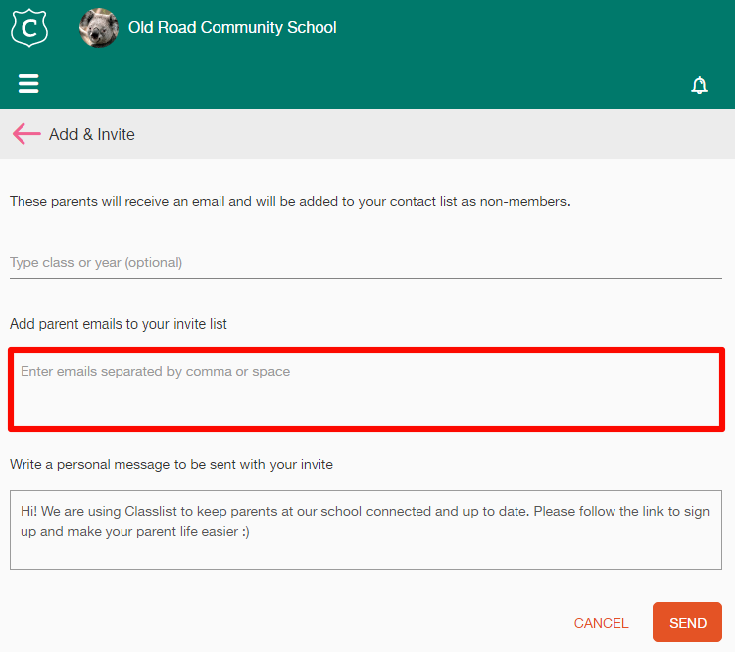 The invitation process is just a matter of adding the emails into the correct box (highlighted red). You can copy these in individually, separated by spaces or commas, or copy and paste directly from a spreadsheet. 
You can choose to invite parents by Class/Year, or invite them with no class entered. A Non-Member (parent who has been invited, but not signed up) that is assigned to a Class/Year will receive not only 'Whole School' Announcements and Community Event Invites, but also Announcements and Community Event Invites sent to their Class/Year. 
Parents can select their class when they sign up, so do not worry if you haven't got this information!
For advice on how to invite parents, straight from other users of Classlist, please click here. 
Tracking the Invites
Once you have invited parents, you will be able to track who has signed up and who still needs nudging to do so from the 'Add and Invite' page.  
A number of different symbols will appear next to the names of those invited, informing you of the status of their invite.




For more information on what these mean, please click here. 
Parents that you have invited but have not yet signed up will be classified as a non-member, they will still receive announcements and information about community events, so they won't miss out if they are a little slow off the mark! For more information on Non-Members, please click here. 
Inviting via Apps such as Facebook, WhatsApp and iMessenger
Inviting parents via other social media apps is a brilliantly quick way of getting them to join Classlist, even without their emails. You might lose out on the ability to send them Announcements as a 'Non-Member' but you can use this process as 'first wave' of invites, letting them know about Classlist and getting some to join up in the process. 
Inviting via Apps is accessed on the parent side of Classlist (with the blue header). This means that everyone can invite fellow School-Parents to join the school. Parents invited via this process will still need to be approved by an Administrator.
The process itself differs slightly depending on whether you are viewing the page on a mobile device or a computer, if you are on a computer, you will see a screen similar to this: 
This link will allow you to send a message containing a link to sign up to Classlist. You can send the message to multiple recipients to save time!
If you have visited the site from a mobile device, you will notice that the blue Facebook button has changed to an orange 'Invite' button. 
By clicking this you will be able to invite parents from a number apps, just click on the app you wish to invite them using and you will be prompted with some on-screen instructions. Again, remember to only invite parents at your current school as the invite will link directly to the school
After this, they'll receive an email that will allow them to quickly complete registration with Classlist, before being approved by a Class Rep or School Ambassador.