Ambassadors and Staff Admins can add images (in JPEG or PNG format) to your school's Classlist site on the 'School and Admin Profile' page in Admin Mode. Class Admins and Community Reps do not have the ability to edit school information on this page. The maximum file size for images is 8MB. You can change these images whenever you like, but you cannot revert to the default Classlist image once you have uploaded a picture.
School logo
To upload a logo, navigate to the school and admin profile page and hover the cursor over the circular logo image icon which looks like a blue shield.
School logo default image:

Notice the little red camera icon, which appears on Classlist wherever you have the ability to upload a photo. Only Admins with permission to edit this page will see the camera icon. Click on this camera icon to bring up the photo uploader dialogue box, allowing you to browse your files and select your school's logo to upload.
Tip: If your school's logo is a badge, shield or other non-standard shape, you may find there is a little grey or black background showing around the edge of the circular area (see the left hand image below). If you don't like this you could crop the image so that only a detail is shown (see the image below right).
If you need help with your logo due to its shape not fitting into the logo space well, please email it to support@classlist.com and we can try and resize it for you.


School premises photo
You can also add a cover photo for your school; this image space is larger and looks like the picture below until you add your own photo. It's ideal for a photo of the school buildings or even just the welcome sign outside the front door! The image area is a landscape rectangle, so your displayed image will be cropped if your uploaded photo is a different shape. At the moment you can't adjust the area to be cropped, but you can move the cropped area up or down your image. We are working on fixing this! Remember do not include any people (especially children) in your photo unless you have their permission. To upload, just click the camera icon which appears when you hover over the image.
The school cover photo uploader: you can move the crop area up or down the main photo but at the moment you can't change the size/shape of the crop. If you can't fit the whole building into the cropped area (we've used a cathedral here to demonstrate), you may prefer to choose a different photo, or take a screenshot of a detail.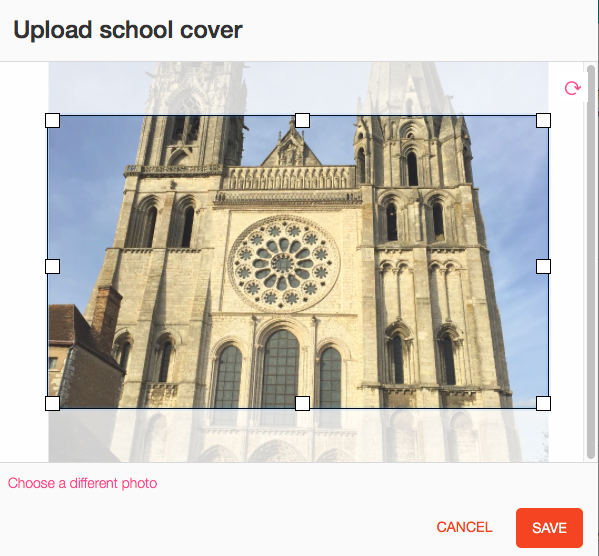 School cover photo and logo completed using a screenshot of a detail of the building: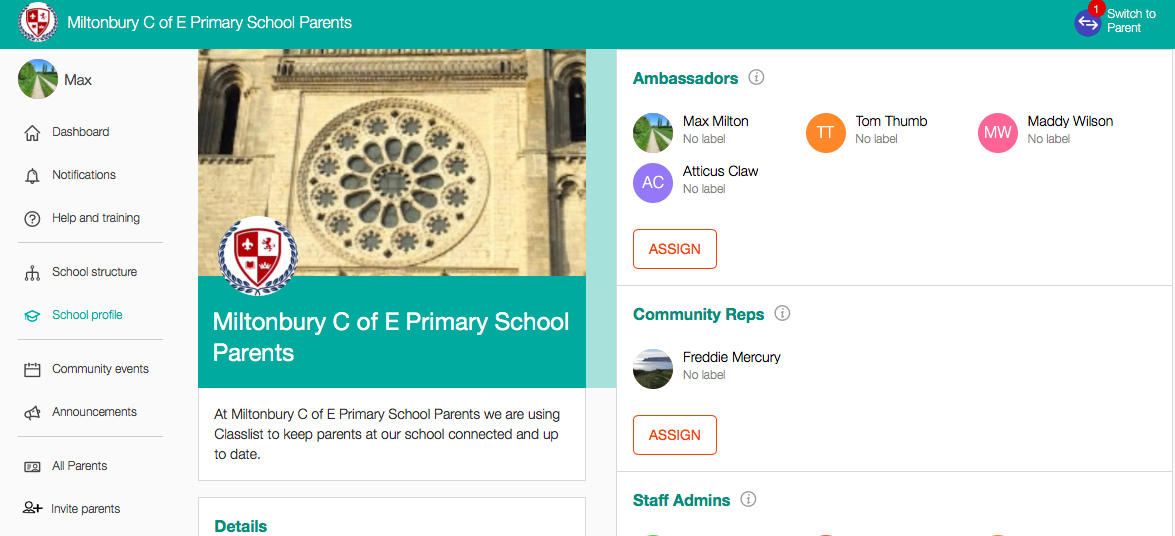 Ambassadors and Staff Admins can change the photo as often as you like: for instance if you want to show off the new playground equipment you've been fund-raising for, or if there is a special feature of the school you want to highlight.