The 'Groups' system is how parents on Classlist can communicate. Every parent is capable of posting to, and seeing posts made to the 'Whole School Group, as well as their automatically assigned 'School Groups' and 'Community Groups'. 
You can see a list of groups you belong to at any time on the home page under the heading 'My Groups'. Clicking on a group will take you to that particular group's home page.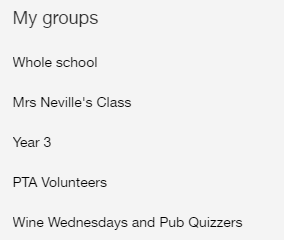 Aside from the 'Whole School Group', groups on Classlist can be broken down in to one of two types:
School Groups
School Groups are automatically generated by Classlist and represent your school. Each Class and Year has its own 'Group', and each parent is automatically placed into these groups based on which classes their children are in. Parents with multiple children can be in multiple groups.
Community Groups
Community Groups on the other hand are user created. Administrators can create community groups and then add individual parents. This will allow parents from different years to communicate, as well as keeping all communication within the group confidential. 
Community Groups can be created for an entire range of purposes, from a group consisting of PTA volunteers to the group of mums and dads that run the book club once a week. If you wish to set up a community group, simply contact your administrator. 
The 'My Groups' Page
The 'My Groups' page displays each group you are a member of. 

You can visit a group's page from the 'My Groups' page. Viewing a groups page will bring you to a page similar to the home page, but rather than seeing all posts, you will just see those relevant to the group.