Community event creators have the option of taking parents' card payments processed via a card processing service called Stripe, which is easier to use on phones than Paypal.
You can pay via credit card without leaving the Classlist app if the event creator chose Stripe to process the payments. Alternatively, if they chose Paypal, you can pay with a Paypal account or with a credit card. To do this you are taken out of the Classlist app to a Paypal payment page.
Buying tickets
When you receive an invitation to a paid event, you can buy tickets through Classlist using PayPal or Stripe card payments. Where you would normally click the red 'Reply' button to RSVP to a free event, for a ticketed event simply click on the 'Get tickets' button.

A dialogue box will pop up asking you to select the number of tickets (see below). There may be more than one ticket type to choose from (eg adult and child tickets at different prices).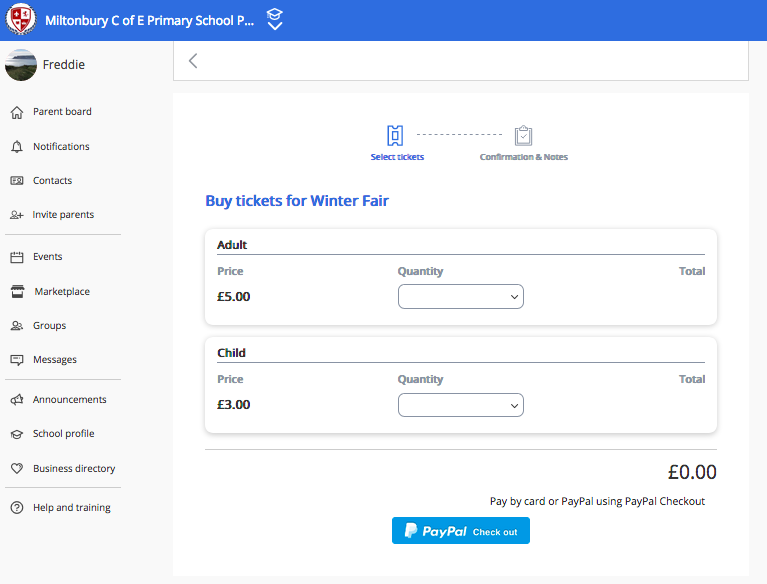 NB: Your selected tickets are held for up to ten minutes or until the payment is completed. If the payment is not completed in within ten minutes your session will time-out and your selected tickets will be released for other people to buy.
Paying by credit card
Click on the pay button at the bottom to check out.
Paying with PayPal
Click on the blue PayPal button at the bottom to check out. You will be redirected to PayPal. If you have a PayPal account you can pay through that or via card, though please see the note at the bottom of this page regarding card payments via Paypal.

Adding additional info
Your event creator may have asked a question such as "Which food choice do you want?" or "Do you have any allergies?". For every ticket you have bought you add answers to these questions and click 'save'. These notes can be edited by you in the run up to the event.
Confirmation of purchase
After you have confirmed the payment on PayPal or Stripe, you will be redirected back to Classlist, where a ticket purchase confirmation notice will show how many and what type of tickets you purchased: eg in the image below the user has bought 1 meal ticket for the Reception class Christmas party. From the confirmation box you can click the 'download ticket' link and you will receive a pdf of your ticket which you can print off and keep.
Tickets are shown as pending until PayPal has confirmed the payment. eg if you pay by e-Cheque.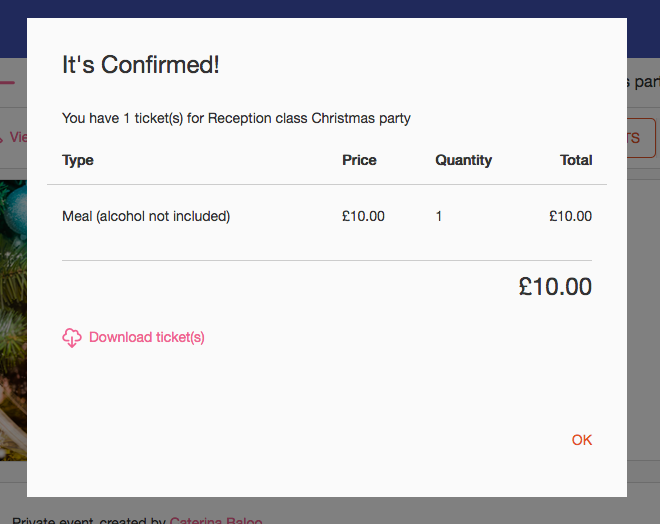 If you want to check how many tickets you bought or buy more tickets later on, you can go back to the event page and click on either 'view ticket(s)' or 'more tickets'. From here you will also have the option to download your tickets.
If the event owner has set a 'reply by' date on the event you will not be able to purchase more tickets after that date has passed.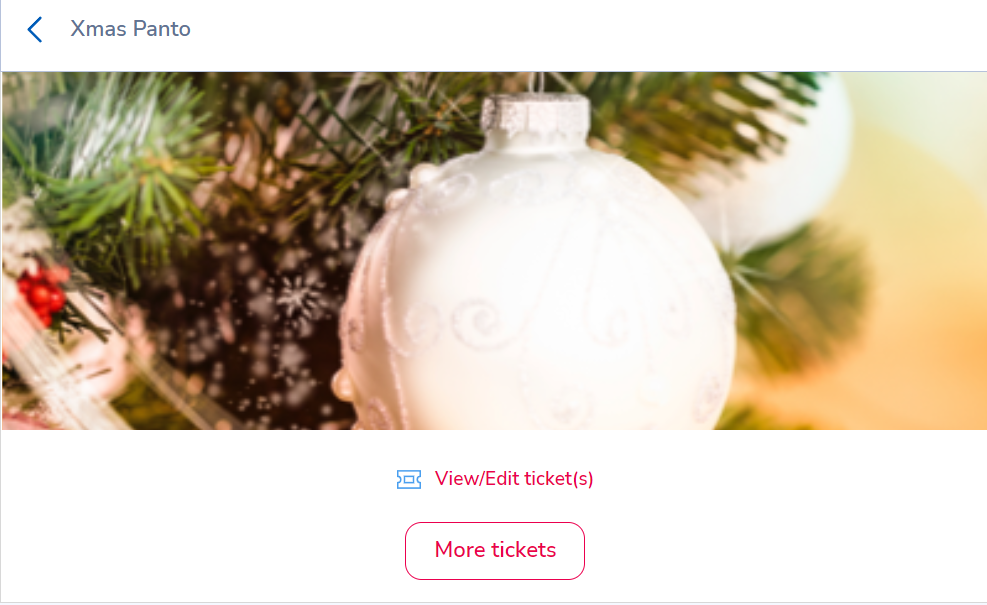 Problems with PayPal?
If the event host entered an invalid email linked to their PayPal account the event may be marked as sold out, even though invitations have only just been issued. We have added this intervention because otherwise PayPal's system continues to accept payments even though there is no valid payee account to receive the money. Please get in touch with the event host if you suspect this may have happened.
We also experience occasional issues with PayPal rejecting credit card payments for no reason (which occurs within PayPal and we don't have control over that). The easiest way to checkout via Paypal is using a PayPal account. If you don't have one it's quick to set one up!
Card payments are also accepted via Paypal checkout, but if you have a Paypal account associated with the card then Paypal will detect that and expect you to login to Paypal to pay. They don't make that very clear on a phone. If you have used a card several times to pay with Paypal they may prompt you to set up an account too next time you use the card via Paypal checkout.
For more information on using Paypal in Classlist click
here
. For help with PayPal payment status notices go to
PayPal's support pages
.