When you receive an invitation to a paid event, you can buy tickets through Classlist using PayPal. Where you would normally click the red 'Reply' button to RSVP to a free event, for a ticketed event simply click on the 'Get tickets' button. 

A dialogue box will pop up asking you to select the number of tickets (see below). There may be more than one ticket type to choose from (eg adult and child tickets at different prices).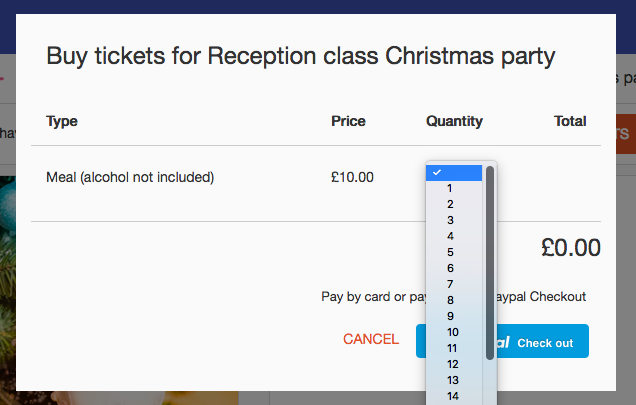 Click on the blue PayPal button at the bottom to check out. You will be redirected to PayPal. If you have a PayPal account you can pay through that, if not you can pay via debit or credit card. After you have confirmed the payment on PayPal, you will be redirected back to Classlist, where a ticket purchase confirmation notice will show how many and what type of tickets you purchased: eg in the image below the user has bought 1 meal ticket for the Reception class Christmas party. From here you can click the 'download ticket' link and you will receive a pdf of your ticket which you can print off and keep. The owner (creator) of the event will receive a statement from PayPal to confirm that the payment has been received.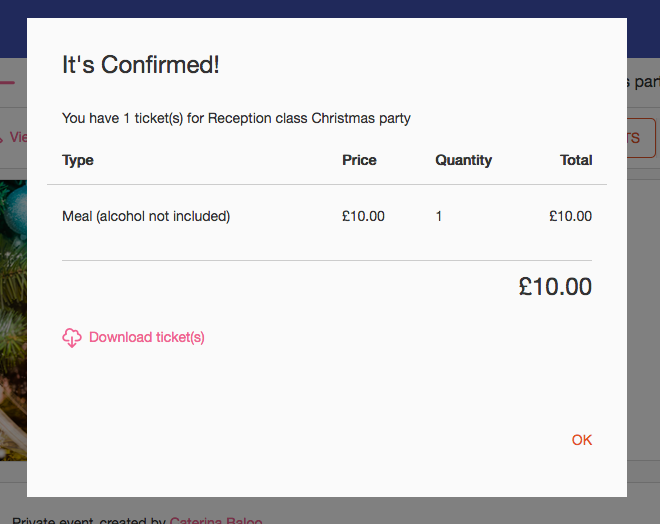 If you want to check how many tickets you bought or buy more tickets later on, you can go back to the event page and click on either 'view ticket(s)' or 'more tickets'. If the event owner has set a 'reply by' date on the event you will not be able to purchase more tickets after that date has passed. For more information on using Paypal in Classlist click
here
.