Classlist can be used by Schools, PTAs and Parents to invite other members to events. All users can use the Private Events feature to create events and parties.
[In addition, Admin users can also use the Community Events feature, which can only be accessed in the green Admin Mode, and is more suitable for events run by the PTA or Class Reps. ]
In the parent view of Classlist, when you click on Events in the navigation list, you will see a summary page showing all the events that you have created personally as well as any events coming up to which you are invited (see image below). The green or yellow dot under the title of each event tells you whether it is a private or a community event. Click on an event to view the details. At the bottom is a list of events which have already taken place.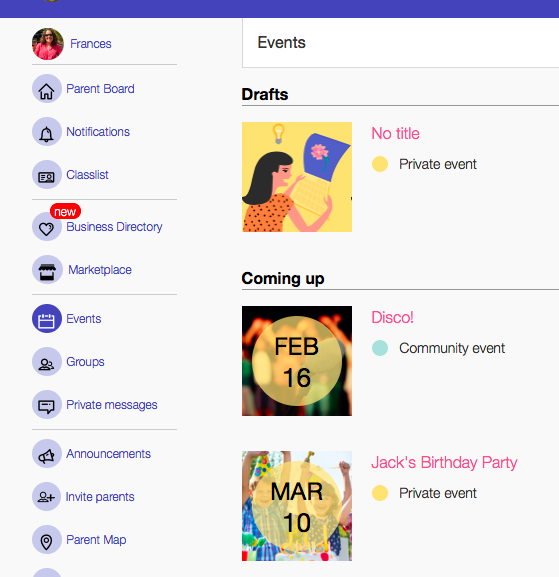 Replying to an event invitation
When you receive an invitation you can tap the link in the email or go straight to the Events summary page and tap the event you want to view. This will bring up all the relevant details including who created the event, who else is invited as well as the date, time and location etc. At the top you will see a red button. If the event is unticketed it will invite you to Reply. If there are tickets (either free or paid), the button will invite you to Get Tickets instead.


You can change your reply at any time until the start of the event if the event is unticketed. Here is more information about buying tickets for a paid event.
Commenting on an event
Anyone invited to an event can leave a comment on the event details page, just as you can on a post. This is a great place to discuss any practical details about the event, such as lift shares or tips about getting to the venue, or even what to wear! Questions can be asked and answered and people can even comment on events that have been and gone. Be aware that all invited guests can view comments on the event page, however only the host and other guests who comment will receive an email or badge notification to let them know that a comment has been posted. To turn off email and badge notifications go to your profile and change your notification settings.