Only Admin users can create Community Events and this is done in the green Admin Mode. The benefits of using community events are that you can sell tickets and invite the whole school or individual groups/classes without being a member of each group. In contrast private events can be created by any parent on the blue parent side, they can then invite individuals from groups/classes they are part of.
What's the difference between a Community Event and a Private Event?
Community Events work in the same way as private events with a few key differences:
You can sell tickets and collect donations on Community Events. You can also add free tickets or simply collect RSVPs for get togethers.
You can invite large groups. The Whole School can be invited, as can Classes or Years, even if you are nor a member of the group. Individual parents cannot be invited.
Invitations are by group not by individual. This means that if someone new joins a group that has already been invited after an event has gone live, they will be able to view and accept the invitation.
Invited parents (Non-Members) will see the invitation. They will not be able to respond unless they register for a Classlist account.
Public Guest Checkout enables you to sell tickets to the public and local community.
Holding Events Online
If you are organising an online event simply add your link to the box - passwords can be added to the event description for non-public events.

RSVP's, Tickets & Donations
Event organisers can choose between having people RSVP or getting tickets so guest numbers can be anticipated. Tickets can be free or paid and there is also an option for people to make donations. With ticketed events you can ask questions eg about food choices or gift aid. If you are looking for help with creating an event, please click here.
Collecting Payment
You can collect payment for events on Classlist via Stripe and Paypal. For member-only community events we offer both methods. For events with a public guest checkout we offer Stripe.

Check our help page for more information about Stripe and Paypal, and for details on fees.
See our articles on paid events:
More tips on creating paid events
Public Guest Checkout
Tip: if you want to publish the event outside of Classlist simply switch on the event sharing option, For more information on this, and managing invitations generally, see our Managing Events page.

Guest List
In the guest list section you can invite classes, year groups, the whole school or any other combination of parent groups that have been created. Simply type the first 2 letters of the name of the group and select from the drop down list. Once you have published the event you will be able to see more detail on the number of people invited / purchased / not responded and be able to send messages or reminders to people in each category.
When adding up who has responded: if you know there are 20 parents registered in Y3, but the invitation count says that 23 people have been invited, this could be because there are three invited parents who may be about to join Y3, but who have not yet registered. Alternatively there may be fewer invitees than the number of children listed in a class/year eg because one parent has twins.
Tracking Numbers of Guests
The dashboard tracks the number of tickets sold or allocated so you can see how many people are going. This can be exported into a CSV file which you can open in a spreadsheet to filter the data to suit your needs.

Volunteers
Everyone needs a little extra help organising larger events so we have added 2 options to help share the workload.
Event Owners - When you create an event on Classlist you are the Event Owner, you can add more people as event owners so they can share the admin with you.
Sign Up Lists - There is an option to create timeslots for volunteers on the day.
Sample Content
When you first register with Classlist you will see there is some pre-loaded sample content to help show what the events feature can do. This content displays a film night event and it cannot be deleted. It is clearly marked 'sample event' so parents should realise that it is not a real event. It will become less obvious as you add your own events as it will be pushed down off the bottom of the page.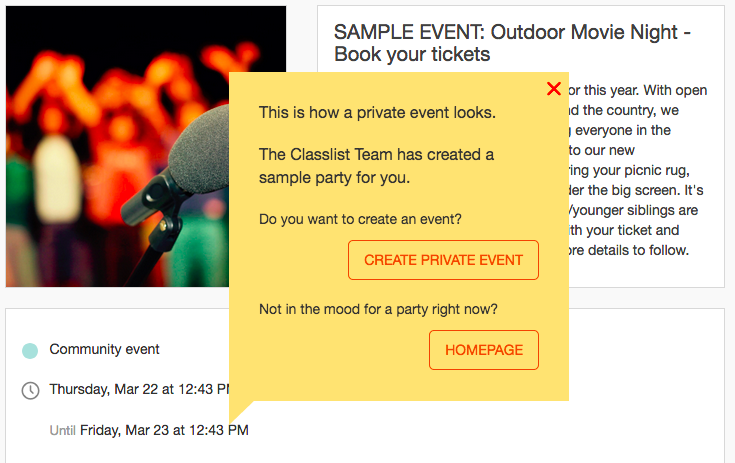 Guest Checkout
Want to invite people from outside your school community to the event? You can enable Guest Checkout when you create your event and you get a link you can share publicly that can be used to RSVP or buy tickets by people without a Classlist account. You can use this option for RSVP or ticketed events.