Your Stripe account will have all the transactions received listed in the Payments section, with event name and purchaser name.
If you click on a transaction you will see more details about it. However, the event page within Classlist is a better place for checking guest information such as they number of tickets a guest bought, amount paid, and any notes they added about guests. To access this information click on 'Manage' below the guest numbers on the edit event page.
Receipt history
We are not using Stripe to send receipts. Classlist sends a ticket purchase email and app notification of its own.
Parents can also choose 'view tickets' and download them from the event page of Classlist if you want them to bring a ticket to the event.
Therefore your Stripe payment Receipt history section will show 'No Receipts sent. No Email address for this payment' as seen in the screenshot below.

Refunding payments
You can refund payments via Stripe. It is at the discretion of the event organiser as to whether to make a refund. A parent does not have the right to have a refund if they have already bought tickets. Refunds cause event organisers work and we do not encourage event owners to offer them. Much like if you book a cinema ticket you can't cancel it, parents shouldn't create work for event organisers by expecting refunds!
If you wish to make a refund, click on the 3 dots to the right of a transaction on the payments page to find 'refund payment'. You can either refund the whole transaction or part of it.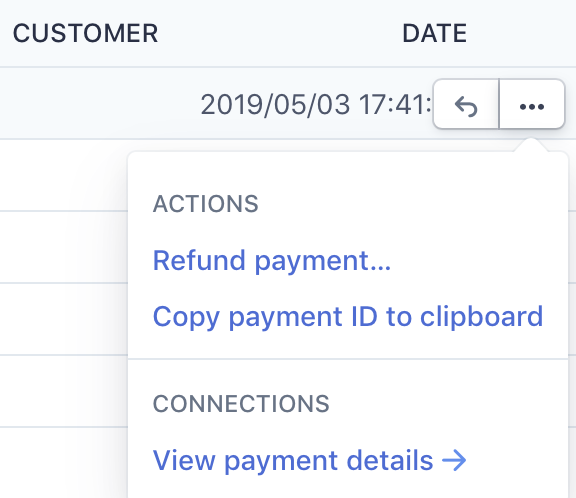 After you refund tickets you may want to put the tickets for sale again on Classlist. Currently this is not done automatically from Stripe. ie the refunded transaction will still show in the guest list.
If you refunded 2 tickets and want to make them available again, you need to add 2 more tickets to the quantity of tickets available so someone else can buy them.
Fees
Please note that Stripe deducts their fees at the time of the transaction and when a refund is made the amount paid by the parent is refunded in full to them but the fees are not refunded to you (1.2% + 20p).
Classlist charges 1.5% platform fees: cheaper than other platforms. We waived our fees for 2 years during the pandemic but have recently re-introduced them
How to get hold of Stripe's support centre
https://support.stripe.com/ - chat version or call back
https://support.stripe.com/contact/email - email