Notifications let you know when another user has posted content that is relevant for you. They may have replied to a post you have made, or posted in a group that you belong to. If they have sent you a private message the notification shows on the spech bubble icon. On a desktop your notifications appear in the top right: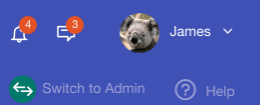 On a mobile they will appear on the bottom right along the navigation bar:

You can check notifications individually, or mark them all as read at once.
Changing your notification settings
The notifications page of your profile allows you to opt in or out of emails and bell notifications generated from different types of activity on the site. If you are using the Classlist app on your phone you may choose to opt out of some emails.
You can set notifications on or off for emails and bell notifications for each category of communication: group posts, messages, private events, community events, announcements and whole school posts.
By default, you will receive email notifications for all communications on Classlist, except for posts on the whole school group, and Marketplace posts, which are included in the weekly Digest rather than being sent individually.
To change your settings, go to View Profile and click on Notifications.