In the summer most pupils move into new classes, and need to be re-arranged into those on Classlist. This can be done easily in single session by a Staff Admin or Ambassador. Many schools do this before the summer holidays so that new joiners can be in the class and start making friends.
The moving up procedure can be broken down into distinct stages.
We recommend you do this on a computer not phone so that you can view all the columns without scrolling. You can ask the school for pupil lists for the new classes, or book a session with the school secretary so you can go through this process together: schools can do this under data protection legislation.
These are the main steps
Edit the year names, including creating a fresh year for joiners in the new intake.
Create new classes in each year.
Move pupils into their new classes.
Remove any leavers who aren't joining a Leavers group.
Re-appoint class admins.
Invite all your parents
Tip: you should always try to re-name your year groups - i.e. you should not move the pupils up into another year group on the school structure. For more detail see below.
All this is done on the School Structure page in Admin Mode. It's best to try to get it done before the start of the new academic year because when you move children around between classes/years, you risk disrupting the thread of existing posts and other content connected with that class/year group.
The great news is that when new GDPR legislation came into effect in May 2018, schools can lawfully give the PTA (as data controller) a list of which class pupils have moved into, so that you can put them in the right class in the summer ready for September. They can also give you a list of pupils who have left, for the purpose of keeping the data on your Classlist site up to date.
NB You must only use that pupil data to update which class pupils are in, and delete leavers. In addition, any personal data sent from the school to the PTA digitally must be transmitted using a secure, encrypted form of communication. Alternatively, your school could have a Staff Admin on Classlist to assist with approvals and move up pupils directly. Our lawyers Veale Wasbrough Vizards have approved these processes for GDPR.
Add and edit Years
Creating a Leavers and Joiners Year
Many schools keep the top year group on Classlist as part of a 'Leavers' year group. This means they can stay in touch with each other and can be invited to your PTA events etc.
To do this, rename the top year as something like 'Leavers 2018' or '2018 Alumni'.
Those parents who won't have a child at the school may change their notification preferences if they don't want to get announcements, but wish to continue getting posts in their groups and events. Parents can delete their own account in their profile should they wish to.
If you decide leaving families should leave your Classlist site then delete the pupils and deactivate the parent members if they don't have any other children in the school. The parents can then fully delete their own accounts at any time, but can also join another school on Classlist after you have de-activated them, which they often want to do.

Joiners - The next thing you need to do is create a new year in the school structure for the new intake into the lowest year in your school. When newbie parents are invited to join your Classlist site they need to see their child's class ready and waiting for them! NB You can add this group before you move the other classes around if you are welcoming new joiners onto Classlist earlier eg during the summer term. Eg 'All Reception Joiners 2020'.
During the summer term you can add another year for 'All other joiners 2020', with classes in 'Year 1 joiners 2020' etc, and then move those members into the correct class during Move Up. Some parents will be eager to register early.
It is helpful to add the academic year into the year group name for the joining phase, as new parents sometimes get confused and put their children in the wrong year. eg Reception 2019-20.

Tip: remember that to add a new year or class, you need to type the name in where it says 'type year name' in grey text before you can activate the Add button.
Editing the other Years
Now you need to rename all your other school years in the school structure by clicking on the little pencil icon next to each year name. eg Year 5 is renamed as Year 6. Do not move the current Year 5 pupils into the Year 6 on your school structure...
This is because each year group cohort should remain linked to all its own posts and content, rather than inheriting the previous year group's content, which is what would happen if you simply moved all this year's Year 5 children into the year named 'Year 6' in the structure. i.e. they would see the year above's messages from last year.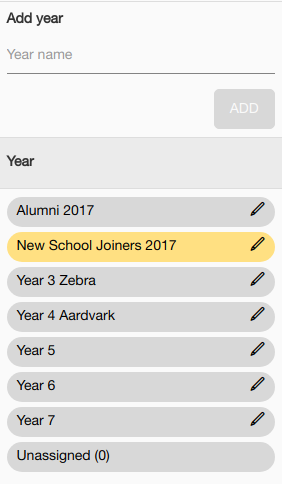 What was Year 5 in 2017/18 therefore becomes Year 6 in 2018/19 and so on down through the school. It can really help to add the academic year to the name while you are doing this so that you can keep track (you can always delete the '2018/19' bit later if you want).
Mixed yeargroup classes
If your school has multiple year groups in a class, you should add completely new year groups (and/or classes) and then delete the old years, rather than re-naming years. Again, this is because you shouldn't move pupils into a year previously used by others, as it shows them the previous content in that group.
You should now have a 'new' year group structure in which to organise your classes! Don't move any pupils until you have added your new classes.
If classes remain the same as the children move up through the school then you can simply rename or check each class without moving pupils (eg some schools use a 'house' class system where there is no pupil migration between classes from year to year).
However, if your school moves children around into new class groups every year you will need to find out the destinations of each individual pupil. The recent data protection changes mean that it is now legal for schools to provide the PTA with a list of names allocated to classes, but as noted above, you must be careful with the data, and only use it for this purpose. Or even better, if you have a school staff member on Classlist they might do the move-up for you!
Create your new classes alongside the old ones in each year group. (Again, don't just move new children into old classes or the new parents will see messages sent to the previous year's parents).
If you don't know what class pupils are going to be in yet, but want to add the classes you could add an extra class in the year called 'Year 5 - class unassigned' as a temporary holding class within the right year group.
NB If your school only has one class per year you don't need to create classes within your year groups - you can simply use year groups and name them what you like.
Tip: If your pupils are directly in the 'year' with no class (single form entry) but you now need to add some classes because it is becoming two forms per year, you can do this by
selecting all the pupils in the year, moving them to 'Unassigned' (bottom of list of years)

add the classes to the empty year

move them back into their new class within the same year group.

You may decide if there are a lot of people joining that you should create a new 'year' because the new joiners will be able to see the history of the group from before they were in it.
Class Admins
Please note, when a class is deleted admin status will be removed from any Class Admins for that class. From August 2019 Class Admins will be given Community Rep status automatically when their class is removed, to avoid them losing admin status at that time. You can then tidy up your admins afterwards.
Previous posts
When a year or class is deleted on the school structure the group is deleted. Previous posts sent to the group will still show on the Activity Feed, and parents can comment on it, but obviously the group will no longer show in a parent's list of groups so no new posts can be created to that group.
We can help!
If your school structure is complicated and you need help do contact us! You can create a help ticket at the top right of this article.
Move pupils into their new Class
Now select the year group from which you want to start moving children to new classes; this will display all the children in that year. Click and release on each pupil to select them - you can select multiple names.
After selecting the pupils that you want to move to one destination class, look for a drop down menu above the selected pupils column labelled 'select year/class to move pupil'. Find the class that you want to move your selected pupils to, and then click the red 'Move' button (see screenshot). Alternatively, you can drag them across the column divide and drop them into their new class that way.

In the example above the old year 2 children are being moved into their new year 3 classes - the children currently selected from the whole year group will be moved to a new class ('Mrs Neville's') using the drop down class selector visible near the move button.
Once this is done you can delete the old, empty classes.
Removing any children who have left during the year
During this process, you might run into some students you cannot find on your list of new class allocations. For now, it is best to simply add them to the unassigned year group. It may be that these pupils have now left the school, in which case you should remove them and deactivate the associated parent accounts. It is always good to double check you haven't simply missed them out when when moving pupils around however!
Ambassadors can delete a pupil on the school structure page and can then also deactivate the parent on the All Parents page. These are two separate actions, as the parent may still have another child at the school.
Assign admins to your new classes
Reps are great for welcoming parents, arranging class events, and getting the parents talking on Classlist. Make a parent in each class into an admin, which gives them access to some extra features such as announcements. Ask them to put a post on Classlist every couple of days - asking questions is often a good start, as parents like to help others by answering. Admins can also try to ensure that all parents in the class join Classlist - being methodical about checking who has joined is a successful strategy for getting all your parents on Classlist quickly.
For more info on assigning admins see here.
Invite all the parents again
Now you can invite all your new and existing parents to join Classlist.
The easiest way to do this is for the school to paste in a full email list of all current parents to invite and pre-approve them. The system will not re-invite anyone who is a member, as it will detect them. Your school can invite all the parents under GDPR. Schools that invite parents this way see fantastic sign up rates to Classlist!
Pasting in a list of all parent emails to invite them saves you trying to separate out the emails for new parents, and it has the advantage that it will re-invite any existing parent who didn't join previously.
For more info on inviting parents see here.
Previously Invited Parents who have not yet joined
Tip: Invited parents (sometimes known as 'Non-Members') can also be moved up a year if you want them to stay associated with the correct year cohort, and this could be an opportunity to check the details are correct for parents who haven't ever joined.
To move these Invited Parents you just need to re-send them an invitation with their new Class/Year selected instead of the old one. Simply visit the Invite Parents page and search to find the required parent. Click the red pencil icon to edit the entry for the invited parent and save the new information before tapping 'invite/remind' to resend the invitation with the new class association.
NB When their old class is deleted the non-member's association with that class will be lost.
To remove 'Invited Parents' who have left the school, follow the same initial steps as described above to edit an entry, but tap 'delete' instead of invite/remind.