If you ever need to change the email address linked to your account you can do so quickly via your profile under the 'Edit Profile' settings.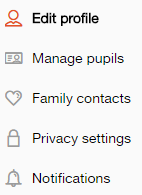 Visit your Profile, found by clicking 'View Profile' at top right on a desktop computer (in main menu on the app). In the section headed 'Contact information' you will see your email address; you can simply delete this and replace it with another valid email address. Remember to hit the save button! 

This will change the email address you have registered with Classlist to your new one. Make sure you remember your new email address when you next need to log in.