Any member of Classlist can create a private event. If you are an admin user and you want to create a public event which involves inviting members or groups when you are not a member of those groups, you need to be creating a community event in the green Admin Mode. 
Creating an event
To begin creating an event simply open the events page and click on the 'Create Private Event' button. This will create a draft event template that you can edit. Follow the on-screen screen prompts and click on the red pencils to add a Title, Description, Start/End time and a Location. These are the minimum details required to enable you to issue any invitations. Your event will remain as a draft, visible only to you, until you invite guests. Remember to check the details you have entered are correct before starting to invite your fellow Classlist parents.
The date and time picker looks like the image below: click on a date on the calendar to select a start date, and on the time display (ie on the 3.30pm in the image below), using the sliders to change the time. Remember to set the time to AM or PM in the time picker, it's easy to forget! Tap 'Set Time' and then 'Done' to save, and then repeat the process for an end date and time if you need to. Today's date is indicated by the hollow box on the calendar, while the date you have selected for the event is highlighted in blue. If you are planning ahead, simply tap where the current month is displayed to change the month, and on the year to change the year.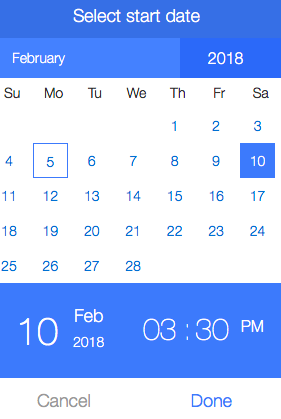 Adding tickets
Events with tickets can either be paid or free, just click the 'Add Ticket' button to begin the ticket creation process. Once you have decided on a ticket type, enter the name and price of the ticket. If you wish to add further tickets, just click the pink + symbol (you can remove a ticket you no longer want by clicking the pink - symbol). More advice on ticketing is available here.
Classlist's ticketing system operates through PayPal, which is a quick and secure payment service. For more information on PayPal and Classlist paid events, please click here. 
Important: You will need a PayPal account if you are creating a paid event, to enable parents to buy tickets online via your Classlist site. 
Inviting parents
Once you have saved the details you can invite parents to your event. Just click the Invite button to begin. This will bring up a dialogue box where you can start typing the groups or names of individual parents you want to invite.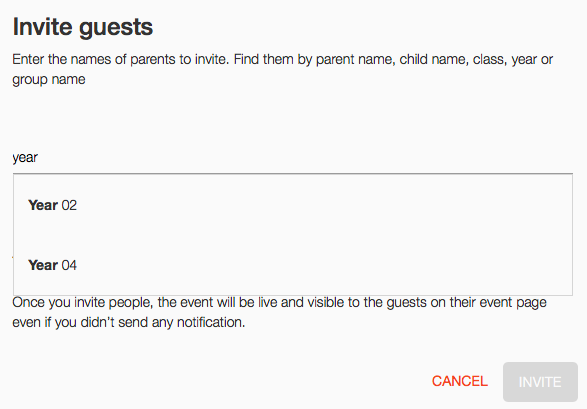 If you are setting up a private event you can invite individual parents or groups you are a member of - eg your child's class or year group. You cannot invite a school or parent group to a private event if you are not a member of that group. For example, in the image above, the parent has created a private event and wants to invite the whole year: he can only choose from Year 02 or 04 because his children are in those classes. 
Admin users can send out invitations to any Class, Year or Parent Group, even if they are not members of these groups, but only when they are creating a community event in the green Admin Mode. If you are an admin user trying to create an event for the whole school on the blue Parent Mode you will be unsuccessful, because you will be restricted to the usual functionality for a private event.
The event only becomes 'live' when you invite parents so if you like you can draft your event in advance and only issue the invitations nearer the time. 
Adding an attachment or photo

Adding an attachment to an event is simple. Just click on the paperclip icon and find the file you would like to upload. Everyone invited will be able to download the file, perfect for menus or posters to accompany the event. To add a photo simply click on the camera icon on the main image and either upload your own or choose a photo from the stock images provided.
Managing a created event
For more information on managing a created event, including how to send out reminders or view ticket details please click here. For help on cancelling an event click here.
Event FAQs
The PTA is hosting the event, not me! How can I change who is 'hosting' the event?

If you click the pink pencil icon next to your name as it appears under the event description you will be able to change who is hosting the event

 
How can I set up an event without notifying all the parents right away? 

When sending out invites to an event you will be asked if you want to notify the parents right away. If you uncheck the tick-box the event will appear in people's calenders without a notification. This ideal if you are setting up a years worth of school events. You can always send out a notification at a later date.