Any member of Classlist can create a private event on the parent side of Classlist, which is popular for birthday parties as you can invite people by pupil or parent name and collect RSVPs easily so that at any time you can see a summary of who many people are coming.
Only the parents you invite to the event will see it on Classlist.
You do not need to create a group before you create your event. You can create the private event directly and then add your guests.
NB If you are an admin user (eg Class rep or Ambassador) and you wish to create an event for classes, groups or the whole school, you need to create a community event in the green Admin Mode. There are several advantages of doing it there. Those include that if there are new joiners to the class or group after you set up your event they will be sent an invitation to a community event automatically. There are also payment and volunteer rota features built into community events.
Creating an event is easy and we will run through the steps here.
Adding an attachment and extra information
Creating an event
To begin creating an event simply open the events page and click on the 'Create Event' button. This will create a draft event template that you can edit. Follow the on-screen screen prompts and click on the blue pencils to add a Title, Description, Start/End time and a Location. These are the minimum details required to enable you to issue any invitations.
Your event will remain as a draft, visible only to you, until you invite people, at which point it becomes visible only to the invited guests. It's always worth double-checking the details you have entered are correct before starting to invite your fellow Classlist parents!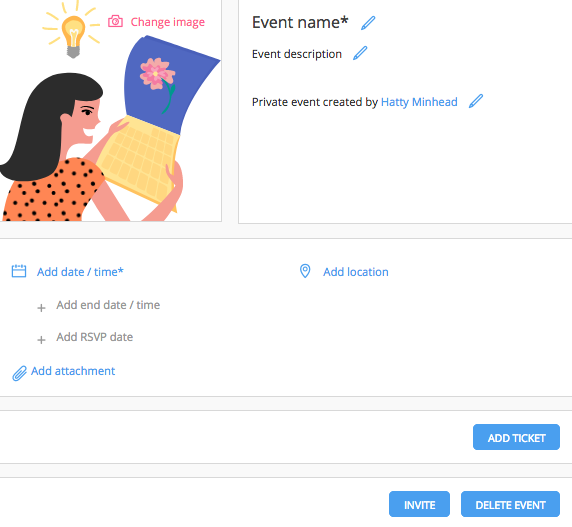 The date and time picker looks like the image below: click on a date on the calendar to select a start date, and on the time display (ie on the 3.30pm in the image below), using the sliders to change the time. Remember to set the time to AM or PM in the time picker, it's easy to forget! Tap 'Set Time' and then 'Done' to save, and then repeat the process for an end date and time if you need to. Today's date is indicated by the hollow box on the calendar, while the date you have selected for the event is highlighted in blue. If you are planning further ahead, simply tap where the current month is displayed to change the month, and on the year to change the year.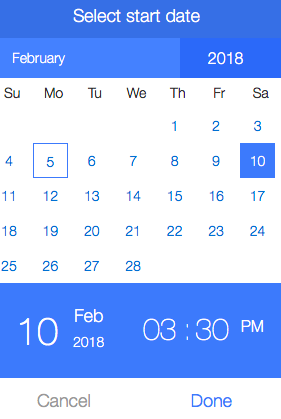 Adding a cover photo
Events come with a default image which you can replace. Tap 'change image' to add one of your own or choose from our stock images: we have everything covered from birthday parties to jumble sales! If you use one of your own photos they must be a .png or .jpg format and the maximum file size is 8mb. The image display area for events is square, so your photo may be cropped to fit the circular display shape.
Choose an image from our stock photos: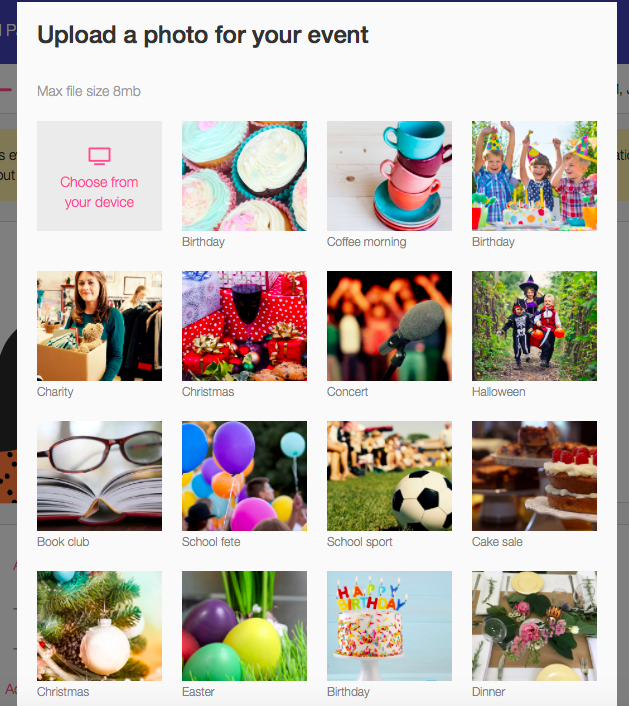 Adding attachments and extra information
You can add extra detail such as specifying the exact location, adding an end time and a 'reply by' date and time. You can also add an attachment - maybe a pdf of an invitation for parents to print and stick on the fridge, or directions to the venue. Just click the paperclip icon to upload. Everyone invited will be able to view and download the file.

NB: if you add an RSVP date and time, people will not be able to reply after this time.
Adding tickets
If your event is free but you need to collect numbers coming per replied guest, or you need to limit the numbers that can attend, or count the numbers of adults and children you can do this on Classlist.
NB You can only add paid tickets and collect money on Classlist using Community Events (created in the admin area). To do this ask an Ambassador to give you Admin status.
Click the 'Add Ticket' button to begin the ticket creation process. Set the number to the maximum allowed for your event.
To add further tickets, just click on the blue 'add new ticket' button (you can remove a ticket you don't want by clicking the red cross next to or below the ticket line). More advice on ticketing is available here.
Inviting parents
Once you have saved the details you can invite parents to your event. Just click the Invite button to begin. This will bring up a dialogue box where you can start typing the groups or names of individual parents you want to invite. You can also search by pupil name, which makes it very easy to create a birthday party from a list of pupils your child gives you.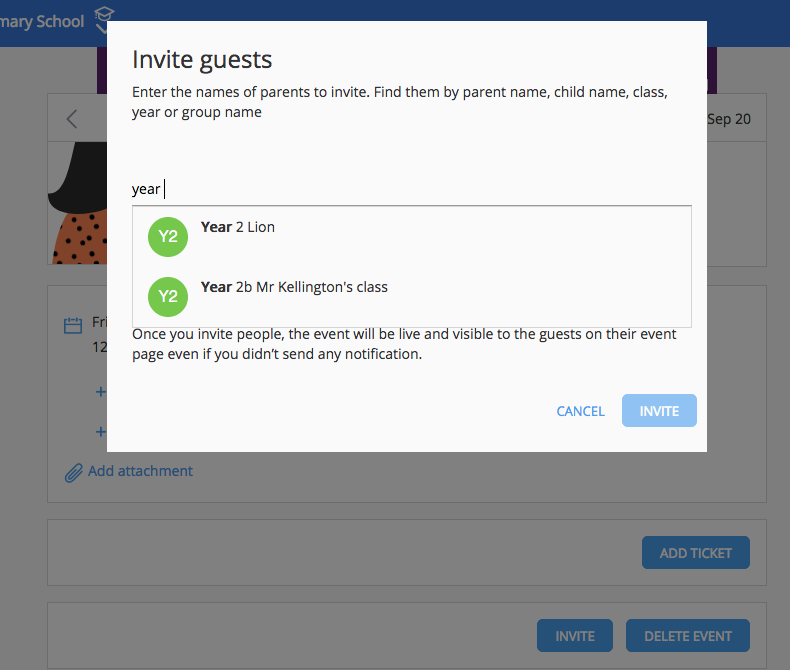 If you are setting up a private event you can invite individual parents one by one, or any groups provided you are a member of the group, eg your child's class or year group.
You can also type a class name, see a list of people in it and then delete lots of the names to leave you with a list of just the few you are inviting to the party.
Only parents you invite will see the event on Classlist.
NB Any parents who register on Classlist and join your invited class or group after your invitation was first sent will not be able to see the event if it is a private event (whereas with community events new joiners are added to the invite list). However if you re-invite the class/group to your private event then new joiners to the will be invited to the event. Re-inviting can be really helpful if you want to make sure everyone's included, even the family who have only just moved to the area.
You cannot invite a school or parent group to a private event if you are not a member of that group. For example, in the image above, the parent has created a private event and wants to invite his son's class, but not the whole year: he started typing 'year...' and the selection has brought up the two options available to him. He only has the whole year group 'Year 02' or the class 'Year 2b Mr Kellington's class' to choose from because his child is in those groups. Here's a bit more about inviting people to private events.
NB: The invitation is sent to the parent member rather than being addressed to his/her child so, as it's likely that some of your invited parents will have more than one child, you could consider making it very clear in the event description who is invited eg 'Year 02 children only' or 'siblings welcome'. If there are twins in the same class and your child only wants to invite one twin, you might need to message the parent directly to explain!
NB Admin users can send out invitations to any Class, Year or Parent Group, even if they are not members of these groups, but only when they are creating a community event in the green Admin Mode.
The event only becomes 'live' when you invite parents so if you like you can draft your event in advance and only issue the invitations nearer the time.
Managing a created event
For more information on managing a created event, including how to send out reminders or view ticket details please click here. For help on cancelling an event click here.