Classlist Ambassadors and Class Admins can create announcements for the entire school or specific classes using their Admin Accounts. Sending one means your message will appear in the Parent Board activity stream and in the email inbox of all the classes/years selected as recipients, unless a parent has opted out of emails for announcements in their notification settings.  You can also attach files to announcements.
Take a tour of the announcements feature by clicking here.
The announcement will also be sent to non-members (parents you have invited, but who haven't yet joined. They can unsubscribe if they don't wish to receive future announcements). This is a great way of reaching all your parents as soon as you get started on Classlist.
Making an Announcement:
Access the 'Admin Account' section of Classlist.
Select the 'Announcements' tab and click 'create announcement'.
Select the audience for your announcement from the drop down menu. Announcements can be sent to particular groups or the entire school.
Write your notice in the text box (using the formatting tools if you like).
Click the paperclip if you would like to add an attachment.
Click 'Send'.
The announcements page also lets you view a record of past announcements sent by school ambassadors and class admins, detailing who sent them and when.
Announcements are capped at up to 10,000 characters. Other methods of communicating on Classlist include putting posts on your group wall, or using Classlist's private messaging feature.  
Have a quick look at our guided tour to see how to send out an announcement quickly and easily. 
Tracking Announcement Statistics
Once an Announcement has been sent out, Classlist begins recording a number of useful statistics for you to keep track. From the Announcements tab you can see how many people you sent the announcement too, as well as the number of people that opened the accompanying email or those who viewed it on Classlist.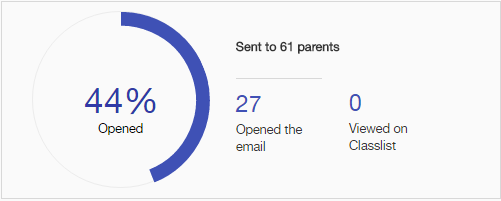 You can keep an eye on your overall announcement openrate by looking at the Classlist Dashboard.