Classlist Ambassadors, Class Admins and Community Reps can create announcements for the entire school or any group (eg classes/years, Ambassadors and Reps group, parent groups) using their Admin Accounts.
Your announcement will appear in the newsfeed of the relevant group, will send an app notification and appear in the email inbox of all the classes/years selected as recipients, unless a parent has specifically opted out of notifications for announcements in their notification settings. You can also embed pictures and attach files to announcements.
The announcement will also be sent to non-members (parents you have invited, but who haven't yet joined. They can unsubscribe if they don't wish to receive future announcements). This is a great way of reaching all your parents as soon as you get started on Classlist.
Announcements can be quick one-liners, reaching all parents in an instant, or longer newsletters which display beautifully on any phone or computer.
Creating an Announcement: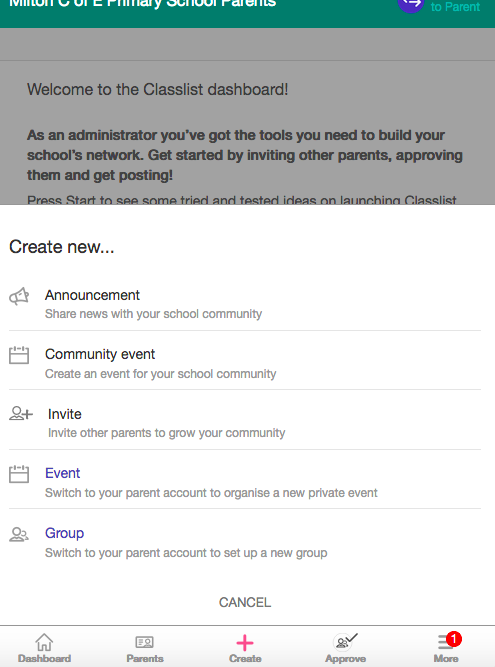 How to create an announcement
Make sure you are in the (green) admin mode
Open the Announcements page in the sidebar navigation on a desktop, or find Announcement in the Create shortcut menu on the app (as above)
Select the audience for your announcement from the drop down menu. Announcements can be sent to selected groups (eg class/year groups, the Ambassadors & Reps group) or the whole school
Write your notice in the text box (using the formatting tools if you like)
Click the paperclip if you would like to add an attachment
Click 'Send'.
The announcements page also lets you view a record of past announcements sent by school ambassadors and class admins, detailing who sent them and when.
Announcements are capped at up to 10,000 characters. Other methods of communicating on Classlist include putting posts on your group wall, or using Classlist's private messaging feature.
Using the formatting tools to add photos or links
The formatting tools menu gives you the option to add images and links to your announcement.

If you would like an image to display at the top of your announcement, so that it shows up in the group feed(s) on all device types, please add this first before any text. If text is added first, then the photo may not show in the feed as messages are truncated on smaller devices such as mobiles. People will be able to click 'read more' to see the full announcement if it has been truncated.
If you don't want to display a URL link with lots of numbers and letters at the end, you can use the link button to embed any links into the text. This will highlight the link pink so parents can see and follow it easily.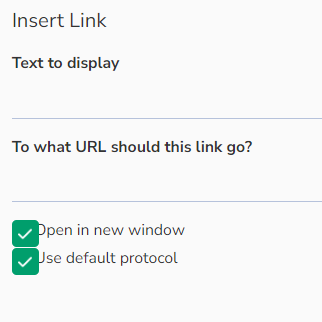 Scheduling announcements
Announcements can be 'schedule sent' at time that suits you. You can also save a draft anytime.
Duplicating announcements
Sometimes you may want to re-use an announcement, so they can be duplicated and edited to send again.
Editing announcements
When you edit an Announcement it will not be re-sent. this is to allow for minor tweaks or typos to be corrected without emailing everyone again.
The original email will still be with parents in their inbox, but if they view the announcement on the app/website (or click through the email to do this) they will be able to see the updated version. If you did want to re-send the announcement please use the duplicate feature instead to create a new version.
NB: The announcement list will show the updated title but the notification list will not as notifications and emails are not resent.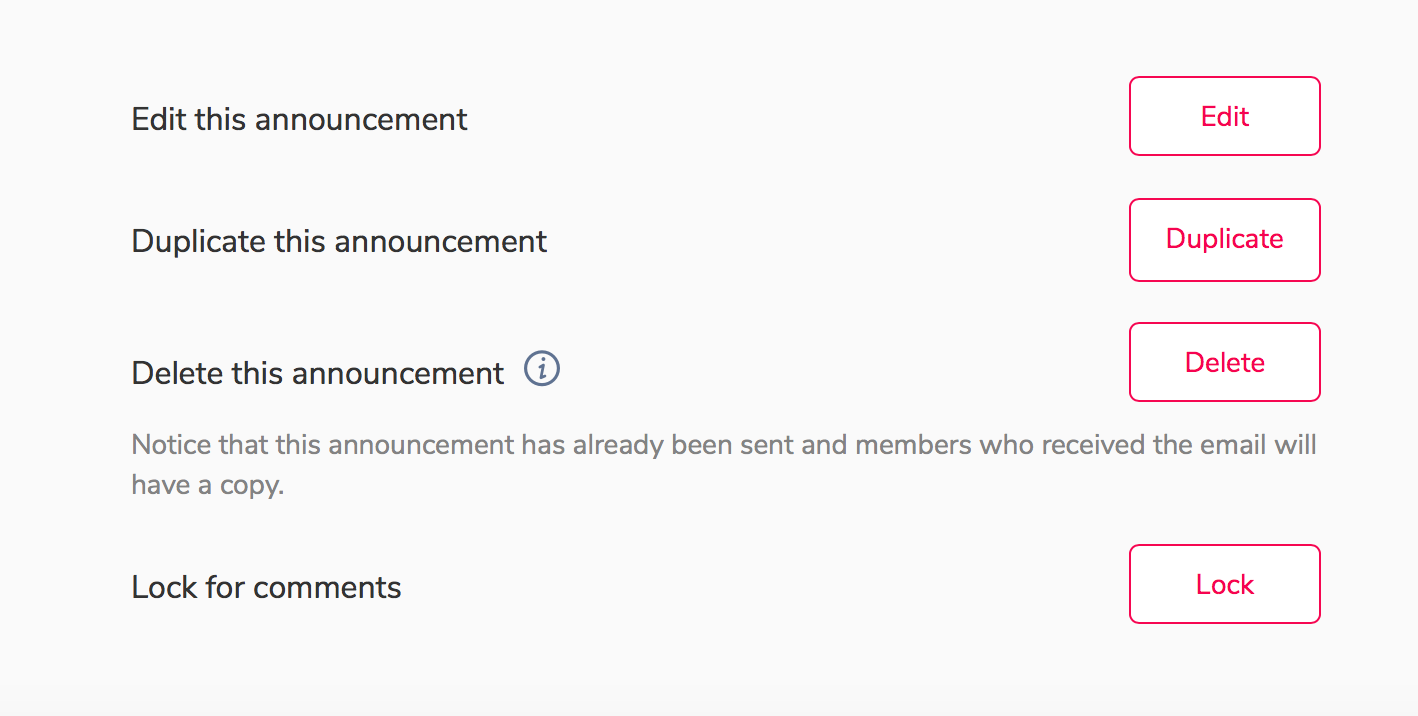 Commenting on your own Announcement
If you send an Announcement to a year or class of which you are not a member as a parent, you will only be able to reply to comments in the admin mode. You can view other members' comments on your Announcement from your notifications page in the parent mode, but if you try to post a comment you will see the 'Whoops' page, like this! If this happens simply tap on 'homepage' and switch to admin mode where you can view and comment on your Announcement on the Announcement admin page. If your Announcement was to a group of which you are a member, you can comment in either parent or admin mode.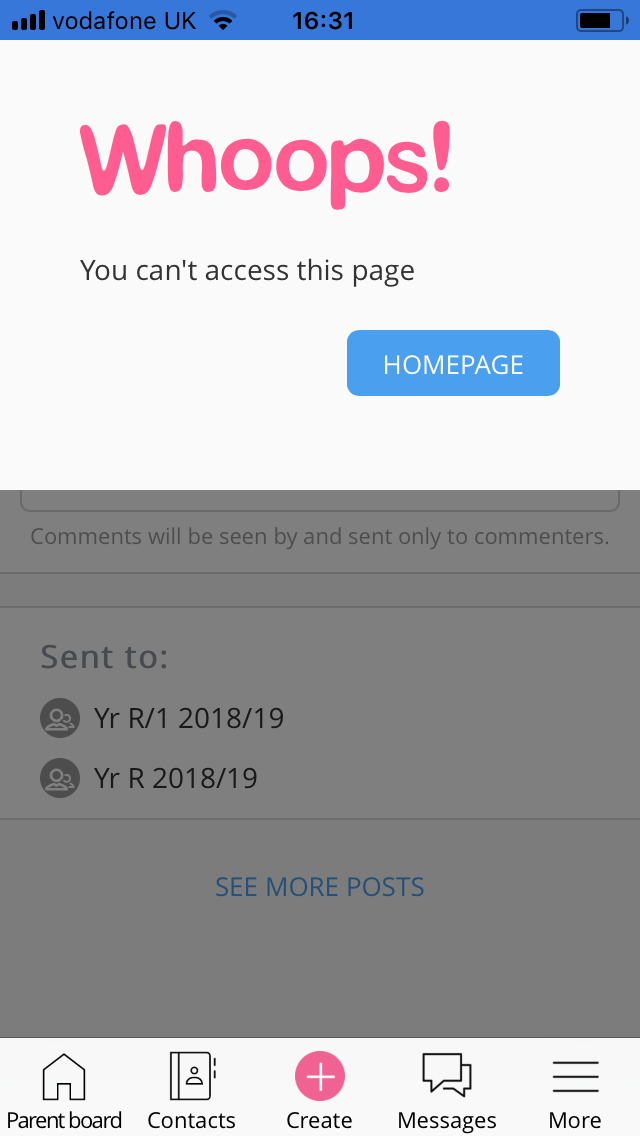 Tracking Announcement Statistics
Once an Announcement has been sent out, Classlist begins recording a number of useful statistics for you to keep track. From the Announcements tab you can see how many people you sent the announcement too, as well as the number of people that opened the accompanying email or those who viewed it on Classlist.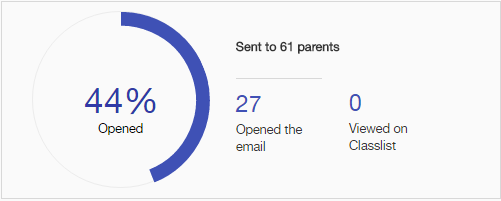 You can keep an eye on your overall announcement open rate by looking at the Classlist Dashboard.
Whole School Posts
Admins can post to the whole school via the Newsfeed too. Whole school posts and announcements have different notification settings to group posts to enable parents to personalise how they receive different types of messages. For instance, if they wanted to receive announcements from the PTA but not posts from class groups they could personalise their settings to achieve that.
The Difference Between Posts vs Announcements
Who can send them?
Admins can send announcements to any class/group/year or the whole school, they don't have to belong to the group to contact the people in it. Parents without admin status can't send announcements but can post to their own class, year or groups.
Admins can also send whole school posts. If a school would like parents without admin status to be able to send whole school posts this needs to be enabled on the School Profile page (this is more likely to suit small schools than large ones).
Admins include ambassadors, staff admins, community reps and class reps.
Who receives them?
Whole school announcements go to everyone - this includes people that have been invited to join but haven't signed up yet and family members that parents have added to the platform. This is so schools can start messaging parents straight away as soon as they have been invited.
Whole school posts are only sent to members who have created an account and been approved.
Announcements can be sent to multiple groups at once, eg for KS2 an announcement would be sent to years 3,4,5 & 6. Posts can only be sent to one group at a time and posters have to be part of the group that they are posting to.
What they look like?
Announcements have a title which appears in the email header.
Announcements have more options in terms of html layout eg bold, colourful text.
Images can be interspersed throughout the announcement text. Whereas they are displayed at the bottom of posts.
Announcements can be longer than posts and could be styled like a newsletter.
Where they are found?
By default, both announcements and posts are emailed as well as notified to app users (this depends on the notification settings users have selected).
Announcements are more prominent and can be found more easily in the announcement list.
Both announcements and posts will be displayed in the group feed that they have been sent to.
When do they arrive?
Announcements can be saved as drafts or scheduled to arrive later. Posts are sent as soon as you click post.