Posts are a great way to contact a group of people, they can range from informative to fun, and can be sent to the entire school, or a particular group according to who you want to share your message with.
Posting a picture
Simply tap the 'photo' button/icon to be prompted to upload a photo. If you are using a mobile device you can also take a photo and directly upload it. Remember not everyone wants images of their children to be shared, so please be sensitive.
Note: To post photos, Classlist needs permission to access your camera and picture files. However we do not gain access to your pictures at Classlist Central - this just enables your device to choose from your images.
Posting to a Group
On the Parent Board you can post to any Group you are in - e.g. your 'School Groups' (class/year groups) or the 'Parent Groups' you are a member of.
Posts to a Group will show on the Parent Board feed of other members of the group and will be emailed to group members (unless they have opted out in their notification settings). See the next section for Whole School posts, which operate slightly differently.
Simply select from the drop down list where it says 'Posting to' and choose which class or group you want to communicate with. The classes and groups in the drop down are personalised so you will only be able to choose a group when you are a member of it. In the image below the yellow highlight shows that Mr Kellington's class is selected, and there are 11 parents in that group who will be able to see the post.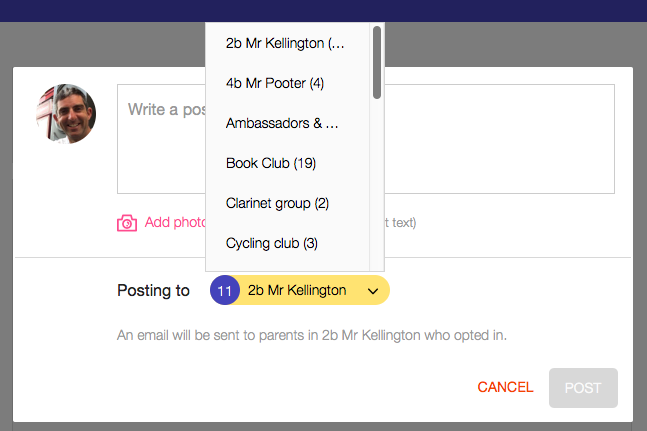 Tip: if you have an admin account you can send an Announcement to any class, year or group, even if you do not have a child in that group. You need to be in the green Admin Mode to do this.
Whole school posts
All users can create posts to the whole school on the Parent Board. Posts to the whole school will show on the Parent Board feed straight away, but by default they are not emailed to parents (unless a parent has specifically opted in to receive a notification by email). Instead posts to the whole school go in the Weekly Digest email on Thursday nights, which summarises the week's activity on your Classlist site.
If you want to opt in to receive an email for whole school posts, you can do this by going to your profile and editing your notification settings. 
As with other posts, replies/comments on whole school posts are only emailed to the original poster.  This keeps email traffic to a minimum. Other parents can visit the Parent Board if they want to see replies to a post.
Announcements as posts
PTA announcements appear as posts in groups, as well as being emailed out to parents. You are free to comment on these posts, it can be a great way to reply to certain kinds of an announcements!
Commenting on posts
To comment on a post (or an announcement or event), simply click in the text box underneath the post and enter your comment.  The original creator of the post and any other commenters will be notified when you do so.
Once you have replied to a post you will be 'copied in' to all replies to it thereafter. Each time a parent replies after you, you will be emailed, as will the original poster; so nobody misses out!
You can adjust the emails you receive at any point by clicking here. 
Deleting or editing your own post or comment
If you want to edit your post later, hover on the grey 'More...' at the bottom right of your post. Select the edit option to change the text or the image of your original post. 
To delete the post altogether, select 'delete (highlighted in yellow in the image below) and confirm. All comments attached to the post will also be deleted.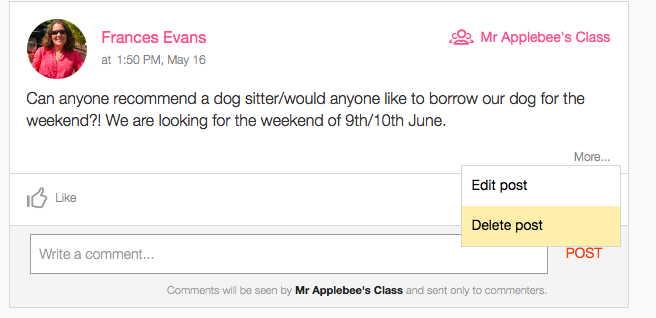 To delete a comment you have left on someone else's post, just tap the red cross which appears under your comment (see image below - the red cross is displayed next to the date the comment was added).