Posts are a great way to contact a group of people, they can range from informative to fun, and can be sent to the entire school, or a particular group based on the need.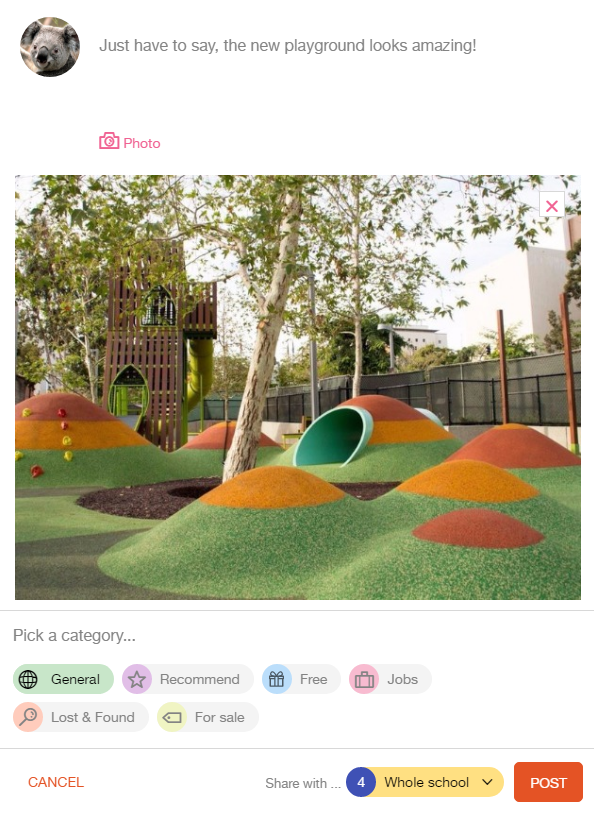 From the Home Page you can post a standard post, as well as a listing by choosing one of the options at the bottom of the screen.
Posting a picture
Simply click the 'photo' button to be promoted to upload a photo. If you are using a mobile device you can also take a photo and directly upload it.
Note: To do this, make sure Classlist has permission to access your camera and picture files.
Posting to a Group
On the Home Page you can post to any 'Group' you are in - e.g. your 'Class', 'Year', or the 'Community Groups' you are in.
Posts to a Group will show on a member of the Group's Home page wall and will also be emailed to group members.
Simply click on the small arrow besides the words 'Select a group to share with' and select the group you wish to communicate with.

Once you have replied to a post you will be 'linked in' to all replies thereafter, each time a parent replies after you, you will be emailed, as will the original poster; so nobody misses out!
You can adjust the emails you receive at any point by following clicking here. 
Whole school posts
Posts to the whole school will show on a parent's Home page wall, but will not be emailed to parents by default.  This is to avoid email overload!
However, if you want to opt in to receive an email for every whole school post, you can do this by going to your profile and editing your privacy settings. 
As with other post, replies/comments on whole school posts are only emailed to the original poster.  This keeps email traffic to a minimum. Other parents can visit the Home page if they want to see replies to a post.
Announcements as posts
PTA announcements appear as posts in groups, as well as being emailed out to parents. You are free to comment on these posts, it can be a great way to reply to certain kinds of an announcements!
Commenting on posts
To comment on a post, simply click the text box underneath and enter your comment, the original creator of the post and any other commenters will be notified when you do so.